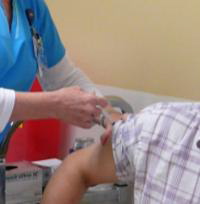 Public schools throughout the territory are beginning free H1N1 vaccinations Monday and parents need to get the required consent forms signed and to the school to make sure their children get the protective shot.
The first schools where students will receive the vaccines are Alexander Henderson Elementary School on St. Croix and Lockhart Elementary on St. Thomas.
The virus has shows a propensity to hit young and school age children especially hard, and children gathering in schools make them a nexus for transmitting the illness. That makes students a high priority group for vaccination, according to the Centers for Disease Control and Prevention.
A schedule for private and parochial schools will be released later, Health Commissioner Julia Sheen said in a statement from the Health Department. Public schools were scheduled first based on the incidence of influenza-like-illness reported at each school and the number of parental forms received for a particular school, she said.
Education Commissioner LaVerne Terry said in the same statement some parents of public school students still have not returned the required consent forms that were sent home with students last month and is urging them to do so. Parents who do not have the consent forms can accompany their children on the vaccination date for their school. A physician and a team of nurses will be administering vaccines from 9 a.m. to 12 p.m. on those days.
The vaccine is safe and is the best protection available against the H1N1 virus and Health recommends children get vaccinated, according to Health.
"The H1N1 vaccine is similar to seasonal flu vaccines which have a very good safety track record and safety is paramount for the CDC, which works with health departments nationwide, to ensure that all who fall into a priority group get vaccinated," Sheen said.
Parents can get more information by calling 340-773-1311, ext. 3280 or 3240.
As of Nov. 25, there was one confirmed death attributable to H1N1 in the U.S. Virgin Islands, which occurred in the second week of August on St. Croix. Nationally, the CDC estimates there have been about 3,900 H1N1 deaths so far, which, if the same ratio of deaths to total population were applied to the territory, would mean about 1.5 deaths locally. The total number of cases is not known, but influenza is on the rise in the territory. While the new H1N1, or swine flu, virus is widespread and has occasionally been lethal, so far it has only been dangerous in a minute percentage of cases. Most of the time, a sufferer simply has severe flu symptoms for a number of days and recovers. But the virus appears to somewhat more dangerous than regular influenza for children and pregnant women, which is why these groups are among those who will receive vaccinations first.
Following the lead of the Centers for Disease Control, Health stopped counting confirmed cases back in August, at which time 80 cases were confirmed, with the majority of them on St. Thomas. During the last weeks of October and early November, influenza activity increased in the U.S., becoming widespread in 46 states. Nationwide, visits to doctors for influenza-like-illness increased sharply. That leveled off and declined in the last two weeks, with 43 states showing widespread influenza. The Virgin Islands are listed as showing "sporadic outbreaks."
An initial round of the vaccine has been shipped to each state and territory, and delivered to at risk groups. The supply is not growing as fast as the CDC would prefer, because it simply is not growing quickly in the lab, but stocks are steadily rising now and being shipped out in increasing amounts.
The most common side effects following flu vaccinations are mild, such as soreness, redness, tenderness or swelling where the shot was given
The H1N1 vaccine comes in both nasal sprays and injections and vaccination is voluntary, Health Commissioner Julia Sheen said in the vaccination announcement. As of Nov. 25, 12,400 doses of the vaccine had been shipped to the U.S. Virgin Islands, according to the CDC – a substantial increase from the 3,000 doses shipped in the first round.
"It is important for residents to know that the seasonal flu vaccine will not protect against H1N1, so we recommend that they take both the seasonal flu and H1N1 vaccine," Sheen said in October.
The symptoms of swine flu mirror that of the seasonal flu and include high fever, headache, runny nose, sore throat, cough, and body ache or fatigue. If you have these symptoms, do not go to work or school until the symptoms have been gone 24 hours.
Influenza viruses spread in tiny droplets by coughing and sneezing and spread from person to person. To reduce its spread, people should wash hands or use hand sanitizer frequently, cough or sneeze into sleeves and not into the hands. Whenever possible, disposable tissues should be used in place of handkerchiefs and hands should be cleaned after the tissue is thrown away.
The initial schedule for school-based vaccination is as follows:
St. Croix
Nov. 30 – Alexander Henderson
Dec. 1 – Juanita Gardine
Dec. 2 – Claude O. Markoe
Dec. 3 – Eulalie Rivera
Dec. 4 – Arthur Richards Jr. High
Dec. 7 – Ricardo Richards
Dec. 8 – Pearl B. Larsen
Dec. 9 – Lew Muckle
Dec. 10 – Alfredo Andrews
Dec. 11 – Charles H. Emanuel
Dec. 14 – Evelyn Williams
Dec. 15 – Elena Christian Jr. High
Dec. 16 – John H. Woodson Jr. High
Dec. 17 – Central High
Dec. 18 – Educational Complex
St. Thomas
Nov. 30 –Lockhart
Dec. 1 – Ulla Muller
Dec. 2 – Yvonne Bowsky
Dec. 3 – Gladys Abraham
Dec. 4 –E. Benjamin Oliver
Dec. 7 –Joseph Sibilly
Dec. 8 –Evelyn Marcelli
Dec. 9 – Joseph Gomez
Dec. 10 Jane E. Tuitt
Dec. 11 Leonard Dober
Dec. 14 Addelita Cancryn Jr. High
Dec. 15 Bertha C. Boschulte Jr. High
Dec. 16 Charlotte Amalie High
Dec. 17 Eudora Kean High
St. John
Dec. 7 –Guy Benjamin
Dec. 8 –Julius Sprauve