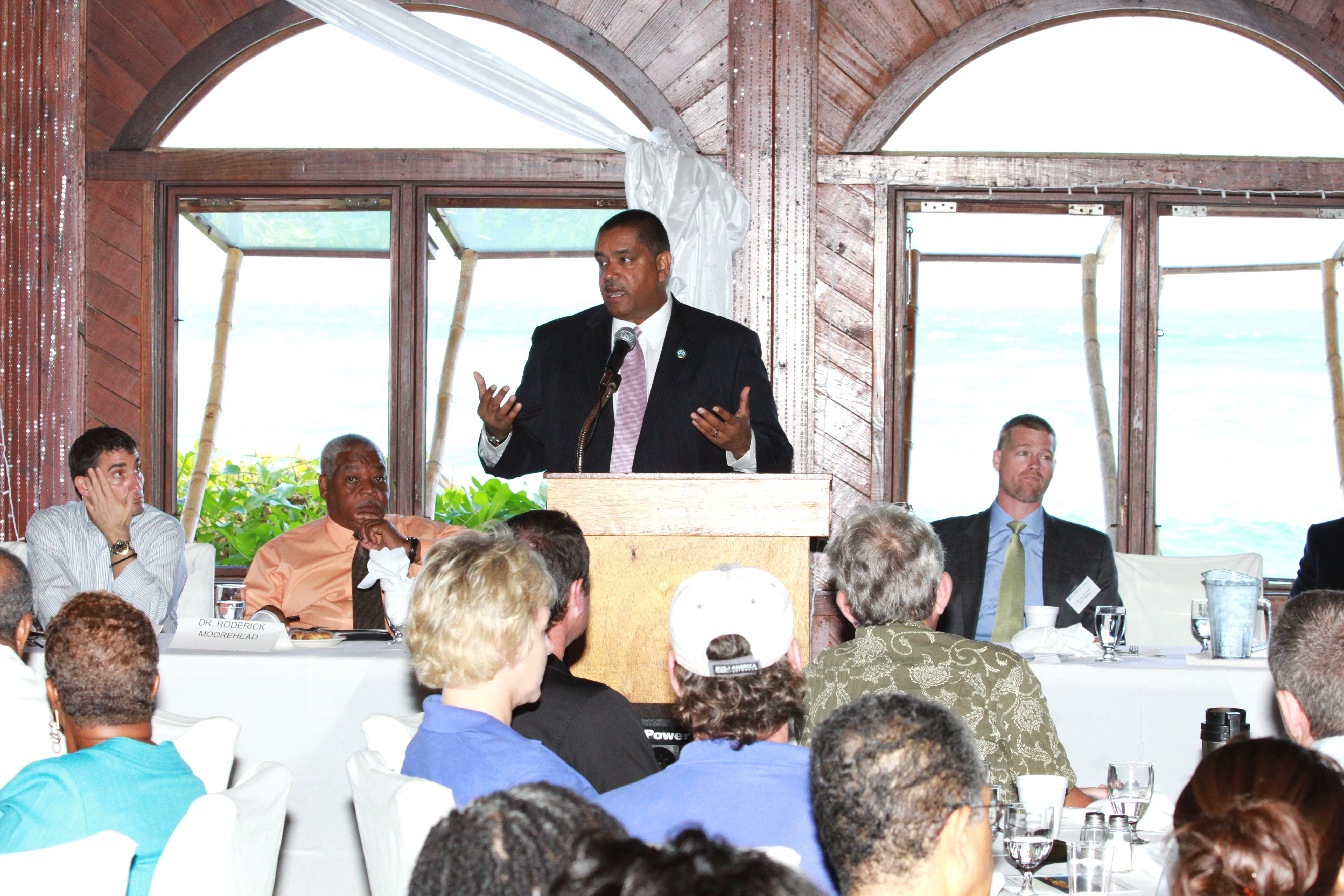 Government is cutting to the bone, unions are foregoing raises and everyone must share in the sacrifice—including increased taxes—for the territory to weather the poor economy and meet a large revenue gap, Gov. John deJongh Jr. told the St. Croix Chamber of Commerce Monday.
For more than half an hour Monday morning at the Chamber's annual membership meeting at the Palms at Pelican Cove, deJongh gave a wide-ranging, detail-filled talk on the state of business in the territory. While highlighting his administration's programs and initiatives, he also focused on the poor economy and falling government revenues.
Over the long term, curbing crime and creating opportunities for the young through education and training are paramount, the governor said, speaking about administration initiatives in early childhood education, work training programs, proposed restrictions on plea bargains and other administration initiatives.
But the crux of deJongh's message was the same as in his recent State of the Territory address: a giant budget gap is looming, and all hands need to be on deck to fill it.
As he and his financial team have been repeating since the State address last month, deJongh said a $75.8 million deficit was already projected for fiscal year 2011 and a much larger, $132 million shortfall for 2012, which he said is largely due to the end of federal stimulus help.
"How do we address that without taking away from the momentum we have started with our business community," he asked, rhetorically. "The choices are not choices we would make in better circumstances."
DeJongh reiterated his administration's package of austerity measures, from consolidating the Health and Human Services departments freezing wages to an ongoing partial hiring freeze.
The government expected a better revenue picture when it signed off on union pay increases, he said. But economic conditions stayed worse than hoped.
"Quite frankly, the projects we thought would take off, did not take off yet," he said.
As a result, he said, "We will not implement salary increases we did in fact negotiate with the unions," pointing up the shared sacrifices as he segued into talk of tax increases.
DeJongh spoke about his proposal to increase the Hotel Room Tax from 8 percent to 10 percent and add a $10 per-day fee on time-share units that are rented or exchanged, and a plan to increase the gross receipts tax by one cent per dollar.
"These are not initiatives we want and not initiatives I think will make you happy," he said. "No one wants tax increases…. I think there is a shared sacrifice that must be made by all of us and I ask for your support."
When it came time for questions, some Chamber members were concerned about competing with unlicensed operators who do not necessarily pay their taxes.
"There is a big problem with a handful of licensed electricians signing for work done by unlicensed operators," said Carol Johnson of Owen Johnson Electrical. Shoddy work is being done under the table, then signed off, sight unseen, by licensed contractors, which puts legitimate contractors who pay their taxes at a disadvantage, she said.
One business owner asked why time-shares were getting a new tax and suggested it was a kind of double taxation. DeJongh responded that many such units operate like hotel rooms to an extent and characterized the fee on time-shares as "closing loopholes."
Asked whether cigarette or alcohol taxes could help close the gap, deJongh said when his team crunched the numbers, vice taxes only provided "a minuscule" amount of new money and so would not close the large, looming gap.
DeJongh took a few more questions before stepping away from the podium. After he finished, he mingled for a bit with Chamber members over breakfast.