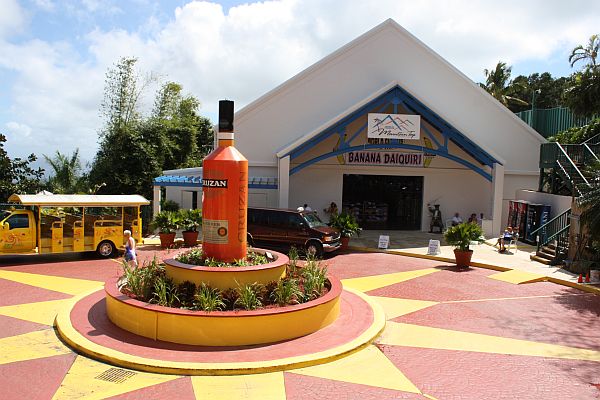 Almost two years after a devastating fire burnt Mountain Top to the ground, the home of the "world famous banana daiquiri" has reopened its doors to locals and visitors alike.
The official grand reopening of Mountain Top should be sometime in mid-March, but for the past two weeks, visitors to St. Thomas have been packing the building, which still needs some finishing touches before it is completely ready, said Manager David Harold.
"We've opened because it's in season," Harold said Thursday. "But there's signage coming in, and they are doing different store deals–that's why we haven't done a grand opening yet, because we want to make sure it all gets together."
The rebuilding took millions of dollars and nearly eight months to complete. Opened in 1963, Mountain Top is a 17,000-square-foot facility, with 45-foot vaulted ceilings, an 85-foot bar, sweeping deck and walled with glass at one end to show off a view of Drake's Seat, St. John and Tortola.
All that has not changed, but it is a bit different inside.
"It is now more of an open air mall — there are no individual stores," Harold said. "But the tourists have been going there for two weeks now, and they seem to love it. They love the deck, the banana daiquiris, and they're doing a lot of shopping."
While the facility is more of an attraction for tourists during the week, Harold said the doors are also open for locals.
"We know a lot of locals miss the old building, what it used to be, but things are still in process," he said. adding, "It doesn't have all the things that will warm it up yet, but it's still quite a place and we hope locals will go up and at least check it out."
Harold said all the details have not been formalized yet, but Mountain Top plans to offer some type of discount and possibly a "special day" on Sundays for locals.
"We don't know everything yet, but we want to do something very St. Thomas-friendly," Harold said.
He also added that one of Mountain Top's main attractions — its banana daiquiri recipe — remains the same.
"We are still getting there, so it's a work in progress, but it's also ready and welcome for people to come," Harold said. "We're back in business."