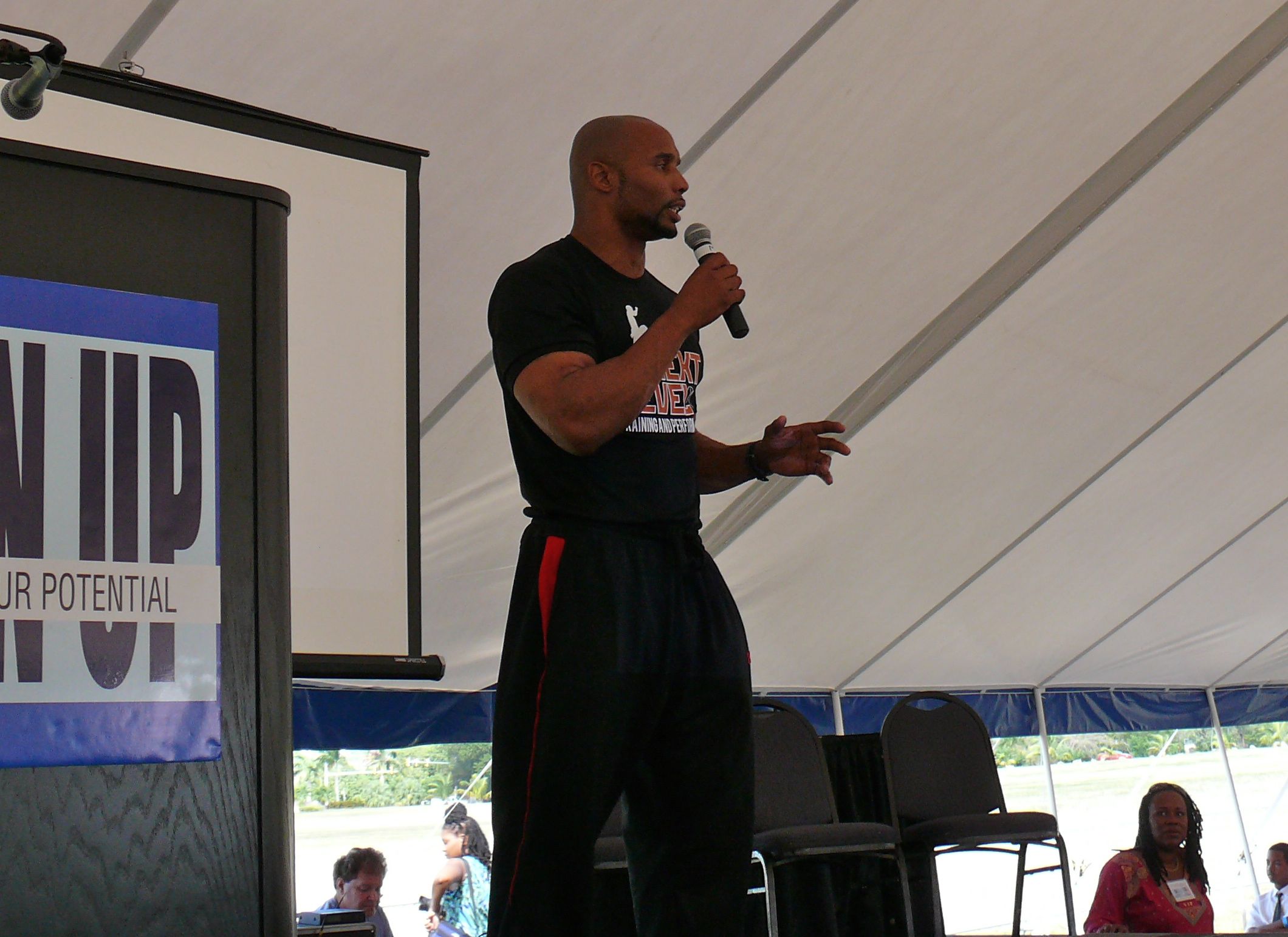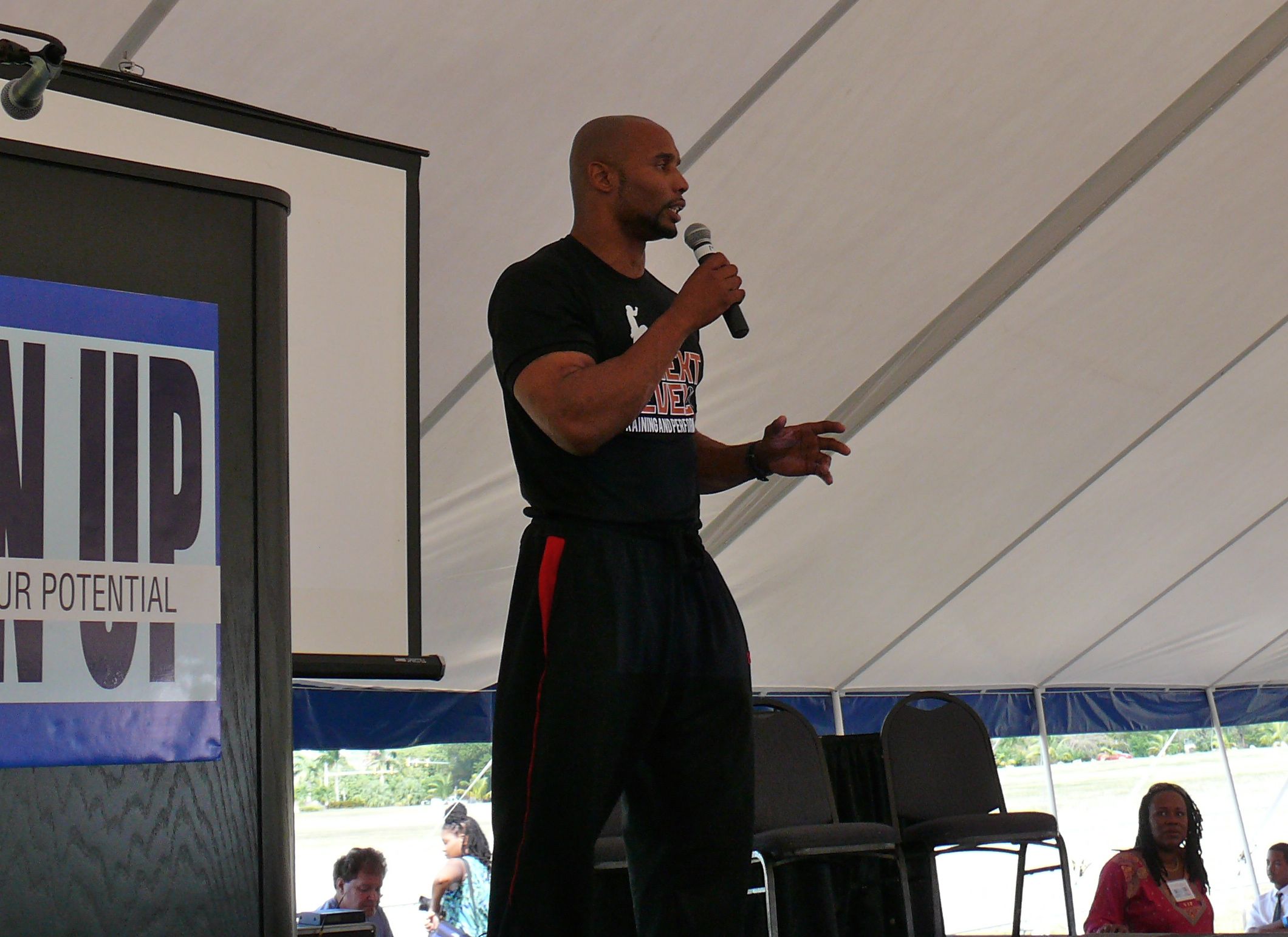 Regardless of your beginnings, it is possible to go far in life. That was the message delivered to thousands of St. Croix junior high and high school students at a "male empowerment" conference at the University of the Virgin Islands Wednesday.
The conference was an initiative of "Brothers With a Cause," a UVI program that seeks to attract more male students to the university and provide the tools and support to help them graduate.
Nearly 1,800 students—many if not most of St. Croix's male junior high and high school students in public and private school—filled row upon row of chairs under a tent on the lawn of the St. Croix UVI campus.
Lt. Gov. Greg Francis told the throng about his own childhood, how his father passed away when he was an infant, the family split into two and being raised by a single mother.
"I am a product of public housing," he said. "Many of us grow up being told you will never be able to take charge of your own life and will never amount to anything because you grew up in public housing. But I am here to tell you that is not true."
Francis held up a Boy Scouts of America handbook, saying he took it wherever he went. Its creed, that a scout is trustworthy, loyal, helpful, friendly, courteous and so forth, and its motto of "be prepared" are good guides for life, he said.
Retired Jacksonville Jaguars defensive back Donovin Darius flew in to the territory to talk about his own difficult childhood and his struggles to succeed before being selected 25th overall in the 1998 draft by the Jaguars, the highest pick ever by the team for a defensive back.
Darius recalled growing up poor in the rough city of Camden, N.J., noting the city had the second-highest murder rate for a time and suggesting some parallels with the U.S. Virgin Islands.
"Welfare, government cheese lines, I've been there and done that," he said. "I remember in the third grade, my mother and father used to fight and in the middle of the night. Mom said get your stuff, and we stayed at a women's shelter for a week. And in the seventh grade, we did it again."
Unlike many NFL pros, Darius did not play when he was a high school freshman because he was unable to pay the registration fee. "I didn't have $35," Darius said.
Perhaps ironically, Darius told the young men football might be a good way to get into college, but that statistically, college is a better bet for success than the NFL. Every year, over a million high school football players try out for college and the NFL. Of that number, only 60,000 get a chance to play in college. But only 244 are signed to the NFL each year and of those, only 130 play for three or more years, he said.
During the conference, author and entrepreneur Farrah Gray told the young men how he was raised on Chicago's impoverished South Side, where he defied the odds and became a self-made millionaire by the age of 14. He began by selling home-made body lotion door-to-door, moved on to painting and selling rocks as book ends, and started and sold a food company called Farr Out Foods – all before the age of 15.
Like the other speakers, Gray emphasized the need to plan and take responsibility for oneself. And he encouraged his listeners to make their plans practical and reachable.
"If you plan to be the next Jay-Z and fail, you are going to be a broke brother at home who rhymes," he said. "If you want to be a famous NFL star and fail, you will be sitting on the sofa at home. But if you want to be a famous attorney general and fail, you will be an attorney and if you want to be a world-renowned neurosurgeon and fail, you will be a doctor."
Closer to home, the successful rap duo Rock City shared their experiences. Composed of brothers Timothy and Theron Thomas, the duo grew up in Charlotte Amalie and ultimately moved to Atlanta, Ga. to pursue their careers.
They recounted working regular jobs at low pay, struggling to make rent, dealing with criticism of their musical style, their V.I. accents, their personal style and more, emphasizing the need to pursue a dream and not be deterred by bullies and people on the wrong track.
"Don't let any man change you unless they change you for the better," said Theron Thomas. "Let me tell you something about high school: when it is over the cool dudes become uncool…. some of them are on crack now."
Afterwards, the duo performed several original numbers to excited cheers from their many fans in the audience.
Some of the students found the message valuable.
"It was good to see people from the projects that made it; that not just rich people make it far in life," said Hakeem Farrell, a 10th-grader at St. Croix Central High.
Getting encouragement from adult men is important too, said Sherkell Gassie, an 11th-grader at Central.
"We need more frequent events like this to keep kids into it and let them know you are still paying attention," said Central High student Shamal James.
Asked why they felt so many of their fellow students were falling by the wayside, Farrell, Gassie and other students had many theories.
"A lot of students give up because of peer pressure and discouragement," said Gassie. "And there is bullying; a lot of kids tend to get picked on and are not cool when they are doing well."
James said entrenched attitudes focusing on immediate relationships and short-term goals get in the way.
"In the Virgin Islands, there is a mentality that says 'That is my cousin, my boy, my brother, my mother'; and they are thinking on that basis," James said. "There is no thinking about the future, and people are not looking at the consequences," he said.
St. Thomas students were treated to the same program on Tuesday on the St. Thomas UVI campus.
The conference was sponsored by the V.I. Lottery, FirstBank Virgin Islands, the Department of Human Services Division of Family Assistance, the West Indian Company Ltd. and the College Access Challenge Grant Program.