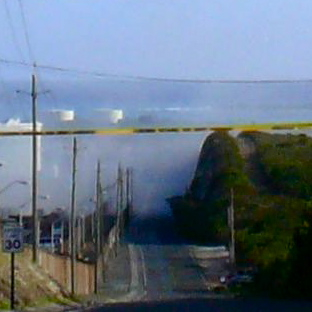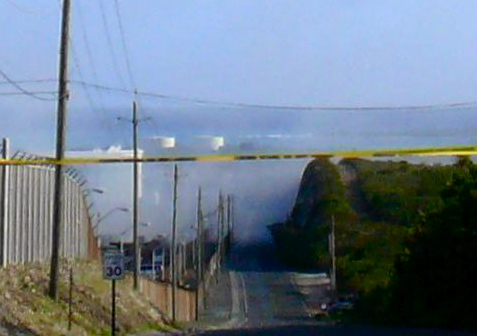 A major fire near Hovensa's container port had all roads leading to the refinery and container port blocked to vehicular traffic as gray, acrid smoke filled the air in the vicinity.
The fire started about 3 p.m. Friday in a desulfurizing unit on the western side of the refinery. The company issued a statement saying the fire was extinguished at 5:47 p.m. There were no reported injuries.
The cause of the fire remains unknown and an investigation has begun.
The section of the Melvin Evans Highway immediately north of the refinery that was closed to traffic was reopened after the blaze was put out.
Traffic was backed up in all directions around the refinery and some cars more than a mile away were covered by a thin patina of soot from the fire.
Air monitoring teams were dispatched downwind. The odor of oil was detected, but there were no immediate health threats, according to the company.
Passengers flying to St. Croix Friday afternoon could see a black cloud of smoke coming from the refinery.
"You could see bright orange flames coming from the base of the black smoke," said Pamela Reid, a St. Thomas resident who is an occasional contributor to the Source.
Gov. John deJongh Jr. has issued a statement saying government officials were working closely with Hovensa officials on a coordinated response effort.
"VITEMA Director–designee Elton Lewis and Planning and Natural Resources Commissioner-designee Alicia Barnes fully briefed me on the details and all is under control," the statement said.
Health Commissioner Julia Sheen and DPNR Director of Environmental Enforcement Austin Callwood were also at the scene.
Hovensa officials immediately notified the VITEMA director and the 911 Emergency Communications Center on St. Croix. DPNR was also notified, according to Government House.
The fire comes a single day after Hovensa announced it had completed cleanup from a Dec. 9 oil vapor release. There have been three – and with today's fire, presumably now four – airborne oil releases since September 2010, including a Sept. 30 flare-off of partially refined oil which produced a sky-filling cloud of opaque black smoke.
The Source will update the story as information becomes available. This story was updated at 10 p.m.