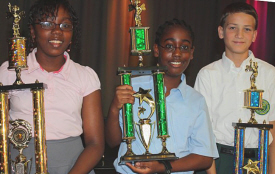 After coming in sixth place during last year's St. Thomas-St. John district spelling bee, 10-year-old Quelania John-Baptiste jumped to the top spot in this year's competition after correctly spelling the word "sayonara."
"I remembered it because it was the word I got out on last year," John-Baptiste said after she won first place.
The sixth grader from Gladys Abraham Elementary said she studied hard coming into Friday's district competition, but plans to be more "serious" in her preparations for the territorial bee in March, since she wants to represent the territory this year at the Scripps National Spelling Bee.
"I really want to go the States," she said. "I think it would be cool."
John-Baptiste's parents, Raquel and Lecius John-Baptiste, said later that they went over as many words as they could with their daughter in preparation for Friday, and were proud that her efforts paid off.
"We feel great — like Tony the Tiger great," Lecius John-Baptiste said.
"I would help her on the computer," Raquel John-Baptiste added. "She would even do practice spelling tests so she could hear the words."
What also helped during the training process was understanding the origin of the words, she said.
"Once she hears it, it helps her to decide which combination of letters to use," Raquel John-Baptiste said of her daughter, who she said also loves to read.
Coming in second place after 13 rounds of competition was Lockhart Elementary School sixth grader Dylante DeHaarte, who fell out on the word "quesadilla." Still excited about joining John-Baptiste at the territorial bee in March, DeHaarte said afterward that he was feeling "good and energetic."
"I practiced about four hours a day," he said.
Asked how he balanced out the study schedule with his school work, DeHaarte added, "by sleeping in a little late."
Joining John-Baptiste and DeHaarte at the territorial bee in March are: Marcus Norkaitis, Aja Scott, Jalezcia Smith and Silas Wisehart.