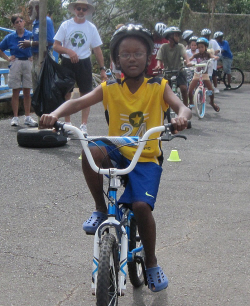 The Community Integration Team's first St. John Bicycle Rodeo on Saturday in Coral Bay was a chance for youth and adult bicycle riders to learn what they need to bring their bicycles into compliance with Bureau of Motor Vehicles rules.
Bicycles need brakes, a working horn or sounding device, a colorless headlight, and a red reflector at the rear, said Myrna George, assistant director of BMV. And as it turned out, she said, "None of the bicycles are properly equipped."
The Community Integration Team, which acts as liaison for planning and problem-solving with the VIPD, plans to fund those missing pieces of equipment for people who participated in Saturday's Bicycle Rodeo. The St. John Accommodations Council paid for sleek bicycle helmets distributed Saturday to riders.
The kids got a firsthand lesson in the value of wearing a helmet when Aaliyah Lord, 9, fell while riding on the basketball court. When she fell, she hit her head. Thankfully, it was protected by her new helmet, and she was unscathed.
Her mother, Kathy McLaughlin, was in charge of getting the helmets. She said the Accommodations Council paid about $1,500 for 120 helmets.
A total of 13 people attended the morning event at the Coral Bay basketball court. Activity moved to the V.I. National Park ballfield in the afternoon, where 16 people participated.
St. John resident Linda Beckstein, who spearheaded the event for the Community Integration Team, said she hoped more people would turn out, but said she hopes word will get out so more will attend next year.
Police officers put kids through the paces, instructing them in how to do figure eights and weave in and out of markers.
"I'm hear to learn about bicycle safety and to know the rules of the road," said Coral Bay resident Naiquan Frett, 12.
Since none of the bicyclists who showed up Saturday morning had the requisite safety equipment on their bicycles, the bureau was unable to register any of the bicycles. Registration costs $15 a year. When the bicycles are registered, the owner will get a license plate to display on the front of the bicycle.
While safety was the Bicycle Rodeo's main event, it was also a chance for police officers to get to know the island's youths and to ensure that the children are comfortable being around police officers.
"It gives a good impression of the police officers," Police Department spokesman Melody Rames said.