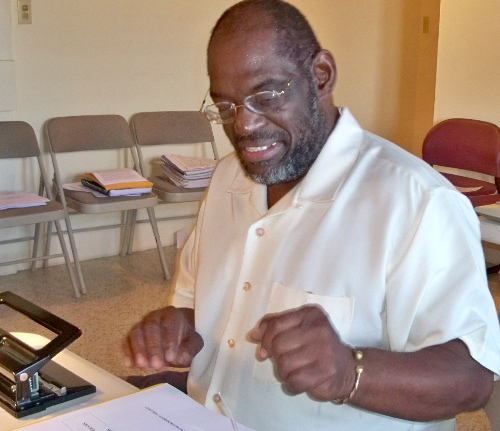 Carnell Troutman says we all have a purpose in life. His purpose, he said, is to help people, which he does as a member of the St. Croix Men's Coalition and in the Department of Health.
Troutman says his path to fulfilling his purpose started when someone took a chance and hired him as a lifeguard when he was in high school.
"People gave me opportunities and trusted in me," says Troutman, now 59 years old. "I wanted to give something back for all the opportunities I have had."
He adds that all of his work has been dealing directly with people.
In his 20s, he was a swim coach for inner city youth in Newark, N.J. He recalled swim meets where he encouraged boys to never quit. He said one boy swam so hard and didn't give up even after the string in the waist of his trunks broke and he swam out of them.
He has his bachelor's degree from Kean University in New Jersey, where his focus was on social work to allow himself the opportunity to do good things for people.
Troutman, originally from New Jersey, moved to St. Croix in 1992 after his wife Barbara Troutman had the couple's second of four children. Barbara is from St. Croix and they decided it would be better to raise the children here than New Jersey.
He has worked on and off in the Department of Health since 1992. He worked at Golden Grove Adult Correctional Facility in the substance abuse treatment program. He is currently a unit leader for Frederiksted Mental Health under DOH overseeing the staff and day-to-day operations.
His real passion is his work at the Men's Coalition, where he is the director running a domestic violence Batterer Intervention program and anger management program for men who have been court ordered to attend the six-month programs. He began working as a facilitator in 1993 and stepped up to coordinate programs in 1999. He says over the years he has helped almost 400 men deal with their problems.
Through the coalition he does the Rites of Passage program in public elementary schools for at-risk 7- to 12-year-old boys. The programs at Eulalie Rivera and Claude O. Markoe Elementary Schools focuses on manhood training with positive, healthy, and educational activities. The boys meet with Troutman two times a week in 90-minute sessions.
"We stress reading to help improve grades," Troutman says. "When grades improve, behavior improves."
Troutman says he would love to see the program in more elementary schools in the Virgin Islands. He says almost 100 boys have taken part in the program.
The coalition is funded by Human Services, Law Enforcement Planning Commission and United Way.
Last year Troutman took part in the U.S.V.I. Leadership in Action Program, in which local professionals worked to make sure children are healthy and prepared to succeed in school. He is on the board of directors for Ten Thousand Helpers of St. Croix, a shelter for mentally ill and drug addicted men.
Troutman believes the problems with young men and boys begin in their home. He says parents are making a choice between economics and the child, working two and three jobs to buy expensive sneakers.
"Parents need to devote their time and attention at home and on their children from the very beginning."
Troutman quoted an African proverb saying "The rule of civilization begins in the homes of the people."
"There is an absence of fathers at home," Troutman says. "Home is where children go to make sense of the world. People need to make individual changes at home."
He hopes in the near future St. Croix will turn the corner and there will be a new generation of boys that aren't so aggressive and fighting about everything.
"My calling is obviously in social work," Troutman says. "My job is to inspire hope."
In May, Troutman will get his master's degree in public administration from the University of the Virgin Islands.
Those interested can learn more about the programs at the Men's Coalition or make a donation by calling 778-2161.