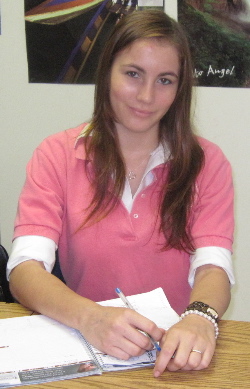 Jeanie Patrie, 17, inherited the student council president's job at Gifft Hill School when the previous officer holder left the school, but she's definitely working hard to keep the organization on track.
"She's really stepped up to the plate," student council advisor Jill Darnley said.
A prom is the number one item on Patrie's agenda. The Gifft Hill junior said that a prom is an important part of the school experience, and she plans to make it as well as other dances happen.
The student council runs the school's social life, and that includes events like Spirit Week. During that week, Patrie said the seniors might come dressed as senior citizens, or all the students will attend school in their pajamas or they'll go to the beach.
These events coupled with the school's small size are pluses for Patrie. She likes it that many of the students are on scholarship. This creates diversity and "open opportunity" for a wide variety of students to attend the school.
St. John is similar, she said, and rich and poor, old and young get to know each other. Additionally, because of the small size of the school and the island, she gets to see her fellow students in a variety of settings.
"You get to see all sides of people, and people are a little bit more equal," she said.
She had advice for those behind her in school. She said that should do their best.
"And most important, try your hardest," she said.
Born in Atlanta, Patrie moved to St. John when she was seven. She's been at Gifft Hill since then, but plans to head to college in either New England, where her mother has family, or the Atlanta area.
Still undecided about her career path, she said it will involve psychology – maybe sports psychology – massage therapy or something in the culinary arts. Or maybe all three if she can work that out.
Meanwhile, she's busy with the student council and enjoying her studies. She said she likes writing and literature best.
She's also taken up shooting, learning air pistol with Olympian Ned Gerard.
"It takes a lot of concentration," she said.
She also makes time for her family. Her father David Patrie lives in Atlanta with her brother, Weston, 15. Patrie lives with her sister Grace, 10 and Luke, 12, and her mother, Kerrin Patrie.
"I'm probably the luckiest mom on the planet," Kerrin Patrie said.
Her daughter has a great attitude, she said, solves problems and isn't afraid to try new things.
"She just dives into stuff with such a good attitude," Kerrin Patrie said.
As for her life in 10 years, Patrie said she hoped she'd be settled in a job she enjoyed.
"And hopefully be happy. That's a very important thing," she said.