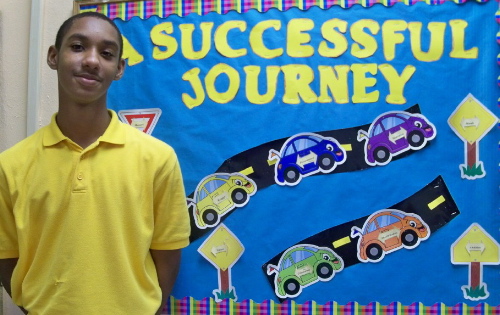 Raheem Knight, a stellar student at Elana Christian Junior High School, has the spirit of competition in him in academics and in sports.
He competes in the Scripps National Spelling Bee and MathCounts, and he enjoys healthy competition on the basketball court in the Elana Christian Basketball Lunch League
Knight is competing in his fifth spelling bee. At 13 and in the eighth grade, this is the last year he is eligible to compete in the bee. He took part in his first when he in the fourth grade at Pearl B. Larsen Elementary School. In 2009 he represented the U.S. Virgin Islands in the Scripps National Spelling Bee in Washington, D.C. That year he didn't get past the preliminaries, which were difficult.
The courteous and personable youth doesn't give up – he appears to be driven to compete.
He says every year it gets easier and he is less nervous. He says the words in the study guide are generally the same, with some new words. He studies every day at lunch and whenever he has free time. He placed in the district bee two weeks ago and will compete in the territorial bee March 11.
"I'm feeling confident I will do well in the territory bee," Knight says.
For a student who says numbers come easier to him than words, he does amazingly well in spelling bees.
"I always try to do my best at everything I do," Knight says.
He had the opportunity to travel with a team of students to Orlando Fla. last year for national competition in MathCounts.
Margot Oyake, spelling coach and English teacher at Elana Christian, spoke very highly of Knight.
"He is always prepared and very confident," Oyake says. "He focuses on specific goals and he is very competitive."
She added he does well in academics and is at the very top of his class.
"He is a good all-around student, including involvement in extracurricular activities," she says. "He could be his class valedictorian."
Oyake says his parents, Kevin and Zoraida Knight, are very supportive of him.
"My parents always tell me to focus on academics," Knight says.
He thinks some guys have trouble in life because they don't think about academics.
"They just want to meet people and hang out," Knight says. "They think they have better things to do."
He is the parliamentarian on student council, a position where he keeps order in the meetings. He says he voices opinions to make the school better for the students. He says they need more basketball teams so they can have more competition.
At home he competes with his 9-year-old brother Kobe.
"He wants to do things earlier and better than me," Knight says. "Kobe reminds me I have to study."
He added Kobe is a big influence on him.
He says it is too early to say where he will go to college. He thinks Florida would be nice because he has been there and the weather is similar to St. Croix's. He is typical of boys his age, saying he would like to be a basketball player. He says he might like to be an entrepreneur, and have a company that does embroidery on shirts and jackets. Or he will become an accountant.
"My life is full of opportunities and I try to make the best out of them," Knight says.