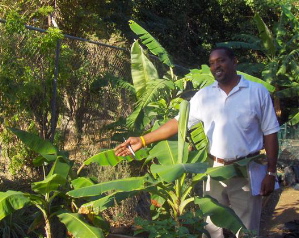 It's just 28 days away from the first day of spring planting in many stateside climes, but the Virgin Islands is not limited by that seasonal calendar. In fact, some gardeners simply ignore it altogether. Sort of.
Health teacher Vincent Henley, whose energy and enthusiasm root the Gladys Abraham Elementary School garden club, says he's running an experiment this year with some of the students.
"The Farmer's Almanac recommends planting certain crops under a full moon," he says,"so this year, we're going to see what happens when we plant contrary to traditional methods, see how the plants compare. The kids want to know."
Henley is an innovative and hugely successful teacher, always open to new ideas. The school's garden, bursting with life – wonderful smells, bright fruit and vegetables – is a testament to his methods. The school has won first prize at Carnival Culture Fair, for the past two years.
Before you even think about starting a school garden, University of the Virgin Islands Cooperative Extension Specialist Carlos Robles says, you must consider the essential components.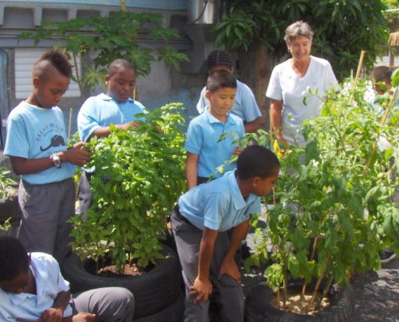 First and foremost, say Robles and Albion George, UVI Extension assistant, is choosing a location that gets six to eight hours of morning sun, has an abundant water supply and is away from play areas and heavy foot traffic.
These principals govern three school gardens now under bloom. Both UVI specialists lend their expertise, and more, to help the gardens flourish. Abraham, Ulla Muller Elementary School and Addelita Cancryn Junior High School are fed from the cisterns and compost bins supplied by the UVI staff.
Henley, who has limited square footage to work with, takes advantage of every inch of his domain, always looking to expand. He takes delight in showing off this year's already blooming crops.
"Look at these peppers, eggplants, basil," he says, "almost ready to go."
Henley's Garden Club is made up of some 90 students from all grades, including kindergarten students who have wee basil beds of their own, and special education students who also have their own garden patch to tend.
"The kids take such pride in their work," Henley says as the students show off a pepper, or a broccoli, holding them up for inspection. "We have to defend our crown this year," Henley notes. He points with pleasure at his pride and joy, the garden's irrigation system, which is fed by a thousand-gallon cistern connected to a drip and sprinkler system. "It's on a timer which runs from 6 to 7 a.m. and the same hour each evening, and through the summer," he says.
Pointing out a large potting table filled with herbs ranging from lemon grass to thyme, basil, mint, oregano, Henley says,
"The seasonings are our main money makers. In fact, parents come in after school to buy a pot or two. And, on Saturdays now, we go into homes and bring herbs."
Henley's energy is contagious. Hearing about Muller's first-year garden club, Henley immediately has an idea.
"We can exchange garden club visits," he says. "They can learn from us and we can cook a lunch together."
It's Ulla Muller school nurse Kathleen Taylor's first year at the garden, but her passion for the new endeavor is right up there with Henley's. Maybe it's something in the soil.
She guides a visitor through the garden with a jump in her step.
"Look at these basil plants," she says of a bevy of fragrant bright green plants growing in rows of tire planters.
The small garden is carefully tended by her 25 or so garden club members.
"About 12 of the kids are really die-hards," she says. "They are wonderful, really good. The boys love it."
The relatively small space is wisely utilized, no square inch going to waste. There's 16 tire planters, three plastic drum planters, and three garden beds in boxes filled with cucumbers, tomatoes, green pepper and lettuces.
That's to say nothing of the spinach running up a trellis in the back. She herds some of the students there to harvest the healthy looking greens. Holding out a plastic bag, Taylor instructs, "Now, pick the smaller leaves, they taste better."
"I'm going to make a casserole with the spinach tonight and bring it in tomorrow," she says."We've made basil pesto, which the kids loved. They'd never eaten it before, and that's what I want them to tell their parents about. The vegetables are so good for them."
Taylor's focus is strictly on nutrition. Talking about the project in her busy office, she stresses the importance of teaching her students about a healthy diet, all the while examining students who come in an almost steady line with complaints which the nurse handles easily, calling a parent to pick up a child with an upset stomach, while never missing a beat in her conversation.
She points to a bunch of new garden tools, neatly tucked in a corner. "People have been so good about donating to us," she says.
Part of that no doubt comes from Taylor's enterprising spirit.
"Just a while ago, Asplunch delivered a load of mulch," she says. "I'd seen them working the other day and asked what they did with all the tree clippings."
Taylor says, "We got a $500 grant from the Community Foundation of the V.I., A-9 Trucking gave us the tires, and Heavy Materials LLC donated the cement blocks."
Taylor has the project on her own for the time being, as fellow garden teacher Jessica Phillips is on maternity leave.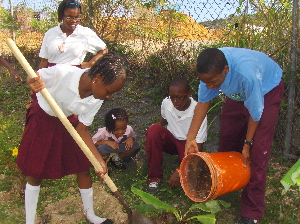 Cancryn's garden is sprouting again for the third year under the guidance of Wendy Diaz, long time geography teacher, activist and author. Diaz has remained stalwart while the project has been plagued by everything thing from the typical garden menaces like iguanas, bugs, water hauling, to detritus from an ongoing construction project.
"Garbage blows over the garden every day," she says.
Undaunted, Diaz says she has "high expectations" for this year.
"We now have a water pipe, so we don't have to haul it from the front of the school," she says. And they received an unexpected gift.
"A local gardener, Leon George, simply took an interest in us. He donated coconut palms, sugar apple, trees, lemon trees and avocado. I was amazed."
Along with that news, Diaz has help from Samuel Burgin, after-school teacher, who is busily directing the young gardeners, each of whom has a bright-green tire planter marked with his or her name, filled with everything from basil to cabbages and tomatoes.
"They're very proud of their individual efforts," Diaz says.
"Green is the color of the Student School Improvement Committee," Diaz notes. She is mentor for that group, along with the after-school Tshwane program she founded a few years ago, who are members of the gardening club.
"We're going to have a good year," Diaz smiles.