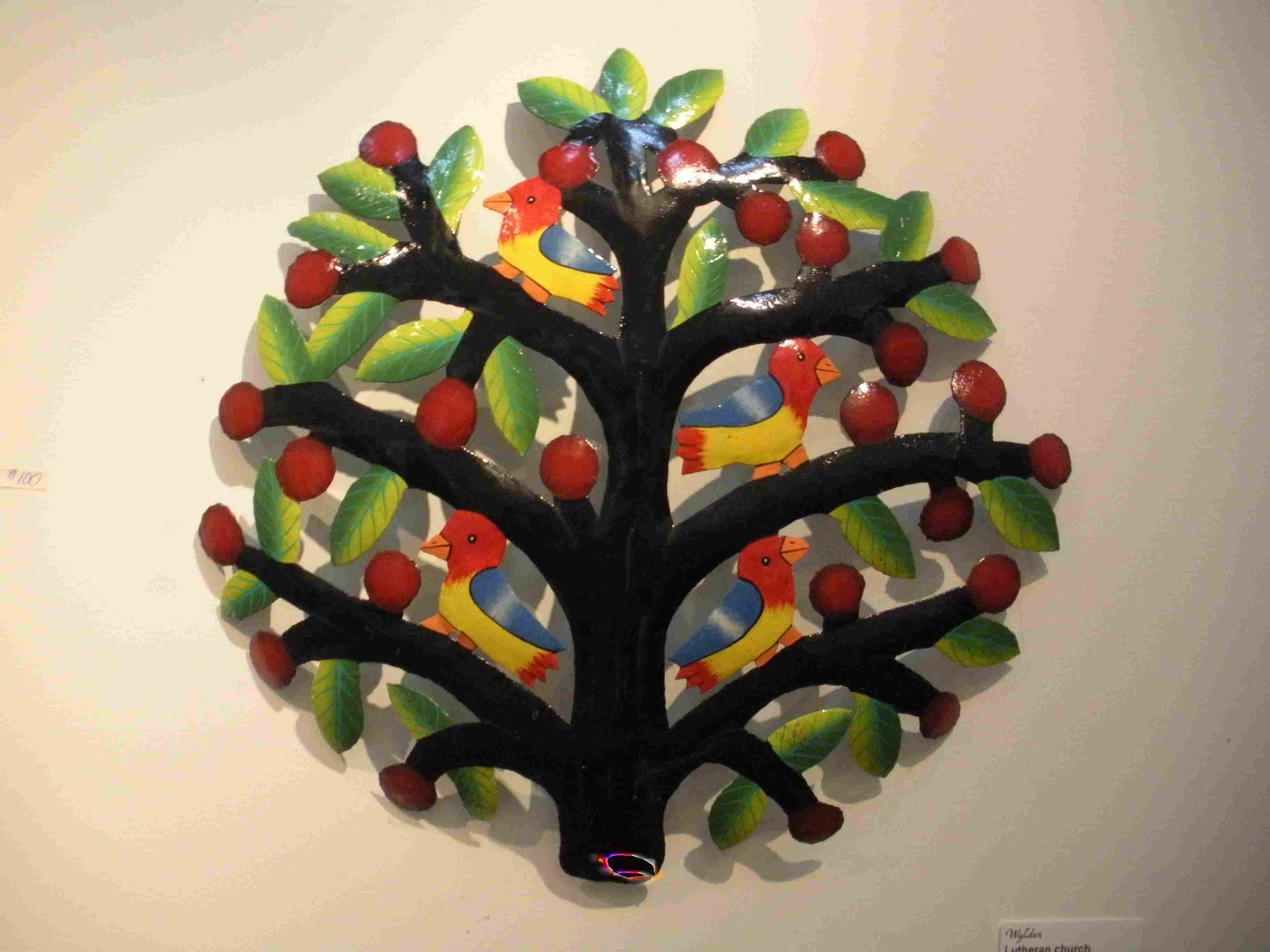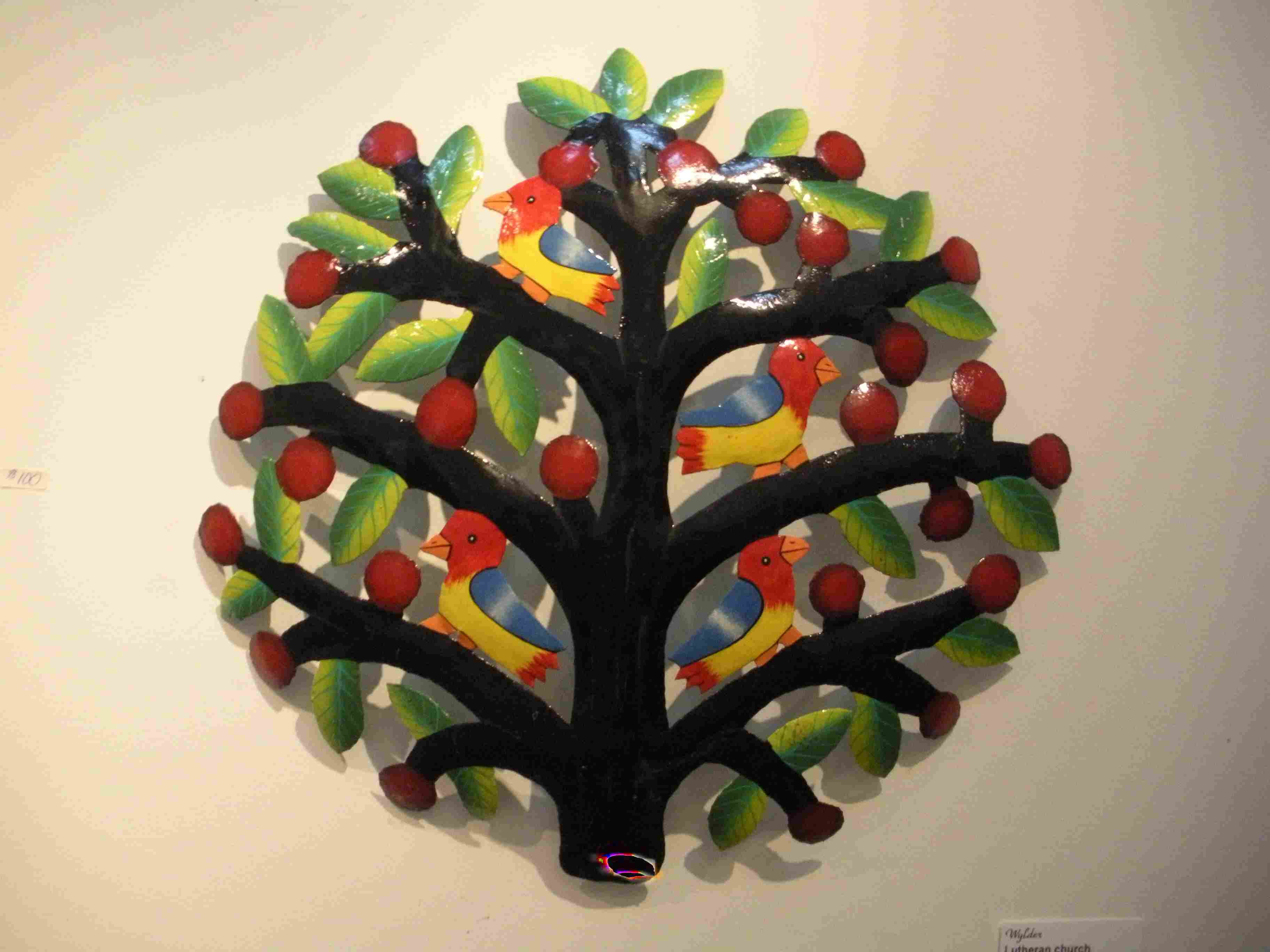 Mango Tango Art Gallery will open an Environmental Art Show from 5:30- 8:30 p.m. on Friday, Feb. 25. On view and for sale are oil drum art from Haiti, baskets and home accents created by Jacob Scott from Bequia, and paintings on yupo by island favorite Dana Wylder. All works are designed using natural or recycled materials.
The metal wall folk art from Haiti is made from discarded oil drums that are burnt, opened and flattened. The artist then sketches the designs onto the drums and cuts them out with a hammer and chisel. The characteristics of Haitian art metal sculptures include areas that are concave or convex to create depth; intricate patterns are created by hammering in "bumps" of different heights to create texture and lines chiseled in to define characteristics of the object (e.g., folds in clothing, veins on a leaf). The sculpture is usually finished with a clear sealer or in a brownish hue, and sometimes painted in brilliant colors.

Jacob Scott is known internationally. His studio is on the small Caribbean island of Bequia just off the coast of St. Vincent, his birth home. He is a one-man developer of the most unique folk arts and crafts group in the region. He goes home to create new designs and then travels the Caribbean selling his creations to an exclusive few shops and galleries. Because of the uniqueness of his technique, he can make his studio portable — creating as he moves.
Scott's art is made from hand-collected beach debris: washed up nylon float rope, damaged and dead coral. He proudly explains that the only manmade item he must buy to finish his baskets is a needle. Each is hand stitched using individual strands from rope that has washed ashore. Gallery co-owner Jane Coombes said, "The gallery is pleased to present the artist at the opening, who will be able to discuss his superb range of natural arts and crafts. Find out more about an artisan whose creations are collected by Mick Jagger, Oscar de la Renta, the Kennedy family and the American Museum of Natural History."
On February 4th, Mango Tango began a three artist show, which featured the watercolors of Carol Carter, Mandy Thody, and Dana Wylder. Dana Wylder's watercolors on yupo arrived after the show began. Since yupo is a tree-free paper, these paintings add to the current environmental art show. Wylder successfully has tackled the technique of creating watercolor paintings on yupo paper, which is actually plastic, a state-of-the-art synthetic material offering all the attributes of the highest quality papers. The surface is nonabsorbent and so requires some variation from traditional watercolor methods. Watercolor painted on yupo creates unusual "fluid" effects. She used various methods for applying the paint on yupo, subtracting paint, and creating cascading variegated and flat washes. Whether she is painting on traditional watercolor paper or yupo, Wylder is recording the architecture and seascapes of the islands. She has a passion for experimentation.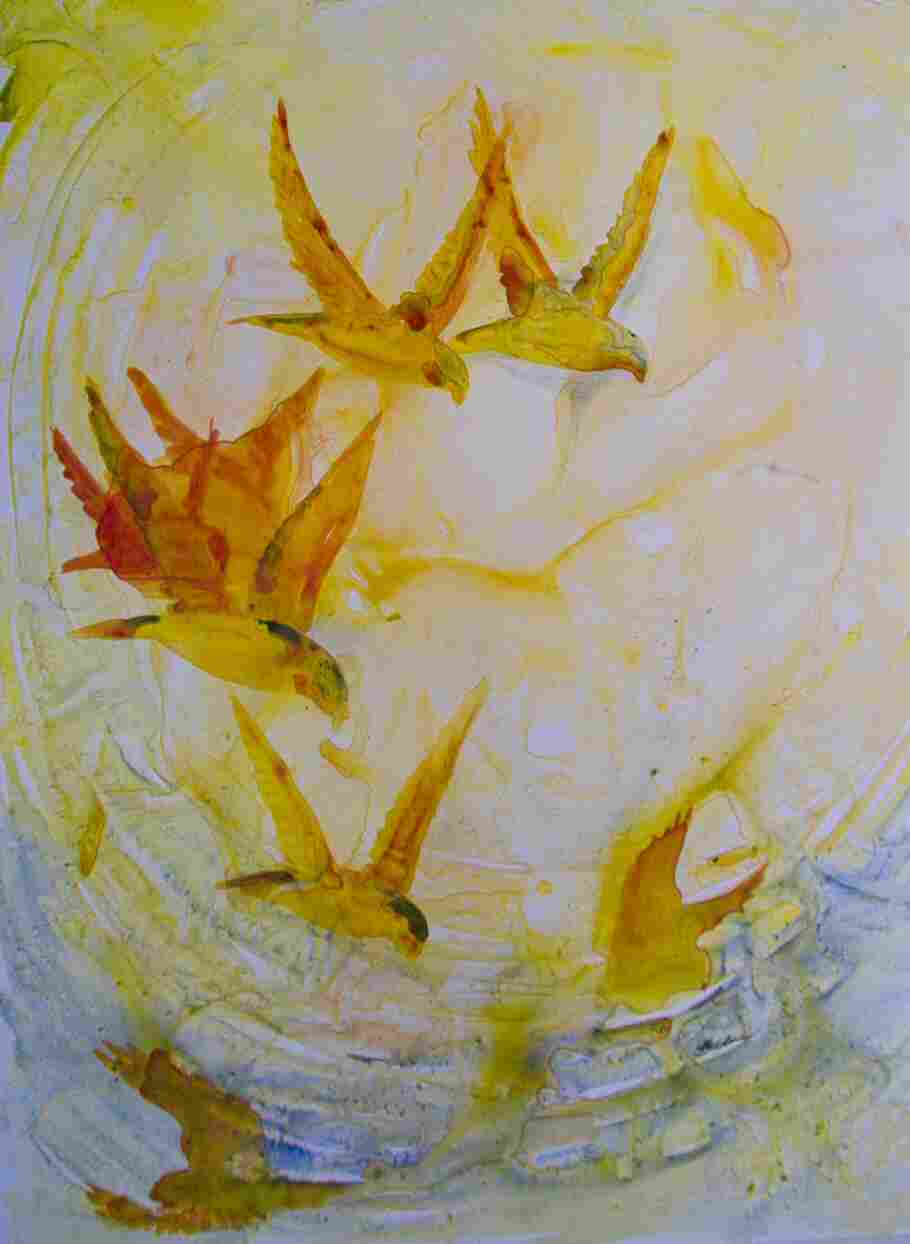 Gallery co-owner Smokey Pratt said, "The gallery finds it rewarding to offer socially-conscious and eco-friendly art. Join us at the rum punch reception and enjoy the music of my band, 2 Blue Shoes. Best of all meet Jacob Scott."
Neighboring restaurant Randy's Bistro adds to the evening's festivities by offering specially priced appetizers and dinners, as well as the regular menu.
For more information, call 777-3060.