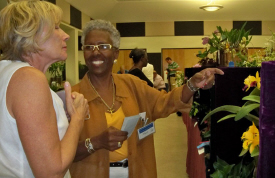 Orchid enthusiasts have an addiction to the exotic beauty of orchids, which come in an array of showy shapes and colors. Those who need a fix can get it at the 40th Annual St. Croix Orchid Society show this weekend.
"It's a disease and an addiction," Sharon Grimes, society member said. "Orchids are so beautiful you can't help it."
Attendees strolled Friday around the Great Hall at the University of the Virgin Islands, mesmerized by the sight of hundreds of gorgeous orchids.
"I just think orchids are magical," Stephanie Fletcher said. "There are so many different colors and shapes."
The orchids were displayed by similar colors and types in two large wall displays set with ferns and tropical greenery. Around 25 smaller arrangements were on tables with velvet panels.
There were fascinating displays of huge purple, yellow and white ruffled cattleyas; unusually bright orange orchids; long-lasting pale yellow-green phalaenopsis; tiny pink or gold and burgundy speckled oncidium, barely visible and nestled in moss; a purple paphiopedilum so dark it looked black.
Michelle Thurland-Martinez, president of the St. Croix Orchid Society, said the group wanted to do something extra special for the 40th show. They decided to do it up in splendor at the Great Hall instead of the American Legion, in Christiansted, as in past years.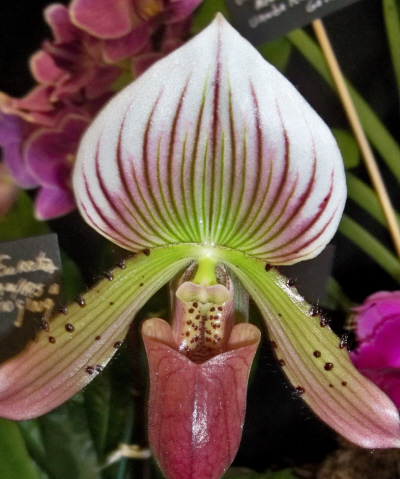 The national judges from the American Orchid Society (AOS) and Puerto Rico Orchid Society (PROS) spoke very highly of the show.
Carlos Fighetti, chair of judges and past president of the AOS, said he has judged on St. Croix the past five years and every year the show is better and more beautiful.
"The show is very charming," Fighetti said. "With this size show you can get up close to the flowers."
There were over 100 different classes judged, so quite a few orchids were sporting blue ribbons.
Thurland-Martinez won the The American Orchid Society Best Display award for a unique display she arranged. She said she was afraid with the heavy rains in the fall she wouldn't have any show- quality blooms.
"Because of the rain a lot of orchids bloomed early, some bloomed late and some died off," Thurland-Martinez said.
The American Orchid Society Award for Cut Flowers went to Magda Finch for an unusual yellow, mauve and taupe colored dendrobium cut spike loaded with flowers. She was given the honor of naming it after her late mother, Threna Henry.
There were five vendors who were selling orchids in bloom.
There is still time to get the orchid fix. The show is Saturday 9 a.m. to 5 p.m. and Sunday from 9 a.m. to 3 p.m.
The society exhibits orchids to the public to stimulate interest in the hobby and to preserve and conserve orchids. For more about the society call Thurland-Martinez at 690-1330.
The show was co-sponsored by the University of the Virgin Islands Cooperative Extension Service.