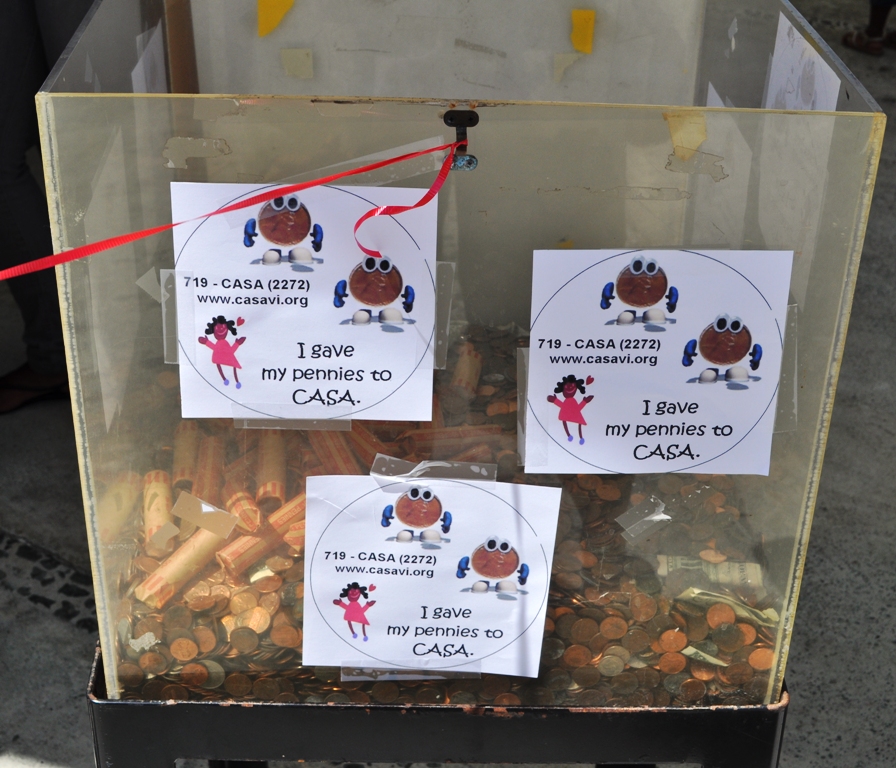 The Sunny Isle Amphitheater was filled with fun and laughter Saturday as children played rowdily and got their faces painted for the Court Appointed Special Advocates eighth annual Pennies From Heaven drive.
Their biggest fundraiser of the year, which generally goes from Thanksgiving weekend to the end of February, proved to be a fairly successful event despite the economic downturn. As of Friday, CASA Executive Director Gail Shearer said that they had already raised $19,000. HOVENSA pledged to match $15,000, and Shearer had hopes that the day would end with their goal of raising $25,000.
The event, which began at 9 a.m. with a bake sale at Kmart, included performances by the Pearl B. Larsen and the Charles H. Emanuel quadrille dancers, face-painting, free balloons, drinks, and storytelling by culture-bearer Janice Tutein.
A donation drive was also held at Cost U Less and Gallows Bay Hardware, and for the first time ever, Innovative became a proud participant in this year's drive. They placed collection jars throughout the Innovative Business Office at Estate Diamond, and at the Innovative Wireless retail store for customers and employees to donate.
At Kmart, Sherilyn Pogson ran the bake sale and was grinning widely because her table was almost completely empty of cakes by 12:30 p.m. They were selling cakes for $3 a slice and brownies for $1.
CASA is a nonprofit that works with children who have been abused and neglected and have been removed from their family and placed into foster care while the court system determines their ultimate fate. However, they also work with other agencies, like the departments of Human Services, Health, and Education, so that children don't fall through the cracks in the multi-agency system.
There were several children on hand who were doing community services, including some kids who had been advocated for by CASA.
"These are just regular kids with the same skills and talent as other kids and are getting advocacy so that they can be the person they want to be in society," she said.
The stark reality that CASA faces is that while it is a successful program, there are still too many kids who get lost in the foster care system. An average of 55 to 65 children are taken from their homes because of abuse or neglect – and many of those don't ever return home, and remain in a group home or other foster care until they turn 18.
"Who would be taking care of these kids if we weren't here? We are working hard to fill in these gaps so this kind of thing doesn't happen," Shearer said.
A favorite place for children to hang out was at the face-painting booth where volunteers Shanya Clement, Cara Pascal and staffer Cherelle Beaupierre hung out. Clement painted elaborate designs of butterflies and rainbows while Pascal and Beaupierre discussed their roles a child advocates. Both agreed that they loved their jobs, and loved making a difference in people's lives.
Pascal, who has been volunteering for the past three years, was pleased that one of her cases recently turned 18, and hopes that she (the person she advocated for) will go on to lead a productive life, go to college and make a difference.
"This [volunteering] is really important for everybody to realize that if they all do their part, it really adds up in the end," she said with a hopeful smile.
If you would like to donate any time of the year, you may drop by the CASA office, Monday through Friday from 8:30 a.m. to 5 p.m. in Golden Rock. Also, a really helpful and fun way to donate is for people to put all their change in a jar throughout the year, and hand it in during the annual drive.
For more information about the Pennies campaign and how you or your group can participate, call 718-CASA (2272).