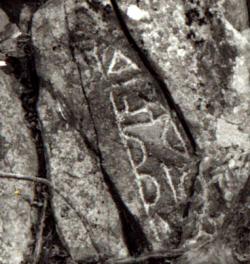 An eagle-eyed visitor spotted a petroglyph that was hiding among those known at Reef Bay. V.I. National Park archeologist Ken Wild saw a photo of the petroglyph among photos of Reef Bay petroglyphs taken decades ago, but hadn't located it. The petroglyphs are located at a pool on a side trail off the Reef Bay Trail.
So, when it came time to lead a Friends of the V.I. National Park seminar to Reef Bay on Jan. 21, Wild took along copies of the photo contact sheet that contained the picture of that petroglyph.
"I wanted to put more eyes on it," he said.
Wild initially found the contact sheets containing the elusive petroglyph in the park's archives.
Darrell Borger of Kenosha, Wis., was the first to spot it. They key was in looking for rocks that differed from the others, Wild said.
"Turning around with my back to the pool, I scanned the rocks, looking for the distinctive tilt in the fissures. I could hardly believe it, but those rocks were right in front of me," Sue Borger wrote in an article for the Friends newsletter, "Tidings."
She went on to say that her husband, Darrell, spotted the petroglyphs and yelled "Here it is! We've got it!"
The known petroglyphs date to 1400 A.D. and are attributed to the Taino Indians but Wild said this one could be as old as 100 B.C. or as recent as 500 A.D. In any case, it is older than its neighbors at the Reef Bay pool.
"It tells us that this was somewhat of a sacred place," Wild said.
While the other petroglyphs are rounder and have faces, this one is linear. Wild said they resemble the ones found in South America and St. Lucia.
This petroglyph raises many questions. Coincidently, on the day this petroglyph was spotted, Wild stumbled on a piece of Saladoid pottery dating to the same era along the trail. The Saladoid immigrated into the Antilles from what is now Venezuela some 2,000 to 1,400 years ago, bringing horticulture and pottery technology to the islands
He suggested that this petroglyph and the pottery belonged to the ancestors of the Taino Indians that came later. Additionally, he said that while St. John saw earlier migrations of people coming up from South America, this find indicates that whoever inscribed the petroglyph and made the pottery were settled on St. John.
"They had villages. They practiced animal husbandry and grew crops. They're kind of the first settlers," he said.
Petroglyphs are rock art carvings whereas pictographs are rock art paintings.
The old photo taken of the petroglyph has it outlined in caulk to make it more visible, but Wild said that practice erodes petroglyphs. Instead, he suggested that if people want to make it easier to see, they splash water on it.
Even worse, Wild said several years ago someone enhanced another petroglyph using a rock as a tool.
"That's against the law," he said.