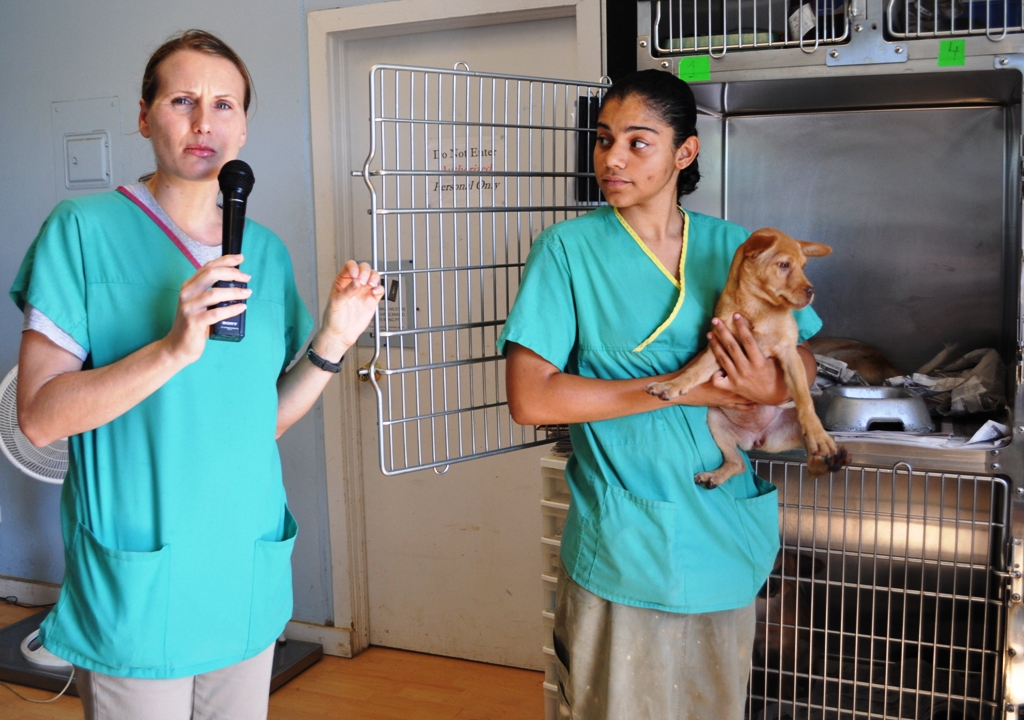 The year 2010 saw an unwelcome jump for the St. Croix Animal Welfare Center, as some 3,500 animals came through the center, about 500 above their average.
Director Gretchen Sherrill pointed out that the shelter is the only place on St. Croix where they have an open admission policy. They will accept any animal in any condition and will never turn away any animal regardless of how dangerous or ill nourished it may be.
To break down the numbers a little further, 2,000 of the animals accepted last year were strays that had been abandoned and/or were victims of abuse, criminal activity, or neglect. The remaining 1,500 were owner surrenders – either because they have too many, are moving off the island, or simply can no longer afford them. Sherrill thinks that the major factor in the increase is due to the struggling economy. Owners simply can no longer afford their pets.
She is worried the economy might also take a toll on AWC's operations. About one-fifth of their funding comes from government contracts, but with the economic decline, these funds could also be affected.
"We as an organization need to be innovative to get ahead of the game," she said about trying to make up the difference in case of funding cutbacks.
The shelter offers many low-cost options for animals. For example, a pet can be spayed or neutered for $25, and adopted for a mere $100, which includes de-worming, microchip, tags, vaccines, and spay/neuter services. Furthermore, if a pet is terminally ill, severely injured, or a threat to society, they offer low-cost euthanasia.
Another positive service that AWC offers is its decade-long transfer program called Pets from Paradise, where animals can be adopted from people off-island. Over 200 were placed last year with people living abroad. One major area where adoptions take place is in New York, particularly in the Hamptons.
AWC has worked for more than 20 years with local veterinarians on St. Croix to operate their low-cost spay/neuter program. But in 2010, they began an exciting venture collaborating with the Fix It Foundation, a PetSmart Charity company, to review the AWC database that tracks trends and problem areas for stray animals to help reduce population overgrowth by providing spay/neuter services to these animals at a low cost.
Bethany Bradford, D.V.M., the director of Veterinarian Services for the Department of Agriculture, was also at the conference with other board members Liz Goggins, Karen Poates and Jennie Parrish.
"This year we have really stepped up collaboration and cooperation [with AWC]," Bradford said.
Generally, the department works with livestock and horses, but occasionally, their paths cross and the two services work together to deal with animals who are abused and neglected.
Stephany DeJesus, an adoption technician, then allowed the media for the first time ever to look at their "quarantine surgery center," which is divided into three sections: treatment, surgical center, and an area for euthanasia. She then took out a few animals that were being housed there and had either been treated for fleas and ticks, or were awaiting adoption.
There were also youth volunteers on-hand who seemed to be loving their weekend duties. One volunteer, Kareem Murrell from Free Will Baptist Church, typically comes every Saturday from 9:30 a.m. to 4 p.m. because he thinks it's fun bathing and walking the animals.
"I do this because I have a passion for animals," he said smiling.
If you would like to volunteer, or have a desire to adopt a pet, please visit www.stcroixAWC.org, or contact (340) 778-1650.