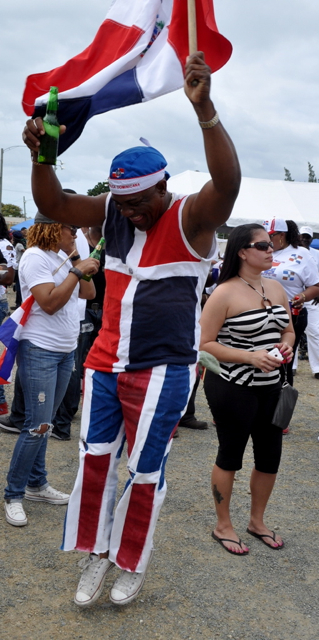 Hundreds of Dominicans danced to the reverberating beat of merengue in Christiansted on Sunday to celebrate the 2nd Annual Dominican Independence Day Parade.
The parade began at 1 p.m. at Bassin Triangle and ended around 3 p.m. at the D.C. Canegata Multi-Purpose Center, where people had been enjoying the Dominican festivities since the early morning.
Freddy Colon, who moved here years ago from San Cristóbal, Dominican Republic, was delighted to celebrate the day his country received its independence from Haiti in 1844.
"I am here to celebrate the Independence Day of Santo Domingo, it's a big party. I love the Dominicans, they are very very happy people," he said proudly.
Several elaborate troupes marched to the music, separated by large floats playing steel music or blaring Dominican tunes to keep the dancers on their toes. An elaborate troupe with checkered outfits was even there to show support to the island's Puerto Rican population
One traditional troupe called the "Ballet Folklorico Dominicano" received a great reception as they waved flags and danced with dignity in their blue, white, and red outfits emulating their country's colors. Bystanders also seemed to love the 30 jeeps decorated with Dominican flags that revved their engines and carried passengers wearing STX Jeep Crew shirts.
A group of young teenagers who attend St. Croix Country Day School walked up and down the parade route on King Street collecting money for an orphanage in Monte Criste. About ten members of the Interact Club had already raised about $50 by the time the parade had begun and had high hopes to receive much more by the end of the day.
When the parade arrived at D.C. Canegata, a huge crowd of people greeted them warmly with an eruption of sing-song cheers of "Yo Soy Domincano."
Throngs of vendors covered the lawn, selling everything from traditional dishes to more unusual curried tofu vegetarian meals. Children had their share of vendors carrying a variety of items containing a sugary mix of candy and could pay a few bucks to jump on the inflated "Bouncing Fantasy."
The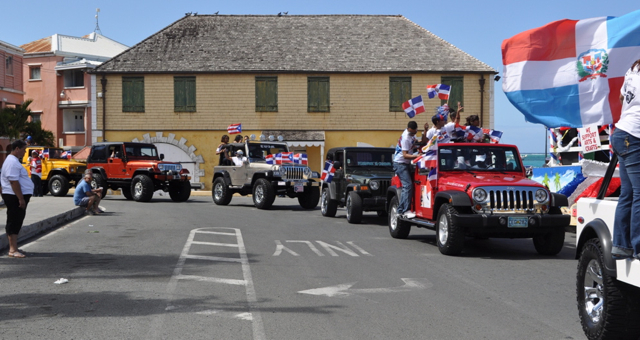 stage was set up to play a continual mix of merengue music, and an occasional D.J. took the center to shout out for people to lift their flags.
Ceasar Thomas, was born in the Dominican Republic but lives in St. Thomas, traveled to St. Croix to enjoy the parade.
Fully clad in a flag-style outfit, he said "People from all over the world, New York, Florida and the Caribbean are celebrating today. I have a lot of pride – and am 100-percent Dominican!"