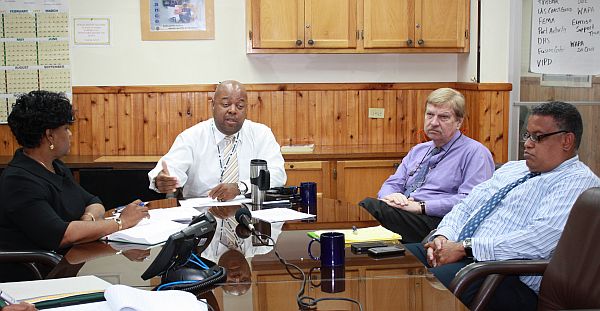 Responding to recent media reports and pressure from V.I. government officials, the V.I. Water and Power Authority board voted Tuesday to rescind its earlier decision to give employees raises based on a performance review.
In a meeting last week, the board voted to conduct a performance review of the authority's management and exempt personnel, which could have, based on the results of the review, given them an up to 3 percent raise. But meeting briefly in executive session Tuesday, the board voted to reverse its decision, leaving those exempt employees with nothing.
"The board's decision is predicated on the need to understand the territory's financial plight and to present a united front on how the government as a whole combats and shares the burden of balancing the economy," WAPA Executive Director Hugo Hodge said after Tuesday's meeting.
Hodge said he could not say if the board's decision was affected by "external forces," such as statements issued by the governor and the Senate's majority leader in the wake of an article published in the St. Croix Avis discussing the board's approval of raises for WAPA management.
Both Gov. John deJongh Jr. and Sen. Celestino White Sr. said in their statements that pay increases for management, whether "automatic or not," are not justified in the midst of the government's current fiscal crisis.
"After all that has been said and written about the dimensions of our economic and budgetary crisis, and after I had written to the WAPA board chairwoman and executive director seeking their best efforts in reducing the costs of government and of services to our people, it would be most unwise for the WAPA governing board to permit any in this community to believe that they would take such an action until the present crisis has been resolved," deJongh said in his statement.
White also said that since the governor has proposed freezing the salaries of local rank and file employees, it would not be fair to grant raises to management personnel this fiscal year.
Hodge took issue with White's statement Tuesday and explained that WAPA's unionized employees have already received their increases, which add up to more than the 3 percent for the exempt staff.
"I'm sure they're going to take it very hard, there's no doubt," Hodge said when asked about how the employees were going to react to the board's decision. "I've read articles, I've seen stuff, and people swear it's me, but I'm not included in this raise."
The people included range from managers and directors to secretaries that are exempt because they are "confidential employees," he said, adding that the salaries that would have been affected range from $138,000 a year on the high end to $26,000 a year on the low end.
"The reason that this group was not provided for is because it's the least controversial group, so when time comes for a performance review, I always ask them to hold off on receiving their increase until we take care of the unionized employees," Hodge said. "This group could have received their increase last July when the fiscal year started, but I asked them to hold off in good faith and wait until all negotiations were completed, and then they would get what was supposed to be coming to them."
The raises are not guaranteed but based on the results of the review, which has to be conducted before any employee can receive an increase, he said. Hodge also said the increase, which is for the last fiscal year, would have cost WAPA approximately $300,000.
When asked when the issue of raises would be brought up again, Hodge said that he would have to wait for directions from the board.
"Now that the unions got theirs, it was time for me to honor our agreement," Hodge said. "It's insensitive to have them wait from July 1 and now have them hear 'no.'"