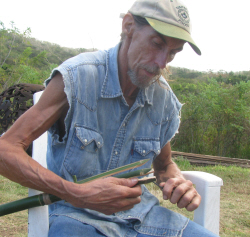 The ancient techniques of hunting and gathering food were taught Saturday in the rainforest of St. Croix, bringing many people back to the basics of nature.
The 5th Annual Caribbean Bushskills Rendezvous at the Ridge to Reef Farm is being held through Monday. Saturday's hunting and gathering drew around 25 people who fished and gathered different foods from all over the farm, with most of what was found contributing to the island feast on Sunday.
"We are trying to look at some of the most basic technologies known to man that connect us to nature on St. Croix," said Nate Olive, 34, program director of the Ridge to Reef Farm.
The Primitive Survival Skills classes Thursday consisted of teaching adults and 80 of St. Croix Educational Complex High School's students from Anne Marie Gibbs' environmental science classes. The students and adults learned how to make fire with basic instruments, make cordage for rope, clothing, shelter, traps and fishing lines and finally learned how to make tools out of stone, bone shell and wood.
Friday, guest teacher Veronica Gordon, a seventh generation bush doctor who specializes in wild edible and medicinal plants, taught more students from Gibbs' class along with some adults about the benefits of jungle herbs and trees.
Hunting started Saturday with a group of men gathered around a fire making fishing spears out of bamboo. Led by experienced bush-guide Steven "Snow Bear" Taylor, the group learned how to manipulate the shape of bamboo with the heat from the fire and split the ends into sharp points in order to catch fish.
The spears take about two hours to make. Later in the afternoon, the group fished in the farm's pond for local tilapia, hoping to catch some fish for Sunday's feast.
That was not the only lesson using bamboo during the day because Taylor — a member of the Blue Panther Clan of the Cherokee Nation — also taught a workshop showing students its many different benefits. The group learned how to make rice cookers, bowls, fruit pickers and multiple musical instruments such as flutes and shakers.
"Bamboo has a lot of potential of saving a lot of forest land because it grows much faster than regular trees. Bamboo matures in seven years opposed to a forest which takes about 50 years," said Taylor, who added that there are 28 different species of bamboo growing on the farm.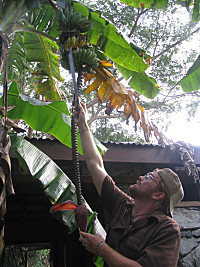 The gathering class was instructed by Nate Olive who started by teaching how to maintain a healthy banana tree patch. The key to growing successful bananas is to cut down the old trees to make room and transfer more energy to the younger trees, so they can produce more quality bananas, according to Olive.
He also showed how the heart of the banana flower can be eaten along with the core of the trunk. The tree also provides a natural adhesive that can be used as glue.
Next to the banana patch was some conga roots that Olive pulled up and explained how they can be made into tea or also used as a smelling salt with its pungent odor.
"The skills we are learning are human skills – every person's ancestors knew these skills. It's the common denominator of technology," said Olive.
As Olive led the way through the rainforest, he stopped at many West Indian locust trees looking to gather stinking toe fruit and some sap. The stinking toe fruit, which does have an unpleasant odor, is very high in calcium and is eaten raw or mixed with milk to make a smoothie, according to Olive. The stinking toe fruit has a creamy texture and the taste has a hint of banana to it.
The West Indian Locust tree sap is used for incense and is a bug deterrent. It is gathered by cutting into the truck of the tree and forming a contraption that captures the flow of sap during a full-moon. Bushskill student Dey Hernandez, 34, of Puerto Rico, had a Calabash bowl and leaf in her bag that was set up to collect the runing sap.
Olive then gathered flowers from a grove of Moringa trees, which are higher in vitamin A than carrots, higher in vitamin C than oranges and have more potassium then bananas. The Moringa seed pods can also be used to filter water.
The gathering experience wound down with a march down coconut grove where ripe orange-dwarf coconuts were plucked and sampled. Finally, green mangoes were the last to be collected and contributed for the feast.
This summer, Ridge to Reef Farm holds the Youth Empowerment Summer camp for youth ages 12-16 from June 28 to July 30. The camp is an award-winning youth heritage program with the purpose of increasing empowerment and sparking a heritage renaissance among youth in the Virgin Islands. The application deadline is June 9, 2011.