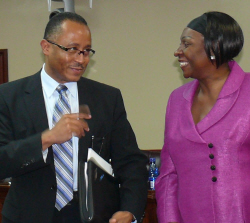 Millions in federal economic stimulus money still flow into the V.I., paying for myriad good things from teacher salaries to fiber optics. But the spigot closes in 2012, and the V.I. government still has a $75 million shortfall this year, local agency officials said in V.I. Senate hearings Friday.
Senate President Ronald Russell convened the Committee of the Whole in Frederiksted, hearing from V.I. Public Finance Authority Acting Director Angel Dawson and a regiment of agency heads on local use of money granted through the American Recovery and Reinvestment Act of 2009.
As of the end of January, the U.S. Virgin Islands has been awarded $364.9 million and spent $173.6 million in ARRA funding — about 44 percent, said Dawson, who is also finance commissioner. The total reflects both money spent through the V.I. government and agencies and direct federal payments to V.I. residents, including about $8.5 million Temporary Assistance to Needy Families and Supplemental Nutrition Assistance Programs, he said.
Local government and nongovernment agencies received $272.7 million and have already spent $83.9 million, or 31 percent of the awarded money. Government agencies account for $265.5 million and have spent 30 percent, with as much as 60 percent obligated to be spent by the third quarter of 2011, he said.
Roughly 453 jobs have been created — at least for the duration of the funding — and a much larger number have been retained through state fiscal stabilization funds, Dawson said.
For much of the 14-hour hearing, senators heard detailed accounts from agency heads on the status of grants and projects under their purview, looking at progress made, any sign that money could be sent back, jobs created and chances to get more.
Russell also wanted to clarify how the ARRA funding affected the V.I. government's fiscal situation, he said.
"With this infusion of capital into our local government, why are we facing severe austerity measures?" he said. "The inconsistency is glaring, looking at the $75 million deficit we are facing and the amount of unexpended funds here."
He and several senators asked about possibilities for directing any of the unspent ARRA funds toward the V.I. Government's fiscal crisis. Marian Prescod, a consultant hired by PFA to manage ARRA grants, said federal conditions and rules basically prevented any moving around of money. At another point, Dawson said stabilization funds were already having a big beneficial impact on the budget, but not enough to overcome revenue lost due to the recession.
"So if we did not have the state stabilization funds, we would have a more severe deficit than the $75 million we are looking at?" asked Sen. Louis Hill. "That is correct," Dawson said.
Stabilization funds effectively replace lost budget revenue, saving jobs that were already there, so the effects can be hard to see, Prescod said.
Illustrating that point, Assistant Education Commissioner Donna Frett-Gregory said Education has received $52.7 million in stabilization funds as of February, which has been used to pay the salaries of 810 teachers.
Meanwhile, some ARRA funded projects are complete, some are ongoing, and some — like a massive, $60 million broadband project — are just beginning to ramp up.
The array of projects runs the gamut. The V.I. Police Department, Bureau of Corrections and Justice Department have received $6.1 million and spent $2.1 million so far. The VIPD was awarded $2.5 million, funding eight projects, including $650,000 for a computerized risk management and incident tracking system.; $500,000 for forensic investigation; $360,000 to the Crime Prevention Bureau, and money for school security, the police junior cadet program and other initiatives.
The V.I. Housing Authority has received over $40 million, with more than $20 million to build low income housing at Grandview and Altona on St. Thomas, and much of the rest going to rehabilitate existing housing.
Another $18 million of ARRA funding is paying for highways projects. Of that, $10.6 million has been spent and the rest obligated, with $3 million set aside to purchase a ferry, said Public Works Commissioner Darryl Smalls.
Over at the V.I. Water and Power Authority, Executive Director Hugo Hodge Jr. and staff said about $4 million in ARRA funding paid for a major public water system pressure reducing and stabilization system, with magnetic flow metering and new valves, which is about 60 percent complete. ARRA also paid for a new, safer, more environmentally friendly water chlorination system, eliminating the need to handle dangerous chlorine gas, he said. That project is complete. WAPA is also using ARRA money to replace about 1,200 existing streetlights with energy-saving LED lights, he said.
Each grant has different terms, but all the grants must be fully expended and the projects complete before the end of 2012, according to Prescod and Dawson.
Extensive information on the status of all the grants can be found at the PFA's Office of Economic Opportunity's website.