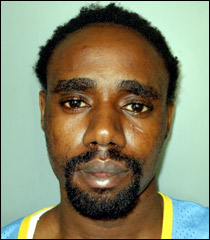 V.I. Superior Court Judge Brenda Hollar declared a mistrial Saturday in the trial of Neville Potter Jr. for the February 2009 murders of Marvis Chamaro and Jack Diehl in Mandahl Bay, saying a new trial may be scheduled as soon as early April.
The jury, which has been sequestered away from family, work and friends since Monday, was apparently deadlocked from nearly the moment they began deliberating Friday afternoon. After an hour and a quarter, they sent a note to Hollar saying they were unable to come to a unanimous verdict.
Hollar sent the jury back to try again and at the end of the day they remained deadlocked. Hollar then directed them to try one more time on Saturday. Just before noon Saturday, the jury again sent Hollar a note saying they were still deadlocked and the judge declared a mistrial.
Moments after her ruling, defense attorney Leslie Payton moved for "a reasonable bail" for Potter as he awaits a new trial. Hollar denied the motion, saying Potter's status does not change with the mistrial, so as before the trial, he must remain in custody without bail. She said she did not have the power to change Potter's bail status.
"I believe he is entitled to bail," said Payton, saying he would shortly file two formal motions with the court: one requesting Potter be released on bail and a second asking to withdraw from the case. His regular practice would be seriously affected if he had to remain on the case through the new trial, said Payton.
Hollar directed Payton to make that decision and file a motion to withdraw before April 4, to allow a new attorney to prepare.
Assistant Attorney General Claude Walker took the mistrial in stride, saying "this is part of the American criminal justice system," and that the government may retry as many times as necessary until there is a final verdict.
"We are definitely ready to retry this case at the first possible date in April," Walker said.
According to witness Kyle Gumbs, he and Chamaro were parked by the abandoned Old Mandahl Inn around 1:30 p.m. on Feb. 8, 2009, when a car pulled up and a man he identified as Potter drove up in front of their car, got out, and brandishing a machine gun, told them to get out of the car.
The assailant began shooting and Gumbs and Chamaro ran into thick, thorny brush to escape. Losing his sandals, shorts and cell phone and getting badly scratched up, Gumbs managed to escape and ultimately flagged down a car and contacted police.
Chamaro was shot multiple times to the body and head and killed. Jack Diehl, who lived nearby, heard the shots and drove over to see if anyone needed help. The gunman took chase after Diehl, who drove toward his house, located on a long dead-end road, abandoned his vehicle and ran through a neighbor's yard to escape. The assailant, who a neighbor positively identified as Potter, shot Diehl in the back as he was running, then shot him in the back of the head from less than two feet away.
The night of the murders, two witnesses picked Potter from an array of six photos of young men matching the general description of the assailant and identified him in court during trial. When Potter was arrested on Feb. 13, 2009, he was in a car matching the description of the vehicle involved in the crime.
Police photographed long, deep scratches on Potter's arms, legs and torso, which prosecutors argued were consistent with his running through the bush several days previously. Potter's sister Nicole Potter, the vehicle's owner, gave a statement at the time saying her brother borrowed the vehicle shortly before the time of the crime and returned it shortly afterwards. But in court, she testified he borrowed the car later in the day and that Potter was actually at a large family gathering at the time of the murders.
Roughly 20 members of Potter's extended family appeared in court each day to show support. No other members of Potter's family testified.
Juries are empaneled on a quarterly basis and the next quarter begins April 1, so early April is the soonest a new trial could occur, according to Howell and Walker.