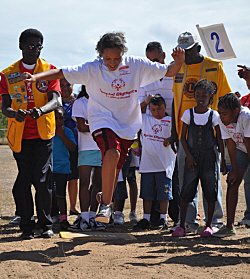 Cheers and laughter could be heard throughout Renaissance Park in St. Croix Saturday, as nearly 100 athletes competed at the area games of Special Olympics Virgin Islands.
People from all walks of life were quick to lend a hand in helping athletes prepare for the games. In fact, there were even more volunteers this year than participants, including top brass of the V.I. National Guard (VING), U.S. Coast Guard members, and the St. Croix Rescue Squad.
"The Special Olympics is a good thing to do – to see all these kids smiling is great," said Petty Officer 1st Class Rob Davis of the Coast Guard.
Jennifer Richards, an athlete who has competed for the past several years, was particularly happy throughout the day and her grin never subsided as she walked around as a mentor gathering people for the opening ceremonies.
"I like running and really everything," she said.
Another athlete, Domingo Guadalupe, who carried the torch across the finishing line said with excitement, "I run because I like sports."
The participants were led around the track for the opening ceremonies led by Gov. John deJongh Jr. and VING member, and athletes gathered to recite the Special Olympics oath: "Let me win, but if I cannot win, let me be brave in the attempt."
Excitement filled the air as the games officially kicked off where nine groups of athletes competed in bocce, softball throw, tennis ball throw, 200/100/50/25 meter runs and basketball.
Parents, grandparents, siblings and friends filled the sidelines cheering on their athletes. It didn't seem to matter how well the participants did, everyone was cheered on with exuberance.
The governor could be seen at a number of events, giving each athlete he encountered words of encouragement and applause.
Sadly, there were over 25 athletes who didn't show up for the event, even though they had registered. Some parents confirmed as late as Friday that they would be there, but failed to show. This made Director Janice Lee's husband, Charles "Dagger" Lee particularly disheartened.
"This is their one day throughout the year where they get to be the star, and it's just terrible that they don't get to be here," he said.
Janice Lee also seemed frustrated about that, but was more upbeat when she started thinking about the possibility that eight athletes from St. Croix and six from St. Thomas might be able to attend the World Games in Greece this year, which will be held in June. They still need to raise a lot of money to go, but she's hopeful that through fundraisers and awareness people will be inclined to donate.
"Going would be a wonderful opportunity for these kids and participating in the Special Olympics changes the life of not just the athletes, but also the parents," she said. "Because the child can accomplish something and it gives parents the opportunity to see that they are not alone. "
St. Thomas plans to hold their area event on March 26, and the territorial games are set for an unknown date in May.
Every athlete won a medal at the end of the day and all received a free lunch, along with the volunteers.
If you would like to learn more about the Special Olympics Virgin Islands or donate, please contact Janice Lee at 772-2277.