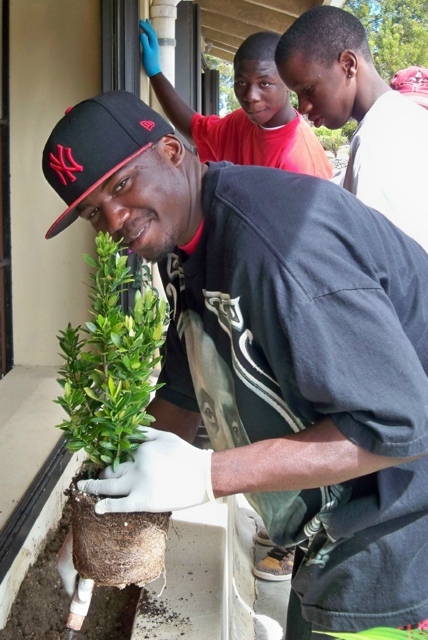 About a dozen teenage boys helped senior citizens spruce up their community center Saturday at Joseph E. James Terrace Senior Home, working under the guidance of the Delta Sigma Theta Sorority sisters.
The boys washed walls, cleaned restrooms, mopped floors and landscaped in the IMPACT Day of Service. The boys also prepared soil in two planters and then planted, ixora, croton, and magenta -colored bougainvillea in front of the center.
Latrell Jacobs said a friend told him about the project and he came to help out of the goodness of his heart.
Dianne Canton-Reed, chair of public relations for the St. Croix Alumnae Chapter, said Deltas around the world focused Saturday on uplifting young black males in communities by giving them a sense of purpose and responsibility. She added this supports the sororities national EMBODI (Empowering Males to Build Opportunities for Developing Independence) program, which was designed to refocus the efforts of the sorority, along with the support of other organizations, on the plight of African American males.
Shelby King Gaddy, Delta president, said the sorority helps prepare girls to be empowered women in the Delta Gems program. The sisters hope to help prepare young men to be good mates for the girls when they become adults. The sisters have done workshops with young males on etiquette, job skills, finances and more. Gaddy said communities are challenged today because they are losing young males in the penal system. They are dying, she added, and dropping out of school.
Rev. Matthew Gady walked around and casually chatted with the boys about how they can make their lives better.
"It is good to have community service projects and to impress on young men to help and do things on their own," Rev. Gaddy said.
"There is too much negativity out there," Canton-Reed said. "This is a positive event and every little bit helps."
Brothers from four local fraternities also supported the sisters in the Community Center Beautification Project.
The group worked from 9 a.m. until around noon and then the sisters cooked up a barbecue and invited residents to dine with the teens.