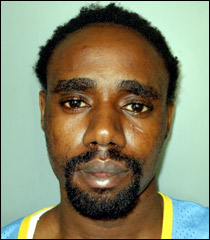 The V.I. Department of Justice formally announced Monday it will retry the Mandahl Bay double murder case against defendant Neville Potter Jr., whose trial for the February 2009 shooting deaths of Marvis Chamaro and John Diehl resulted in a hung jury last weekend.
Assistant attorneys general Claude Walker and Douglas Sprotte petitioned the court to grant the earliest available date within its calendar to retry the defendant on the existing charges, Attorney General Vincent Frazer said.
Potter is charged with two counts each of first-degree murder, second-degree murder, and first-degree assault; first-degree attempted murder; third-degree assault; and eight counts of unauthorized use of a firearm during the commission of a crime of violence.
In a statement, Frazer thanked the jury and the witnesses for their work, saying he appreciated how difficult it is to be sequestered away from friends and family.
"Being sequestered—held in a remote location, away from friends and family—is a hardship that must sometimes be endured by the men and women who serve on a jury; however, it is a necessary function of maintaining the integrity of our criminal justice system and the safety of our jurors," Frazer said.