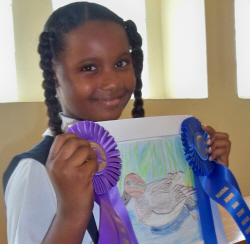 All the students in Jan Rothwell's fourth grade class at St. Mary's Catholic School in Christiansted were winners in the Federal Junior Duck Stamp Contest Friday.
"If nothing else we'll make them into little environmentalists," said Toni Westland, regional coordinator for the Federal Junior Duck Stamp Conservation Program from the J.N. "Ding" Darling National Wildlife Refuge in Sanibel, Fla.
In the process of designing a stamp they gained awareness of local wetlands and conservation on St. Croix. The students personally gave cards of thanks to all involved in the program.
Three winners were chosen each for first, second, and third place and there were 13 honorable mentions. The three first place winners were Breyana Almistica, Aaliyah Bisambers and Wilson Reynolds.
Out of the top three, Almistica's colored pencil drawing of a green-winged teal won best of show. Her drawing will represent St. Croix on Earth Day, April 22, at the John Heinz National Wildlife Refuge near Philadelphia, Penn. Almistica's drawing will be alongside 50 other state entries at the National Junior Duck Stamp contest.
"Oh my gosh," Almistica said. "My friends told me I would win. I kept thinking of my mom, nicknamed 'Ju Ju Duck.'"
The students learned about the importance of wetland environments to waterfowl, and the importance of Sandy Point National Wildlife Refuge to the endangered leatherback sea turtles while participating in the art contest. The students chose to draw the local ducks, the green-winged teal or blue- winged teal.
Sean Walsh was recognized for writing the best sentence about conservation. He wrote; "The Earth is perfect, wildlife is beautiful, we should make it last."
Basil Williams Sr., principal at St. Mary's, said initiatives like this program help reach their goals and objectives, supporting the concept of learning beyond four walls.
The students all received ribbons, certificates and prizes like binoculars, games, bird journals, pencil boxes, paints, and books given by the U.S. Fish and Wildlife Service and the Sandy Point National Wildlife Refuge.
The stamps may be purchased at the U.S. Postal Service for $5 each and proceeds from the sales go to education grants. They aren't postage stamps or used for entrance to national wildlife refuges or as hunting stamps. Their purpose is to promote conservation.