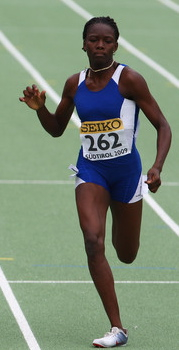 In her first college meet, University of Texas freshman and St. Croix native Allison Peter ran the third-fastest 200-meter time worldwide thus far this season.
Peter's time of 23.22 seconds last weekend at the University of Central Florida Black and Gold Challenge meet in Orlando is the NCAA leading time for the event, according to a statement from the V.I. Track and Field Federation.
Peter also anchored her school's 4 x 100-meter relay team to victory at the meet with a time of 44.73 seconds, currently the seventh-fastest time in the world for this season.
Peter believes she can make International Association of Athletics Federations (IAAF) qualifying times, according to the VITFF. Her time in Orlando meets the "B" Standard for the 200-meter for the IAAF World Championships, and VITFF officials believe she is likely to make the "A" Standard of 23 seconds.
Peter sustained an injury in her first indoor meet ever after running a strong 60-meters (7.44 seconds) but is now poised to have a great outdoor season.
Peter, daughter of William and Delia Peter of St. Croix, has competed in multiple IAAF World Youth and Junior Championships with two Silver Medals in the 2009 World Youth Championships.
A graduate of St. Croix Educational Complex, she is on full scholarship at the University of Texas and receives an International Olympic Training Grant (managed by the VIOC), which is good up to and including the London Olympic Games, according to the VITFF.