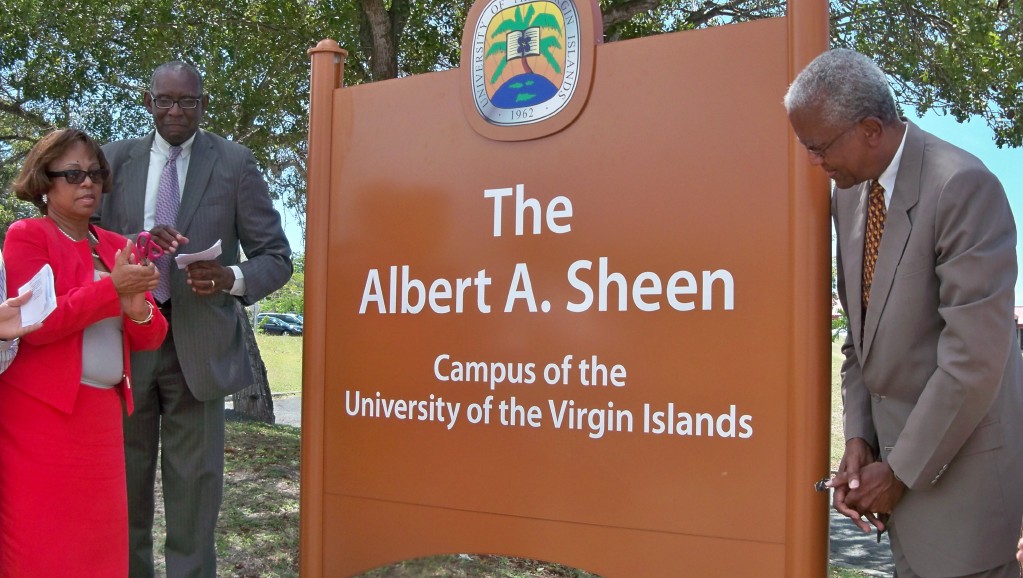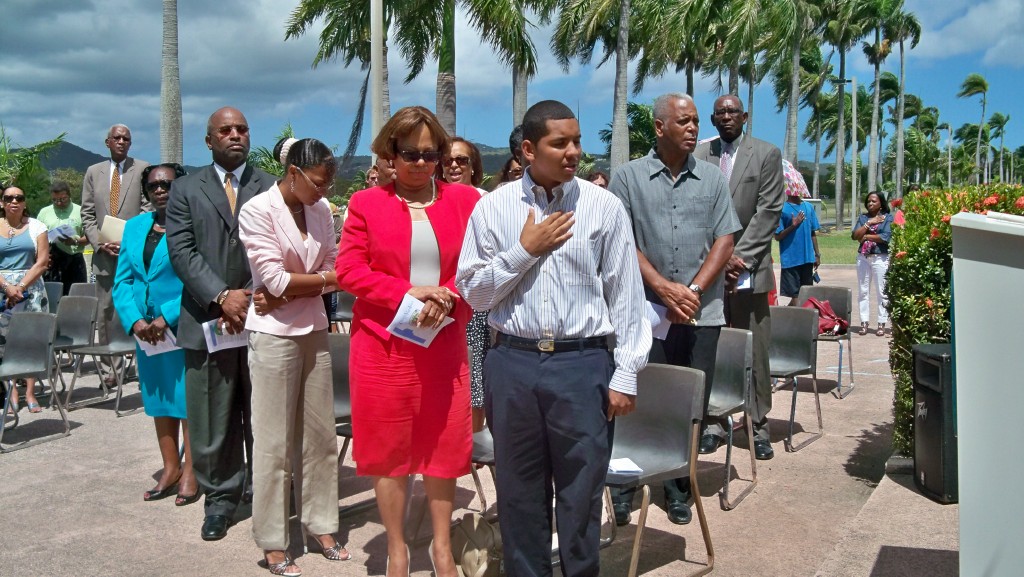 It's official: UVI's St. Croix campus is now the Albert A. Sheen Campus of the University of the Virgin Islands, named in honor of the late V.I. lawyer for his commitment and dedication to the territory.
In a regular session of the Legislature in 1996, an act to name the campus after Sheen, who died in 1993 at age 51, was approved.
Jada Finch-Sheen, his widow, said this was a long time coming, and she was very happy to see the recognition her late husband was receiving.
"He wouldn't want the honor," Finch-Sheen said. "He was very humble." She said he would say "Leave me alone about this."
More than 50 people attended the ceremony at the information kiosk next to Palm Drive on the university campus. The new brown sign with white lettering was unveiled and can now be seen by all who enter the campus.
Court officials and UVI administrators spoke to the group of family, colleagues and friends who were seated in the blazing sun, some under colorful umbrellas.
UVI President David Hall, a lawyer himself, said it is a special honor naming the campus after a person in the legal profession, since lawyers aren't always portrayed as having a good reputation. He said Sheen brought about change and served those in need.
"Days like this are good—doing the right thing, because of the right reasons," Hall said.
Judge Raymond Finch, Sheen's brother-in-law, gave Sheen's background and told some personal stories. He said Sheen was always tinkering in business and always dreaming. He added that Sheen dreamed about establishing a law school on St. Croix.
Judge Eileen Petersen said she was as close as a sister to Sheen when they were growing up. She said he had tenacity, dedication, courage and commitment.
"He recognized he had an obligation to the community and set standards for everyone, young and old," she said.
Sheen was born in 1942 in Christiansted and attended public school. He earned his bachelor's degree from Lincoln University in Pennsylvania and his law degree from Howard University School of Law in 1968. He and Winston Hodge opened a law firm, which later became the Hodge, Sheen, Finch and Ross Law Firm.
One cause championed by Sheen was the right of V.I. children to be educated in the public schools, regardless of the immigration status of their parents. The District Court agreed with his position and granted all children residing in the U.S. Virgin Islands the right to a public school education.
Sheen was elected twice to the V.I. Legislature. He sponsored a bill enacted into law making the U.S. Virgin Islands one of the first no-fault divorce jurisdictions in the nation. He was also later appointed a federal bankruptcy judge.