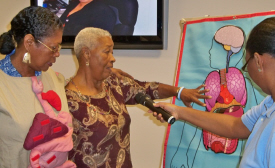 Diabetes is the fourth leading cause of death in the territory, according to the V.I. Department of Health. Dr. Cora Christian, medical director of The Virgin Islands Medical Institute (VIMI) said to prevent potentially lethal complications people need to take responsibility for controlling their diabetes.
VIMI hosted an American Diabetes Alert Day Symposium Friday on St. Croix to empower people through education. Almost 75 people, mostly older women, attended the symposium to learn how to take responsibility for themselves.
Christian gave opening remarks at the symposium at the Virgin Islands Cardiac Center (VICC) at Gov. Juan F. Luis Hospital, in recognition of Diabetes Awareness Month.
"Responsibility means share in the work that has to be done to help yourself," Christian said. "You can't deny or defy the verdict of diabetes. It's not a death sentence. It is clear that the way to reduce complications is by people understanding their responsibility to change and take control."
She said fear and panic can stop the body from healing itself. She said diabetes untreated can lead to amputations, blindness and kidney failure.
Desiree James, RN, said 16 percent of the people in the Virgin Islands have diabetes due to unhealthy eating habits and lack of exercise. "Obesity is the leading cause of type 2 diabetes," James said. "We have to get away from eating being a social occasion and not clean our plates."
She said if you have a large waist you are more likely to develop diabetes. "It's your health, you have to take responsibility with lifestyle modification, controlling your diet and exercising. Even if you don't think you have diabetes, get tested."
Dr. Kendall M. Griffith, cardiologist and director of the VICC, spoke about the relationship between the heart and diabetes. He told the group diabetes makes the blood vessels weak, causing circulation problems. Griffith noted it is less expensive to eat right and exercise than to come and see him.
"We don't do a good job at exercise here," Griffith said. "We tend to park as close to a building as possible. Then you wonder why your dryer is shrinking your clothes."
Dr. Venne Williams, director of rehabilitation services at JFL, described different types of exercise and their benefits. Williams said she does see a lot of people walking, but they are walking slow and aren't getting their heart rate up enough to be beneficial. She said strengthening and resistance training helps improve balance.
"The important lesson is how to preserve and repair the damage done so far," Christian said. "Act on the early warning signs. It is wonderful living at a time when science gives us hope."
VMI holds free Diabetes Self Management Education Classes throughout the year at different locations. The next Every Diabetic Counts class is April 26, at the AARP office in Estate Diamond. To register for the class call 712-2400.
Sponsors were VICC, Indulgence Spa, Plaza Extra-East, Gas for Less, Sunny Isles Barber Shop, Creations "4" Jyla and VIMI.