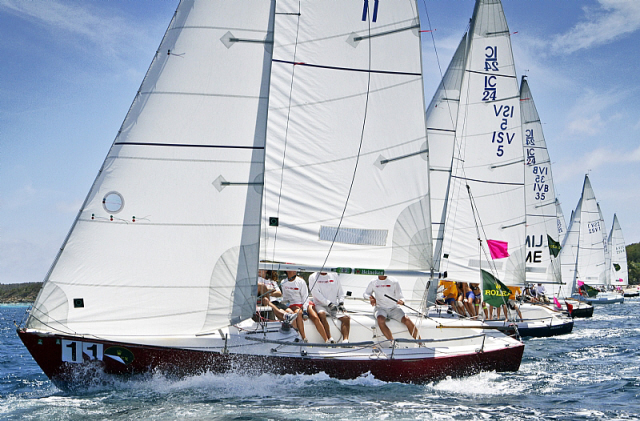 While sailing in paradise for some conjures images of cloudless skies, azure blue water and brisk trade winds (the exact conditions that prevailed Saturday), for more than 700 sailors on 77 teams it meant well-planned race courses and exceptional execution by the International Rolex Regatta race committee for some thrilling sailing.
Jim Swartz's (Park City, Utah) Vesper/Team Moneypenny, sailing in IRC 1 class, noticed it most as they won both of their races today to stretch their lead to four points over Richard Oland's (New Brunswick, CAN) Vela Veloce. The first race was a twice-around windward-leeward course that lasted an hour, while the second showed off the scenic south coast of St. John (USVI) on a 22-mile windward/leeward course that used Leduck Island as its windward turning mark.
"It was really interesting," said Vesper crew member Gavin Brady (NZL), one of the world's leading match racers as well as a past America's Cup helmsman and tactician. "There were rocks in the middle of the course that had to be avoided, so you didn't have full use of the race course, but the entire fleet was pretty much side-by-side the whole time." He praised the race committee for the courses they had designed, noting their ability to lay marks in shallow water and keep the course square to the wind, which some other Caribbean events are unable to do because of natural constraints.
"We spent most of the time watching Vela Veloce (which finished 2-2 for second overall today) and Interlodge (4-3 for third)," added Brady. "We had a four-minute lead in the second race, but the first race, it was only 30 seconds, so that's pretty close after an hour of racing. The good news is we're getting better every day, and we've got more boat speed to get out of this."
Brady will have to prove this without Swartz at the helm, since Swartz left the island today, instructing Brady to drive tomorrow. "He basically said before he left, 'Guys, don't mess it up from here," laughed Brady.
Calvin Reed's (Tampa, Fla.) Beneteau First 40.7 Elandra of Hamble was skippered by his son-in-law John Linton to a 2-1 today for the class lead in the 11-boat CSA Spinnaker 2 class. Reed's daughter, a member on the boat's 10-person crew, said she was in awe of the surroundings today but kept her head in the boat nevertheless. "We like a little lighter breeze than the 12 -15 knots we had today," she said, "because El OCaso (the J/120 owned by Miami, Florida's Richard Wesslund and currently in second) is a planing boat and took off from us. They are our #1 competition along with another Beneteau, a newer version of ours, called Smile and Wave (owned by Puerto Rico's Jaime Torres and currently in fourth overall)."
By winning today's single 19-mile race in the 10-boat CSA Non-Spinnaker class, James Dobbs' (Antigua) Lost Horizon moved into second place from third yesterday while Tony Sanpere's (St. Croix, USVI) J/36 Cayennita Grande replaced yesterday's leader, Bernardo Gonzalez's (Dorado, PR) Beneteau First 35s5 Bonne Chance, now in third.
Dobbs, who lives aboard Lost Horizon in the winter and races the boat throughout the islands, normally sails in spinnaker class and has sailed almost every International Rolex Regatta to date. He was short on crew this year and made a last-minute change to the non-spinnaker class, which Sanpere, last year's winner, welcomed. "It's nice to be in the same class to see how we compare to a very competitive boat," he said. "Dobbs is one of the winningest skippers in the Caribbean."
Other classes
With a perfect score line, Antilope, Willem Wester's (NED) Grand Soleil, is still leading in the nine-boat IRC 2 class. Phil Lotz's (Newport, R.I.) Club Swan 42 Arethusa remains in second overall after finishing 3-2 today.
In CSA Spinnaker 3 class, Timothy Molony's (New Orleans, La.) Wild at Heart broke yesterday's stalemate with Kike Gonzalez's (San Juan, PR) J/80 Otrakosa when it won both races today, with Otrakosa in second each time.
In CSA Spinnaker 1, Mark Plaxton's (Tortola, BVI) Melges 32 Team INTAC/CROWLEY finished 2-2 today to maintain yesterday's lead over Andrea Scarabelli's (St. Maarten, AHO) Melges 24 Budget Marine, which remains in second just ahead of David West's (Tortola, BVI) Melges 32 Jurakan.
The IC 24 One- Design class, with 16 boats, completed nine around-the-buoy races today, with William Bailey's (St. Thomas) Team INTAC JV taking the lead in overall scoring. The second-place finisher, Tom Kozyn's (St. Thomas) Badfish, is a full 14 points behind.
In Beach Cats, with nine boats competing, Jorge Ramos's (San Juan, PR) Hobie 16 Universal won today's single distance race to maintain his lead over John Holmberg's Hobie 16 Time Out.
All Ages, All Types
This year more than any other, it is clear that the International Rolex Regatta has something for everyone, whether young, old, male or female, novice or veteran.
Bill Alcott (St. Claire Shores, Mich.), age 74, has sailed his Andrews 68 Equation in the regatta for more years than he can remember. This year, he decided to charter the Swan 601 Aquarius and promptly had team shirts printed that read Equarius, in tribute to his old boat. His dry humor is only matched by his all-out approach to sailing, and life. "You're as old as you don't and as young as you do!," he said after finishing 5-6 in today's racing for a sixth overall in IRC 1 class.
Local sailing phenom John Foster, who has sailed in all but one of the Rolex regattas since its inception in 1974, is 73, and has two Rolex victories (and the timepieces that were awarded with them) to his credit. He, too, decided to make a switch this year, from skippering his Kirby 25 The Good, The Bad & The Ugly to crewing aboard his good friend Peter Corr's Warwick 85 Aiyana.
Foster is known for exemplifying how winning is important but not everything. "It's not necessary in order to have a good time at the Rolex," he contends, making it clear that fun is something no one leaves the International Rolex Regatta without having experienced. He also made another change recently, taking up the helm of a Star boat in order to campaign for the 2012 Olympics…with his son as his crew.
The youngest competitor seems to be 5 ½ year old Madeline Avery aboard the IC 24 Brand New Second Hand. Her father, and skipper of the boat, Morgan Avery, is a St. Thomas boat builder who made a name match racing with local America's Cup veteran Peter Holmberg. He helped design the IC 24, which is now one of the hottest one-design classes in the Caribbean, with the intention that it be perfect for introducing young people to sailing.
There are plenty of women populating the boats here, including Tea Ekenoren-Sauren (FIN) who skippers the Swan 45 Blue Nights and counts some of Finland's top sailors among her crew. She is known for her successes in a number of high profile regattas such as the Rolex Capri Sailing Week and Swan 45 Gold Cup.
There are also two all-woman crews: Diamonds Are Forever is skippered by Annie O'Sullivan (GBR), while the Swan 51 Northern Child is skippered by Suzette Smith (Hawaii).
Racing concludes tomorrow (Sunday) with as many as six races for IC 24s and two races for all others on Pillsbury Sound. Racing starts at 10 a.m.
The International Rolex Regatta is the third of the four-part Caribbean Ocean Racing Circuit (CORC), which also includes major regattas in St. Croix, Puerto Rico and Tortola. Sailors are treated to a mix of short-course and long distance races that take place off St. Thomas Yacht Club and along the waterfronts of St. Thomas and St. John, and those lucky enough to win the top classes here can also take home a Rolex watch as a prize. Parties are legendary, including a Saturday evening reggae party at Yacht Haven Grande marina, which adds exotic flair to the activities.
The International Rolex Regatta has been hosted by St. Thomas Yacht Club since 1974, making it the oldest regatta in Rolex's portfolio of international sailing events. Rolex is known for sponsoring famous offshore and grand-prix events such as the Rolex Sydney Hobart Yacht Race, Rolex Fastnet Race, Giraglia Rolex Cup, Rolex Middle Sea Race, Maxi Yacht Rolex Cup and the Rolex Farr 40 World Championship.
A.H. Riise, Official Retailer of Rolex watches in the U.S. Virgin Islands, takes an active role in sponsorship of the International Rolex Regatta. The St. Thomas shop is one of the largest in the Caribbean and is located on the historic waterfront of downtown Charlotte Amalie.
During the event, race fans can enjoy daily video and real-time race information, including blog updates and live results, via the website and on large screens at the yacht club. For more information and for facebook and twitter interface, visit www.rolexcupregatta.com, where the Notice of Race, online registration, current entries and competitor updates are available.
PROVISIONAL RESULTS
International Rolex Regatta 2011
Day 2
(Place, Yacht Name, Type, Owner/Skipper, Hometown, Results, Total Points)
IC 24 (One Design – 16 Boats)
1. Team INTAC JV, IC 24 24, William Bailey , St. Thomas, VI, USA – 6, 3, 3, 1, 1, 3, 2, 1, 6, 2, 4 ; 32
2. Badfish, IC 24 24, Tom Kozyn , Charlotte amalie, VI, USVI – 4, 6, 4, 4, 2, 2, 6, 4, 4, 9, 1 ; 46
3. Team Maximus DonQCristal, IC 24 24, Jorge Santiago, Ponce, PR, USA – 3,1,8,3,4,7,5,5,3,8,5; 52
CSA Spinnaker 1 (CSA – 6 Boats)
1. Team INTAC/CROWLEY, Melges 32 32, Mark Plaxton , Sea Cows Bay, Tortola, BVI – 1, 2, 2, 2, ; 7
2. Budget Marine/GILL , Melges 24 24, Andrea Scarabelli , Cole Bay, St. Maarten, AHO – 3, 1, 4, 1, ; 9
3. Jurakan, Melges 32 32, David West , Road Town, Tortola, BVI – 2, 3, 1, 4, ; 10
CSA Spinnaker 2 (CSA – 11 Boats)
1. Elandra of Hamble, Beneteau First 40.7 11.909m, Calvin Reed , Tampa, FL, USA – 3, 2, 2, 1, ; 8
2. El Ocaso, J 120 40, Richard Wesslund , Miami, FL, USA – 4, 1, 3, 2, ; 10
3. Lazy Dog, Grand Soleil 54 54, Sergio Sagramoso , San Juan, PR, USA – 7, 5, ; 12
CSA Spinnaker 3 (CSA – 6 Boats)
1. Wild At Heart, JOD 35 35, Timothy Molony , New Orleans, LA, USA – 2, 1, 1, 1, ; 5
2. Otrakosa, J 80 26.25, Kike Gonzalez , San Juan, PR, USA – 1, 2, 2, 2, ; 7
3. Mag 7, J 27 27, Paul Davis , Charlotte amalie, VI, USA – 3, 3, 3, 4, ; 13
CSA Non-Spinnaker (CSA – 10 Boats)
1. Cayennita Grande, J 36 36, Antonio Sanpere , Christiansted, VI, USA – 2, 2, 2, ; 6
2. Lost Horizon, J 122 40, James Dobbs , Falmouth, ANT – 5, 1, 1, ; 7
3. Bonne Chance, Beneteau First 35s5 35s5, Bernardo Gonzalez , Dorado, PR, USA – 1, 3, 3, ; 7
IRC 1 (IRC – 6 Boats)
1. Vesper, TP 52 52, James Swartz , Park City, Utah, USA – 2, 1, 1, 1, ; 5
2. Vela Veloce, Southern Cross 52 52, Richard Oland , Saint John, NB, CAN – 3, 2, 2, 2, ; 9
3. Interlodge, JV 52 52, Austin and Gwen Fragomen , Newport, RI, USA – 1, 4, 4, 3, ; 12
IRC 2 (IRC – 9 Boats)
1. Antilope, Grand Soleil 43 43, Willem Wester , Breskens, Zeeland, NED – 1, 1, 1, 1, ; 4
2. Arethusa, Club Swan 42 42, Phil Lotz , Newport, RI, USA – 3, 2, 3, 2, ; 10
3. Three Harkoms, Oceanis 44 44, James Hudleston , St. petersburg, FL, USA – 2, 4, 2, 4, ; 12
Beach Cats (Portsmouth – 9 Boats)
1. Universal, Hobie 16 16, Jorge L Ramos , San Juan, PR, USA – 2, 1, 1, ; 4
2. Time Out, Hobie 16 16, John Holmberg , St. Thomas, VI, USA – 3, 2, 3, ; 8
3. Blame it on Rhea, Nacra 20 20, Mark Chong , St. Thomas, VI, USA – 1, 10/RAF, 2, ; 13