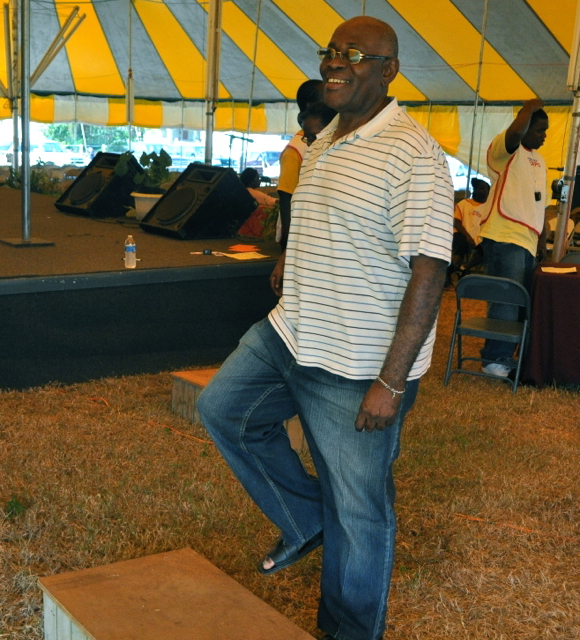 Throngs of people waited Sunday morning for their chance to have a free health check-up in Sion Farm.
The Central Seventh-day Adventist Church Health Ministry hosted the Heath Expo, where participants received an overall health assessment and free counseling from registered nurses who volunteered.
By 9:30, almost 100 people had registered and were waiting for the free services, which included: a fasting blood sugar check, blood cholesterol check, a Harvard Step Test, body fat analysis with height and weight, and a peak flow meter lung test.
Myrtle Rogers, who oversaw the expo and is part of the church's health ministry, said that they wanted to run a free health assessment as part of the church's community outreach program, and that they try to do these types of events about four times a year.
"This is nice because it offers people a chance to get their health assessed," she said.
Bible counselor and instructor Margaret Peters participated for the first time, and was delighted that she was in good health.
"I just realized that my fasting glucose level is good, and so I don't have diabetes, I just have to continue to exercise and eat well," she said.
Modestus John-Babtiste, an emergency medical technician who works at Hovensa, was at the expo assisting adults with the peak flow meter test. He noted that everybody was pretty average and that he had not seen any abnormal or low results.
John-Babtiste's daughter, Kiana, was also volunteering with the Adventist youth group, the Pathfinders, measuring the heights and weights of participants for the body fat analysis test. She was happy to be able to give back to the community and do volunteer work, she said.
"I like the Pathfinders because it teaches you about God and about life and helps prepare you with basic survival skills for when you leave," she said.
Ada-Luz Flemming supervised the dozen or so Pathfinders, providing them direction on which events needed the most staffing. She mentioned that she was really grateful for the young volunteers, who ranged from ages 10 to 15.
While most of the people tested were in good health, some people were faced with disappointed results.
One woman, Hazel Henry, who just a few years ago was 5 feet, 5 inches tall, was surprised that she had lost two inches in height.
"Now I am 5-3, because of osteoporosis," she said.
Paulette Marin, a nurse at the Juan F. Luis Memorial Hospital, counseled people on their assessment forms at the end of their testing and said the most common issue was a rise in blood pressure because people are unaware that they can take their blood pressure medication while fasting.
"I tell them, 'Just because you are fasting, doesn't mean you should stop taking your medication, because that could be a problem!' " she exclaimed.
Pastor Winston Richards, from the Bethel Seventh-day Adventist church in Fredriksted, was impressed with the turnout and explained that community outreach is an important tenet of their church.
"We also believe that health is very important in a person's life –and as a church, we are primarily interested in preventative medicine, so that later problems can be avoided," he said.