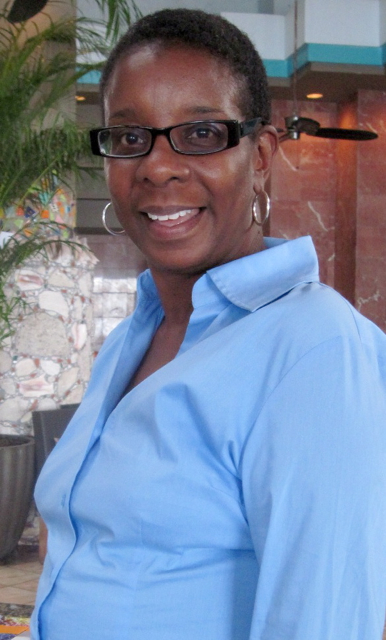 Brenda Dalmida is a woman on a mission – to make sure Julius E. Sprauve students, and any other students who cross her path, get the very best education possible.
As the school's assistant principal, she's in a position to make that happen.
"Education is the life I live," she said.
She called education the great equalizer.
Dalmida, 53, didn't start out to be an educator. Born in New York City to a father from St. John – the late Alex Dalmida – and his wife, Rose, she planned a career in business.
However, as a child she spent time on St. John, attending Guy Benjamin School, an experience that exposed her to a more rural life.
"I thought it was the garden of Eden," she said, recalling those childhood memories.
The family returned to the New York–New Jersey area, and Dalmida went off to St. Peter's College in Jersey City to get a degree in Spanish and Latin American studies. A stay in Costa Rica and Nicaragua to fulfill requirements for her degree further kindled ed the spark she picked up during her early life on St. John.
"My plan was to do international business," she said.
She got a job in downtown New York City working on international money transfers, but she said she "absolutely hated it." The "drudgery" began to take its toll, but Dalmida spotted an ad looking for someone to teach English to non-native speakers a couple of nights a week at a nearby community college. She had gotten some experience doing just that while living in Costa Rica.
Dalmida helped her students with practical knowledge, such as reading supermarket circulars and speaking on the telephone.
"It was really fulfilling," she said.
Soon it became clear that she needed to switch careers. By this time, she had moved to upstate New York, where her husband landed a job. She then went to Syracuse University for a master's degree in teaching speakers of other languages and became a school teacher in Syracuse.
Teaching a cultural cornucopia of children opened up the world to her, but when an African American boy asked her why she wasn't teaching him and his peers, her eyes were opened.
"I was floored. I knew I had to find a way to advocate for more children," she said.
Syracuse University offered her a full scholarship for a second master's degree in educational leadership. She taught in Rochester and Ithaca, but her father's illness brought her back to St. John, where he and her mother had returned.
"And I was beginning to fall out of love with snow," she said.
She made the moved in 2006, joining Sprauve School that August. She sees no reason why Sprauve School students can't excel. She said that learning doesn't have to be boring, and that young people can be "stimulated and motivated."
"It's my responsibility to create opportunities," she said.
She said she has to work at getting those in the educational system to believe that the school can offer an excellent education.
While Sprauve School has challenges, St. John students also face them. Dalmida said that commuting to public high school on St. Thomas is a big one. The students have to get up at an "ungodly" hour, are exhausted at the end of the day and often can't participate in extracurricular activities that round out their education.
To address the issue of a low number of St. John-based students, she envisions that the proposed elementary and high school on St. John would be a magnet school, attracting students from St. Thomas as well as St. John.
Although Dalmida is familiar with the challenges at Sprauve School and those facing all St. John students, she faced her own personal challenge in 2005 when she got breast cancer. She's an upbeat survivor, making trips to her doctors in Syracuse to ensure that her good health continues.
And she heads back to the states to visit her children. Daughter Alexandra Williams, 25, has a master's degree in mental health counseling from Howard University and lives in Albany. Her other daughter, Stephanie Williams, 21, is a junior pre-med student at Howard. Her oldest is engaged with a wedding planning for August 2012.
"I'm just biding my time for grandchildren," she said.
Her spare time is spent gardening, watching college basketball, serving on the Friends of V.I. National Park board of directors, and rebuilding her house, which was heavily damaged in a February fire.
As for her future, Dalmida doesn't think it will be fulltime on St. John, but she plans to keep her house so she'll have a base. For now, she's happy to be in a place where her family has roots and the Dalmida family name is recognized.
"It's so wonderful to know that your heritage is known," she said.