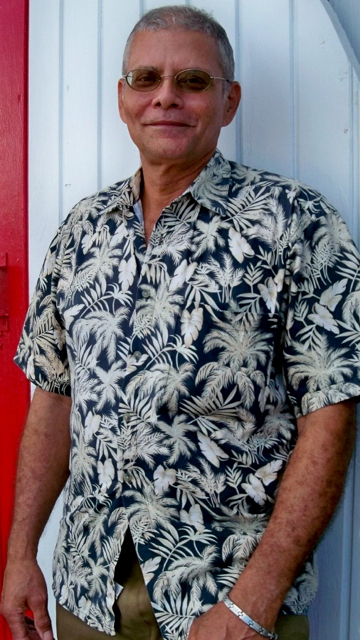 For Miguel A. Ramos it's all about service.
Ramos served in the U.S. Navy and V.I. Army National Guard and continues to serve his community by volunteering for numerous organizations.
"I had some time available to fit in another way to serve, so I took Rescue Squad Recruit Training," Ramos says. He graduated form the St. Croix Rescue Academy in January at the age of 62.
Ramos is physically fit and full of energy, so it's easy to see how he completed 340 hours of technical and physical training such as CPR, first aid, search and rescue, marine rescue, high angle rescue, and then pass two physical training tests. He was commended at graduation for performing CPR in an emergency situation while still in training.
Ramos was born and raised in Spanish Harlem in New York City. He joined the Navy in 1965 and saw active duty in Vietnam until 1967. He moved to St. Croix in 1971, finding here a place he could make peace with himself and society. He was one of the first members of the V.I. Army National Guard that formed here in 1973.
Ramos says serving his country was the best thing he could have done. Otherwise, he said, he might have ended up in prison or worse.
Parades are meaningful to Ramos, so he tries to march in every military parade on St. Croix. He usually marches with the American Legion Post 85 Christiansted, but he could march with the Coast Guard Auxiliary or the Navy League, which he is also a member of. During veteran's celebrations and functions he is usually at the post, working on whatever event they are sponsoring.
His favorite cause is the American Red Cross, where he began his volunteer career. From there he found out about other agencies that needed volunteers that dealt with disabled and the homeless. Another organization he is partial to is the State Independent Living Council (SILK) where he is vice chairman. SILK provides information to people with disabilities as to where they can get help.
He works in the Department of Human Services Senior Community Service Employment Program, where he supervises a work team at the Red Cross thrift store. He serves coffee at the Veterans' Clinic and he helps out at the American Legion bingo.
He is married to Mildred Chappro Ramos. When he has spare time he loves to listen to the old classic tunes, dance, swim and travel.
"There is all this action in me that motivates me," Ramos says. "I will continue to serve and give back as long as I am able to. I'll try to stay healthy and hope for the best."