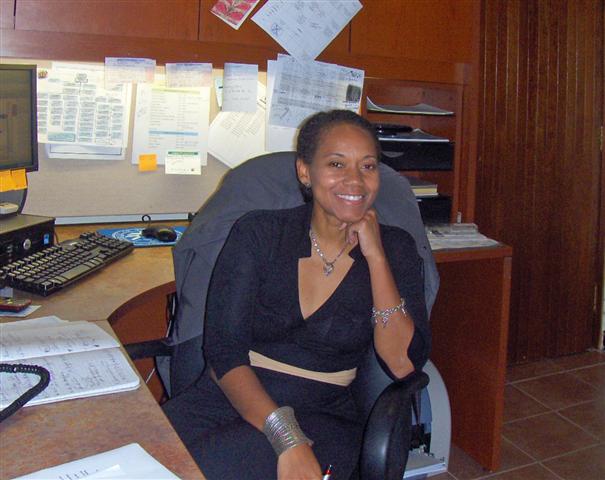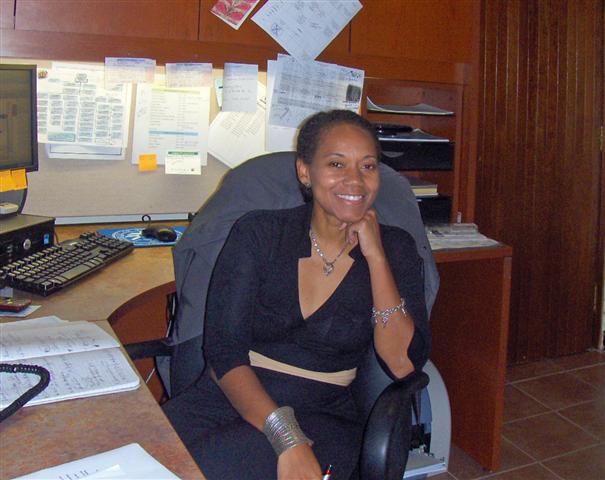 The University of the Virgin Islands' coffers are showing a promising spring harvest, with $630,000 collected toward its 2011 $1.5 million fundraising goal—quite an improvement compared to the $363,000 raised this time last year.
The spring blossoming is largely the fruit of almost a decade of preparation Dionne Jackson has brought to her post as UVI Vice President for Institutional Advancement, where she and her dedicated staff oversee a variety of areas: Annual Giving, Major Gifts, Alumni Affairs, Public Relations, and the Reichhold Center for the Arts.
Jackson, a St. Thomas native, returned to the island in 1999 with a Bachelor of Arts degree from Vassar College to serve as marketing manager and special events coordinator for Reichhold Center.
Then in 2003, she reached a pivotal point in her career when she realized what her mission was.
"I had an epiphany," Jackson says. "I realized there was a piece missing. Basically, I felt as hard as we were working, we needed to put that passion into building an institution, not just running an organization.
"I don't mean that to sound too critical," she continues. "I went to graduate school to learn what to do to build an institution. I needed very specific knowledge and experience."
Jackson's office walls are now filled with diplomas attesting to that knowledge and experience, earned by dint of a strong work ethic, which she is not shy about discussing.
"These last eight years were grueling," she says. "I've never worked harder in my life."
However, it was richly rewarded. She now holds a Master of Business Administration from Cornell University and a Master of Fine Arts in Arts Management from Brooklyn College.
Jackson most recently left the University of Pennsylvania, where she was the associate director of Major Gifts for the Provost's Area. In that position, Jackson launched a new fundraising program, built a $5 million pipeline in two years, and was personally responsible for soliciting gifts between $50,000 and $2 million.
Prior to her position at Penn, Jackson served as assistant director of Corporate, Foundation and Government Relations at Vassar. In that position she was instrumental in helping the college secure more than $10 million in funds to support institutional and faculty-related activities.
Jackson is putting her skills behind UVI's current alumni fundraising efforts.
"We are using a new approach utilizing the skills of a company specializing in the process. All the larger universities in the states use this approach. It's the best practice," she says.
And early reports indicate the new approach is a success: alumnus contributions are up 30 percent from the first quarter last year. In fact, overall contributions are up a whopping 61 percent.
Another innovation this year is the e-giving online program, which makes it possible to give from your computer by taking advantage of UVI's convenient payment options or enroll in your company's matching gift program.
"We have a strategic and more personal approach in terms of our reaching out, trying to reach more people, and giving people more opportunities to donate larger amounts," Jackson says.
Jackson is clearly delighted with her UVI life. "I always knew I'd be back," she says. "It's an exciting time for us.
Jackson adds that UVI President David Hall has "so many initiatives," including the Man Up Male Empowerment Conference, the Brothers with a Cause initiative, a Hotel and Tourism program, and, as of last week, the St. John Learning Center.
Jackson adds that student enrollment is up, and "there's more of a focus on bringing new resources into the institution."
Jackson says the university is exploring the feasibility of a Capital Campaign next year, which would be a first; and next year, she notes, is the school's Golden Jubilee anniversary.
Jackson tells about a letter to UVI written by Denelle Baptiste, a student in UVI's 3-2 Engineering program, which allows students to attend three years at UVI, followed by two years at a partner university, while earning degrees from both.
Baptiste is winding up her last two years studying computer engineering at Columbia University in New York.
"My classes at UVI were challenging and excellent preparation for me to compete with my classmates at this Ivy League institution," Baptiste writes. "I look forward to bringing this experience and knowledge back home to the Virgin Islands to serve my community."
Thus inspired, Baptiste has started a fundraising campaign on her own, reaching out to UVI students and alumni.
"This year, I am pledging a special commitment of $150," she writes, "and I am writing to ask those of you who can, to match my gift …. I love UVI—our hometown university with ties to the Ivy League."
The letter speaks volumes about the spirit of UVI. And that, Jackson says, "is huge."