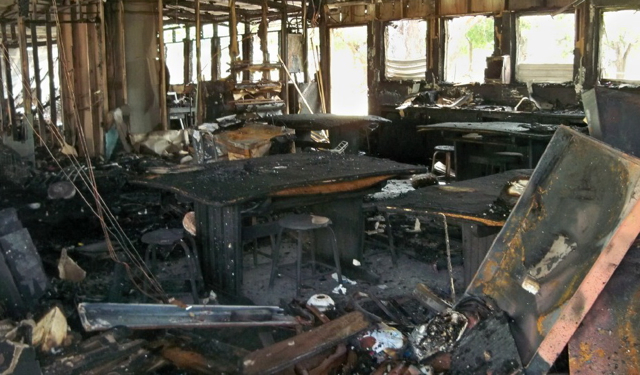 A raging fire swept through Country Day School's art center Saturday while students and staff were away on Spring Break, gutting the building and destroying everything inside. No one was hurt.
"Firefighters found the school's art gallery fully engulfed in flames," said Daryl George, special assistant to the director of Fire Services, Sunday afternoon. The call came in at about 4:42 p.m. Saturday, reporting a structural fire at Country Day School, said George. High winds and a wooden structure meant the fire burned hot and fast, causing a lot of damage in a short span of time, George said.
The first responders called for additional units and firefighters got the blase under control in about 45 minutes, he said.
"The cause of the fire is under investigation," he said.
Country Day Headmaster William Sinfield, away on vacation at the time of the fire, flew back to St. Croix upon getting the news.
"At least nobody was hurt, thank god," Sinfield said while surveying the damage with Lower School Dean Linda Yoder Sunday. "I don't want any students going near the building though. It's a safety issue," Sinfield said.
So far, fire inspectors have not seen any indication of arson, but the real investigation will begin on Monday, he said.
"Once a full investigation is done, then we will tear this down as fast as possible; this week if possible," he said. "Our hope is to start rebuilding as quickly as we can."
Classes held in the art building will need to to be rotated to other classrooms, he said.
School should be open Monday, unless there is soot and dust blowing around the campus, in which case, classes will be canceled.