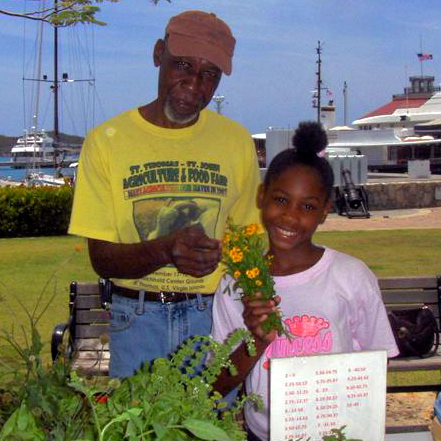 Brittany Leonard is what might be called a junior Renaissance girl.
Which is to say, the 10-year-old fourth-grader at Ulla Muller Elementary School, who holds a junior black belt in karate, is equally comfortable planting tomatoes on her dad's farm, winning 800-meter races against tough competition, manning her dad's produce stand or singing in the school choir.
She's the daughter of Bordeaux farmer Charlie Leonard, and you might say the apple doesn't fall far from the tree. The elder Leonard is a man of all seasons, himself: farmer, beekeeper, former airline mechanic, karate instructor. Brittany is the youngest of Leonard's children. He has two grown daughters, both professionals now in their early thirties.
"Brittany knows all about growing and selling here at the market," Leonard says Saturday morning. He has been selling all manner of fresh produce, eggs, honey and chickens at the market since the 1980s,
"She's been coming with me since she was small. I never had a baby-sitter."
As for running, Brittany says, "I like to run around the place and just have fun." But when it comes to races, she is determined to have more than fun. She's in it to win.
"I didn't know what cross-country meant," Brittany says. "I thought we were going to other countries." The only other country involved, as it turned out, was the green hills she flew by on the University of the Virgin Islands golf course, where she finished in the first 10 out of all cross-country racers, with older competitors.
Brittany's teacher Gail Deller says, "She started with cross-country, and this past year started field and track. She excels in the 800 meter. In fact, this year she came in first in three of the five races. She was disqualified in one because she missed the line, but she's still way ahead. She's the fastest."
Brittany's efforts will be rewarded next month when she and Cadega Mclean, a fifth grader, go to St. Croix, to represent Muller at the All Star meet.
Her newest passion is basketball, where she's making a name for herself.
"What really helps is my karate training, doing blocks and defense. The kids all chant 'Brittany, MVP,'" she says with a bit of a smile.
She started karate lessons when she was four, with an important leg up. Her uncle, Joseph Leonard, is president and founder of the Jiyukido Martial Arts Federation, and founder of the JuKan-Do Karate System.
Her father says when she started, "I just wanted her to learn not to cry."
Brittany, as it turns out, has learned much more. She, in fact, has handed some lessons along those lines to boys. After six years, under the tutelage of both her father and uncle, she excels. Joseph is eager to speak of her accomplishments.
"How many gold medals did you get last year, Brittany?"
Charlie Leonard says that at a meet last year against the U.S. team at Antilles School, Brittany "beat the boys."
"First they do katas, which are basically the moves, then they moved on to fight. I didn't want Brittany to fight these older boys, but she insisted. She had already scored highest on the katas, then, in the final round she won over a much larger boy who had been trying to bully her."
When asked to show a move, Brittany says, "Oh, I can't do moves in public. That would not be appropriate."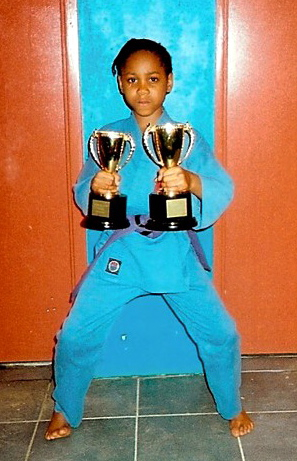 Brittany has her own garden plot at the Bordeaux farm, where she raises everything from cabbages to kale, tomatoes and passion fruit. She's up at 4:30 a.m. weekends helping her father pick the produce to take to market.
"I sold two cabbages," she says, "for $5 each. They were really big."
She can be seen working along side her dad Sundays at the Yacht Haven Grande farmer's market, displaying the same intelligence she shows in a race or karate. She dispenses basil, peppers, fresh eggs, lemon grass, tea bush and homemade honey, talking easily with the customers, counting out small piles of peppers, or explaining the various types of mangoes.
So, where will it all lead?The 67-pound athlete doesn't hesitate.
"I want to be the fastest runner in the whole world."
Or, on more consideration, she says, "I want to help daddy build a bigger farm, and then I want to be a karate spy."
Huh?
"You know,"she says, "They spy on bad people and help the police.'