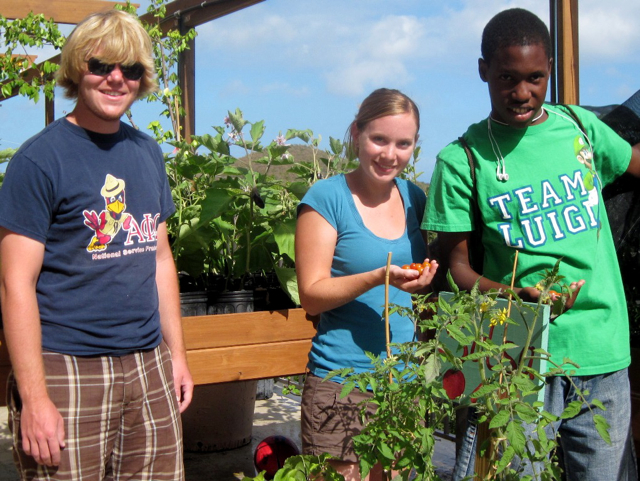 Gifft Hill School's students – 25 strong – are putting food on the school's table trough the Education and Resilience through Horticulture program, called EARTH. The program is teaching the school's middle school students the ins and outs, as well as the ups and downs, of growing crops.
"This is my favorite – cherry," Gifft Hill School student K'yon Louis, 14, said as he led a tour of the school's gardens.
The gardens are a joint program between Gifft Hill School and Iowa State University. To date, six of the university students have flown south to work on infrastructure projects like the basketball court and lead the gardening program. The latest crop is Laura Klavitter, 26, and Mitch Meier, 23, who both postponed graduation so they could continue to shepherd the garden program. Their infrastructure project is the al fresco classroom with a stunning view that reaches as far as Bordeaux and beyond.
Every Wednesday is gardening day at th school. Seventh and eighth grade students plant seeds, fertilize, transplant, and do other garden chores to make sure the plants do well. The plants are all in pots because the school's soil isn't suitable for growing.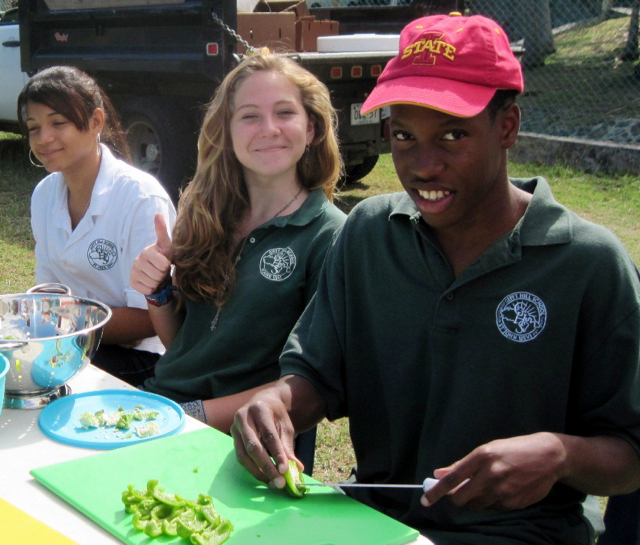 The purple eggplants are plump, the peppers are getting big and the tomatoes are starting to ripen. Some of the banana peppers have a decidedly hot flavor rather than the usual sweet because they cross pollinated with the jalapenos.
And some of what the students are growing is experimental. The students want to see what grows well in St. John's climate. The cucumbers and watermelon planted before last fall's rains fell prey to white powdery mildew, but Klavitter, Meier and Louis said it might be time to try again.
The first planting of bell peppers got tobacco mosaic, a virus that ruined 30 plants. And the corn was not a big success.
"It made four baby corns and just dried out," said Louis, who earned a certificate from the school's administration for his efforts in the program.