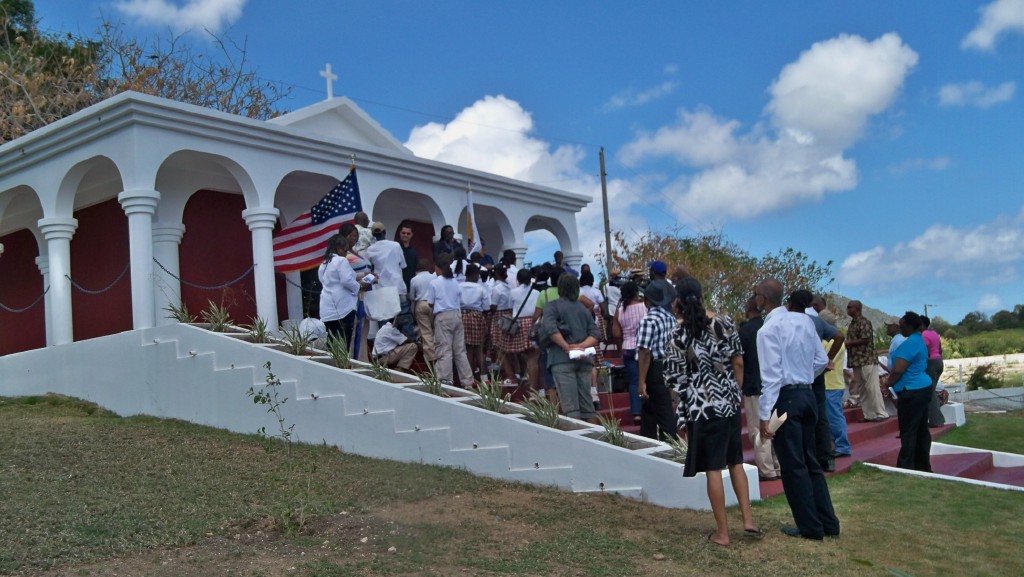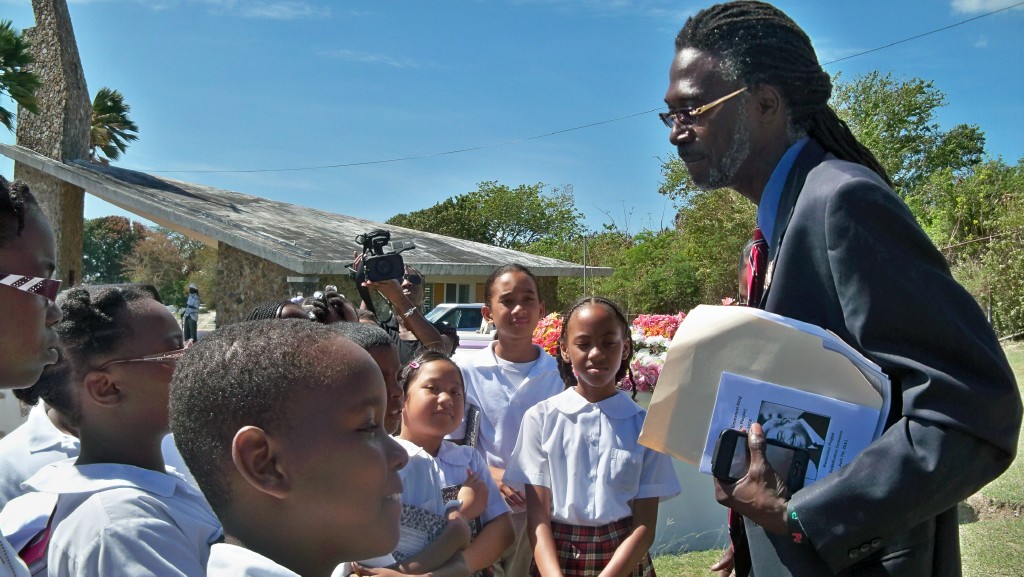 Sitting high atop a hill at Kingshill Cemetery, the mausoleum of late Gov. Cyril E. King was surrounded by well-wishers and students who offered up songs, prayers, reflections and remembrances in honor of what would have been King's 90th birthday.
Around 100 people gathered at the ceremony marking his birth and the restoration project and rededication of the mausoleum.
King, one of the founders of the Independent Citizens Movement party, was elected governor in 1974. He died Jan. 2, 1978 at the age of 57 from stomach cancer.
Sen. Terrence "Positive" Nelson, representing the ICM party, organized the affair along with his staff, family and ICM members.
Junior ROTC did the posting of flags then Nelson led a reverent procession to the mausoleum. They gathered on the freshly painted red steps for songs, prayers, reflections and remembrances of King and his work serving the people of the territory and as an ICM leader.
King's nephew, Raymond Hector, placed a spray of orange roses, daises and white mums on the black marble vault holding the remains of King. A number of attendees went inside the cool mausoleum and sang "Happy Birthday."
Former Sen. Virdin Brown spoke about serving in the legislature with King, who, he said, stood for good governance and better leadership, making the islands better for everyone.
Olassie Davis, of the University of the Virgin Islands cooperative extension services, said when he was in high school in the 1970s King encouraged him to go to college and actually sent him money while he was in college.
King was born in Frederiksted, April 7, 1921 to Martin and Melvina King. He attended local parochial schools and served as a sergeant in the Army during World War II. In 1947 he entered American University in Washington, D.C., where he earned a bachelor's degree in public administration.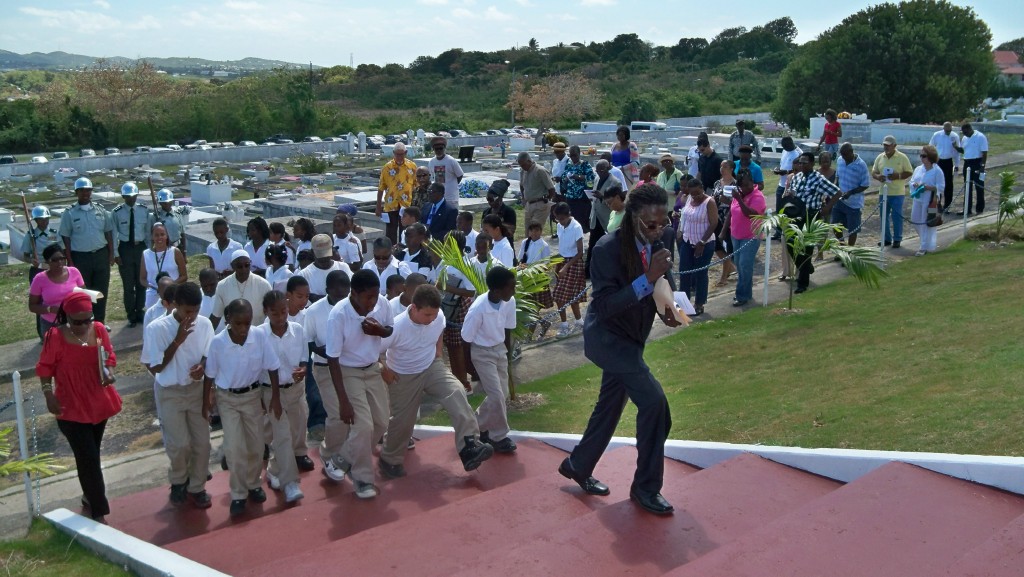 In 1949 he was appointed an aide to Sen. Hubert H. Humphry of Minnesota. He was the first black person to serve on the staff of a U.S. senator; he subsequently became a senior staff member.
While employed with Humphrey, he remained in close contact with the Virgin Islands. He returned to the territory in 1961 when President John F. Kennedy appointed him Government Secretary, which later became the elected position of lieutenant governor.
In 1969 he became acting governor after Gov. Ralph Paiewonsky's resignation. In 1972 he was elected to the V.I. Legislature for the St. Thomas-St. John district. He was elected governor in 1974.
King was married to the late Agnes Agatha King. The couple had one daughter, Lillia Elise.
In 2007 Gov. John deJongh Jr. proclaimed April 7 as Cyril Emmanuel King Day, with ceremonies to ne be held in all V.I. public schools.
"It is nice to come and learn about government and history at things like this," said Kyle White, a 12-year-old from Ricardo Richards Elementary School. "When we do this, we learn we can be anything we want."
There were 39 fifth- and sixth-graders from Ricardo Richards Elementary School doing a class project and reports at the affair. The students from Zahra O'Reilly's class studied governors during V.I. History month in March.
"This was a good way for the students to hear a bit of oral history of him, as a person, from people who knew him," O'Reilly said.
A number of people and agencies partnered with Nelson and ICM members to restore the mausoleum. The Department of Public Works also helped with the painting, cleaning and repairs.
Roberto James and students from John H. Woodson Junior High School helped with landscaping of local plants.
Nelson said they took on the restoration project to exhibit pride in public facilities.