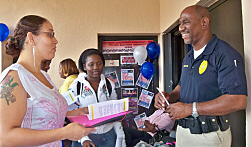 With the current job market the way it is, students at the University of the Virgin Islands were out in full force Friday checking out career options in law enforcement. They were at the first Federal and Local Law Enforcement Recruitment and Career Day.
"I am checking what is offered," Rhalina LaPlace, master's degree holder said. "The way things are I must consider all options for employment."
There were 25 different agencies spread out over three levels at the Melvin Evans Center on the St. Croix campus taking part in the first Federal and Local Law Enforcement Recruitment and Career Day. The career day was held Thursday at the UVI Sports and Fitness Center on St. Thomas.
Darby Kirby, deputy U.S. Marshall, said the big question of the day has been "Are you hiring?"
"We are in a hiring freeze, which is too bad because we are in need of good deputies," Kirby said. "We are taking information from those interested and will call as soon as we are hiring."
Not many representatives from the different agencies said immediate employment is available. The V.I. Bureau of Corrections and the V.I. Police Department are hiring.
Eliza Joshua and Andrea Carroll, personnel assistants at the B.O.C., said UVI students recruited by B.O.C. can take advantage of an extra pay incentive.
F.B.I. Special Agent Tom Calhoun said they have some positions open but the application and hiring process takes around two years.
The U.S. Coast Guard was promoting the Pre-Commissioning Initiative to sophomores and juniors offering tuition, books, insurance and more. After college graduation and officer candidate school, recruits will become commissioned officers.
"There are a lot of students interested in this program," Lt. Nicole S. Burgess said. "But they didn't realize it would be worldwide assignments."
Nissa Bailey, assistant director of human resources for Superior Court, said the court is looking for a court reporter. "Court reporting is a great field and one can make good money," Bailey said. " I just wish more people would go into it."
Catherine Mills, an organizer of the career day and deputy director of the Puerto Rico/ U.S. Virgin Islands High Intensity Drug Trafficking Area, said they put the event together to increase participation in law enforcement careers via recruitment of graduating seniors, familiarizing younger students and the community at large with the opportunities available.
James Latham, law enforcement coordinator with the U.S. Department of Justice, and Millicent Aubain, territorial administrator of recruitment and classification from the V.I. Division of Personnel, also helped organize the event.
"An amazing number of people have come out for the career day," Aubain said. "We have exceeded our expectations so we have decided to make this a yearly event." Mills said they had 350 at the St. Thomas event and she expected to exceed that Friday.
Federal and local Veterans Affairs offices and the Division of Unemployment in the Department of Labor also referred clients to the event.
Other Federal agencies taking part were U.S. Customs and Border Protection, Homeland Security Investigations, V.I. National Park Service, Internal Revenue Service, U. S. Attorneys Office, Drug Enforcement Administration, Transportation Security Administration and more.
Some local agencies that participated were the Attorney General's Office, V.I. Taxicab Commission, V.I. Police Department, Department of Planning & Natural Resources, V. I. Port Authority, Department of Human Services, V.I. Division of Personnel, Department of Health, and the Department of Licensing and Consumer Affairs
Recruiters from Case Western Reserve University School of Law, Charlotte School of Law, New York University, Northeastern University, University of Tennessee and Whittier and Widener School of Law also took part.
The University of the Virgin Islands helped sponsor the career day.