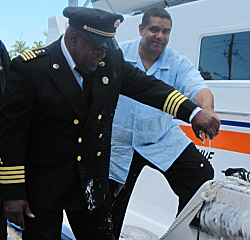 With a sharp rap of the champagne bottle, Gov. John deJongh Jr. and Liston Sprauve christened St. John's new ambulance boat — naming it the Liston "Huntie" Sprauve.
The Health Department's long-time ambulance boat captain said, "I'm very humbled. I never thought this day would get here." Sprauve spoke earlier in a ceremony at the Creek bulkhead attended by about 100 people.
The captain, 66, plans to retire in June. He has worked for the Health Department since 1971, starting as a coxswain. He was promoted to ambulance boat supervisor in 1990.
St. John residents waited for years for a new ambulance boat to replace the aging and unreliable Star of Life, a fact which was noted by several speakers at the ceremony. "And the St. John community has let us know," Acting Health Commissioner Fern Clarke said.
The department solicited names from residents for the new boat, which included At Last and Patience, Clarke said.
The boat was built on St. Croix by Gold Coast Yachts, a fact mentioned by several speakers. Gov. John deJongh Jr. applauded the company's training program for young people.
The 50-foot boat took 10 months to build and cost $787,000. The state-of-the art vessel can aid both medical and maritime emergencies. Its shallow draft of 3 feet, 5 inches means it can go into bays and pick up patients off the beach.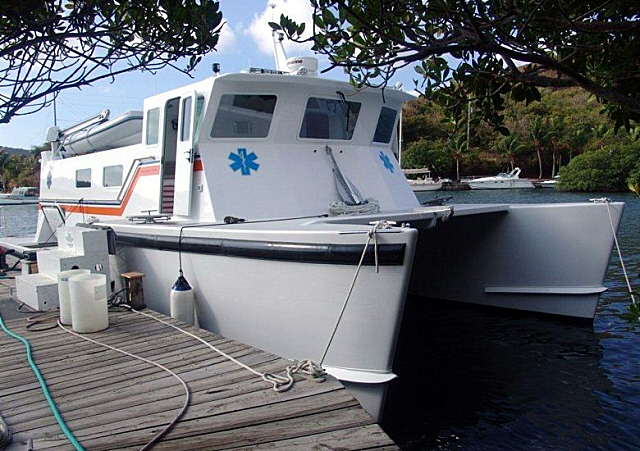 The vessel is a twin hull design of composite materials, capable of 25-30 knots in a wider range of sea conditions than most comparable boats. It features a 300-square-foot climate-controlled patient compartment, with room for four or more paramedics/EMTs, plus captain and one crew member.
The new boat will hold four to six stretchers compared to two in the old boat.
The new ambulance boat is a big step in improving health care delivery for St. John, but Sen. Alvin Williams noted that Coral Bay residents still face long waits for the ambulance to reach them from its base in Cruz Bay.
The dedication came as the territory celebrates National Health Week.
Francis also asked that residents keep their eyes on the Liston "Huntie" Sprauve. Except when it is in use, it's parked at the Creek.
"If you see something, don't figure someone else is going to take care of it. Call 911," Francis said.