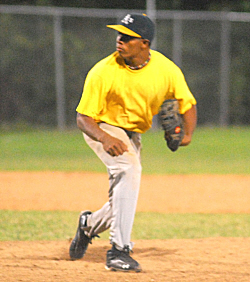 The A's rallied for six runs late to tie the Cobras and send a Raphael Jackson AA Baseball League game into extra innings Friday night, earning the win 8-3 in the 11th inning at the D.C. Canegata Ball Park.
The Cobras were on the board early as they put over three runs in the bottom of the first inning on a two-run single by Joshua Torres and an RBI single by Jeffrey Rivera.
The Cobras starter, Dushane Brow, had given his team a great start, and the A's had no answer for his stuff in the early going. Meanwhile his team gave him another run in the bottom of the third on Juan Santana's RBI ground out for a 4-0 lead after three completed innings.
The score would stay that way until the A's finally got on the board with an unearned run in the top of the seventh. The Cobras got that run back in the bottom of the inning to push the lead back to four, at 5-1, on an RBI single by Federico Demorini.
The A's continued to chip away at the lead in the top of the eight, scoring two more runs, to get to within two of the lead at 5-3. They plated two runs on an RBI triple by Mark Knight and a Cobras error. The A's then went to the bullpen in the bottom of the inning and brought in their hard throwing closer, Richard White, who came in throwing gas. He would set the Cobras down in order, striking out two of the three batters he faced.
The A's then took their first lead of the night at 6-5 in the top of the ninth as they came up with three runs on an RBI sac fly by Jose Rivera, Jr. and two more runs on a couple of Cobras errors.
They were one out away from winning the game in the bottom of the ninth, when with two outs, catcher Charles Bollings made an ill-advised throw to third on a steal attempt and overthrew the ball into the leftfield corner, allowing the tying run to score. White then struck out the next batter, but walked off the mound shaking his head, knowing his night should have been over.
After a scoreless 10th, the A's would give White all the runs he needed in the top of the eleventh when Tim Sneed drilled a two-run single into right for the eventual game winner.
White, still overpowering, would set the Cobras down in order to pick up the victory in relief. Joshua Torres got the loss for the Cobras.
Top batters for the A's were Sneed (2 for 5 with two RBIs) and Mark knight (3 for 4 with one RBI). For the Cobras Torres was 1 for 6 with two RBIs and Domorini was 1 for 5 with one RBI.