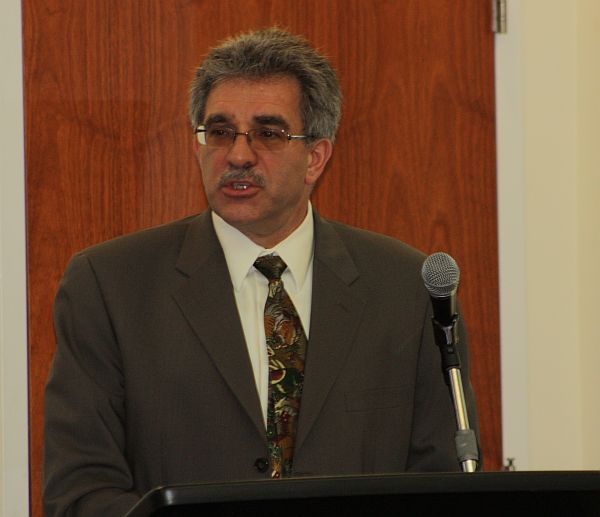 Along with a reception Sunday night, UVI officially launched its Caribbean Green Technology Center with a symposium Monday that brought speakers together to talk about how UVI can help to address energy issues affecting the community.
"We are looking at many of the issues around green technology and sustainability," said Camille McKayle, dean of UVI's College of Science and Mathematics. "We are always having conversations about global warming, reducing fossil fuel use and other things those lines, so this is an effort to address some of those issues and in particular as they pertain to the Virgin Islands, but from the university's perspective."
The university is still trying to find a physical space for the center, but student and faculty research has already begun on various projects, McKayle said.
"I think we are going to be doing more applied research where there is an issue or there is a problem that needs a solution and we try to address it that way," she said. "As the university in the Virgin Islands, I think we have to do more focus on applied research that's applicable right now here today."
Looking for partnerships with other agencies locally or nationally in order to help facilitate research is also a part of the long-term plan, she said.
"We are really coming at it from the perspective of what can the university do, and what role should we have in terms of doing research and being the education arm," McKayle said. "We are trying to leverage our university standing so we can work with people at other labs and other institutions that are doing research but who maybe would not have done research as it pertains to the Virgin Islands or the Caribbean had it not been for the partnership with UVI."
Presenting during Monday's symposium, Ken White from the U.S. Department of Energy's National Laboratories talked about some of the partnerships that his facility, the Brookhaven National Laboratory in Upton, N.Y., has formed with its local community.
One of the lab's stewardship programs has taught teachers how to do field surveys in their communities and work with their students on collecting real data on everything from cloud cover to vegetation, he said.
Teachers and students can then have access to the National Lab, its equipment and scientists, which, White said, provides opportunities for them to identify and solve problems, refine their projects over time or get the technical assistance they need to apply for a federal grant.
"We build opportunities for schools and faculties to come in and use these tools," White said.
Funding for the center has so far come from the university itself and appropriations from the V.I. Senate, but McKayle said that federal grants will also be "actively sought" to finance some of the research that will be conducted. She said the cost for each of the center's projects, and the equipment that might be needed for the project, will vary.
Second to being a research hub, the center should also play a role in training students to work in the green industry, according to some of the day's speakers. V.I. Energy Office State Director Bevan Smith discussed a government initiative to retrofit 11 of the territory's schools to make them more energy efficient, and said that two off-island companies — Florida Power and Light and Energy Systems Group — were brought in to do the work.
"But the concept we are looking at is UVI as a center for sustainability expertise," Smith said. "We need to build local capabilities to develop and monitor these kinds of programs, and UVI is the best partner to take on the role of developing a local workforce, using students, that can start handling these maintenance needs down the road."
Smith said UVI has partnered with the Energy Office on energy-efficiency initiatives since the 1980s and has moved up from simple things, such as changing its light bulbs and windows, to installing a full-scale efficiency lighting system at its campus on St. Croix.
McKayle said the center, which is being run by UVI graduate Wayne Archibald, will consider all suggestions and look at what other universities are doing across the world.
"We want to push research and education in the area of green technology, but certainly the other arm is outreach and looking at jobs creation and policy issues," McKayle said. "So it is really to get the minds together to look at these issues in a very academic way, then to make the transfer from academia to the public."
More public symposiums will be held to move the center along, so residents should keep their eyes out for times and dates, she said.