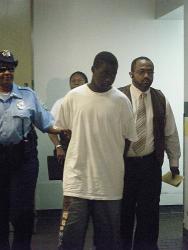 "Oh my god, dad, they hit me!"
Those were the last words spoken by Liz Marie Perez Chaparro, who was caught in the crossfire of a shootout near Coki beach on July 12, 2010.
Chaparro's father, Ceferino Perez Mendez, wept as he repeated his daughter's last words in court Thursday at the trial of Steven D. Tyson Jr., who is accused of murdering Chaparro, 15, and Shaheel Joseph, 18, in a gang-related shooting during a funeral.
Tyson, 22, whose trial began April 14 in Superior Court in St. Thomas, faces one count of first-degree murder, one count of felony murder, one count of reckless endangerment, and three counts of unauthorized possession of a firearm.
Mendez described how his family had come to St. Thomas from Puerto Rico to celebrate his daughter's quinceanera (15th birthday). They had been on a safari bus tour of the island and were leaving Coral World around noon when they heard shots ring out near the cemetery.
"I heard gunshots, then everyone dropped to the floor of the bus," he said in Spanish, with an interpreter translating. "I looked behind me and saw a man firing a gun from inside a red car."
Mendez, who broke down when shown a photo of his daughter, said that since no ambulance was available to take his daughter to the hospital, the safari bus sped there with a police escort. But Liz Marie was pronounced dead from a gunshot wound to the chest shortly after arriving at Schneider Hospital.
The prosecution alleges that Tyson was the man inside the red Honda, and that he was shooting at Joseph with a 9mm handgun. Joseph, who suffered a fatal 9mm gunshot wound to his head, was found with a magazine loaded with .40-caliber ammunition in his pocket. Shell casings from .40-caliber, 9mm and .45-caliber weapons were found at the scene.
Based on this ballistic evidence, at least three people are alleged to have been involved in the shooting, but so far only Tyson has been charged. The bullet that killed Chaparro was fired from a .38 special — not the same gun that Tyson allegedly used — but he is accused of being indirectly responsible for her murder by instigating the gunfight that resulted in her death.
According to the principle of transferred intent, if Tyson fueled the fight, he's liable for whoever was killed as a result of his conduct.
The shootout took place during the funeral of Joseph Ferrari, 23, who was a friend of Shaheel Joseph. Chaos ensued as shots rang out, with mourners ducking behind tombstones and tourists fleeing Coki Beach and Coral World looking for a safe place to hide.
Police believe that a gang war is to blame — possibly the same war that led to Ferrari's death outside outside Tutu Park Mall just a few days earlier on June 29, 2010.
The evidence against Tyson began to mount on Wednesday, the first day of the trial, when an eyewitness named Sean Penn testified that he saw Tyson lean out of the passenger side window of the Honda and fire several shots at Joseph as Tyson drove past him. Penn said that Tyson appeared to wait for Joseph, who was on foot, to appear in his line of fire before he started shooting.
In the resulting gunfight Tyson's Honda was hit with several bullets. Police allege that Tyson ditched his vehicle at the side of the road and took off running after shooting Joseph then being fired upon himself.
Thursday's forensic evidence bolstered the case against Tyson. Assistant district attorney Michael Motylinski called gunshot residue expert Alfred Schwoeble to the stand. Schwoeble's lab, the RJ Lee Group, analyzed samples taken from the crime scene immediately after the incident.
Schwoeble first gave a presentation about how gunshot residue is spread when a gun is fired, then testified that the amounts of gunshot residue found on the front passenger seat of Tyson's Honda were consistent with a gun having been fired in very close proximity. He also said residue found on Joseph's right palm and right pant leg showed that he had likely fired a gun as well. Neither gun has ever been recovered.
However, the defense called its own forensic expert, crime scene reconstruction specialist Guy Pierce. Pierce said that before the trial he thoroughly studied all the documents, reports and evidence relating to the case, and even visited the crime scene.
On the stand he spent an hour demonstrating how shell casings are ejected, the positions in which the various shell casings were found at the scene, and the likely position of each of the shooters.
Based on his knowledge of how 9mm weapons normally eject their casings, and where the casings were found, Pierce posited that Tyson could not have fired the gun from his car.
"How do you explain the lack of 9mm casings inside the Honda?" defense attorney Leonard Francis asked Pierce.
"If the gun was fired inside the car, the casings would be found inside the car, because 9mm guns discharge their cartridges to the right and rear of the shooter," Pierce answered. "But the casings were found on the ground outside. This leads me to believe it was discharged outside the vehicle."
But on cross-examination Assistant Attorney General Edward Veronda punched holes in this theory. He made Pierce read from a forensic journal which described how shell casings will be ejected to the right and rear if the shooter is holding the gun with a traditional upright grip, but if the shooter is using a sideways "gangster grip," the casings would likely end up to the left, rear, or elsewhere.
"There was no evidence in any of the police documents as to what kind of grip the shooter was using, was there?" Veronda asked.
"No," Pierce replied.
"So you made this assumption based on no evidence?" he continued.
"Yes," Pierce said.
Veronda also cited forensic studies which show that shell casings can often end up rolling or being moved far from where they are ejected, due to the texture of the ground surface, the speed of a vehicle they are dropped from, or from pedestrians inadvertently kicking them around. He noted that Coki Point was extremely busy that day, and that the fleeing crowds may have moved the shell casings away from where they were originally dropped.
Near the end of the day Tyson himself took the stand, and denied having any involvement in the shooting whatsoever.
The defendant admitted that he was at Coki Beach that day in his red Honda, but said he only went to take a swim and was not there more than 30 minutes.
As he was leaving, Tyson said he heard shots ring out and realized that his car had been hit, and his rear window shattered by bullets. He said that since he was unable to drive away due to heavy traffic, he opted to pull to the side of road, get out of the vehicle, and run.
"I had to leave the area because I didn't know what was happening at the time," he testified. He added that he had never had any animosity toward Shaheel Joseph, and never in his life owned or was in possession of a gun.
On cross-examination however, Tyson did not have a good explanation for why he made incriminating statements to V.I. Lottery Enforcement Agent Freddy Perez, a colleague of his from the Smith Bay Domino gas station where he worked, nor for the eyewitness testimony of Penn.
Tyson allegely sent text messages the evening of the murder to Perez saying "they gonna want the gun," and Perez advised him to "stick to his story."
Tyson denied the exchange with Perez ever happened, and said Penn was "mistaken" in believing that he saw Tyson shoot a weapon from his car.
In an effort to refute Tyson's assertion that he never owned a gun, Motylinksi reminded him that he was convicted of 3rd-degree assault with a deadly weapon in a separate case in December 2010.
Tyson had no response.
The trial continues Friday.