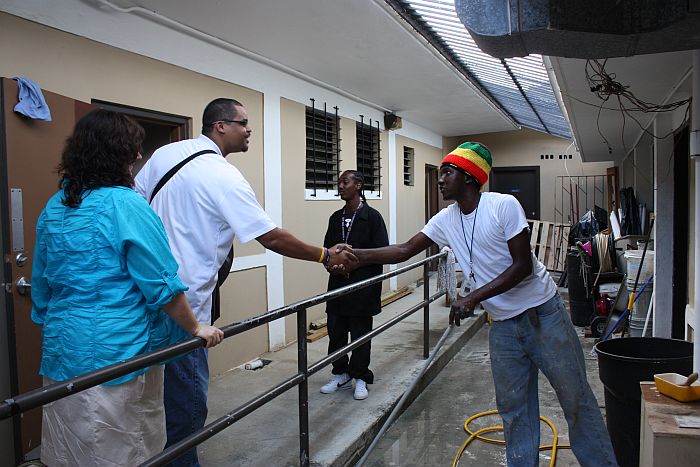 Hoping to be the frontrunner for alternative education in the territory, YouthBuild USVI's biggest challenge is doing more with reduced funding, which the program's founders said has just been impacted by federal budget cuts.
YouthBuild USA is the umbrella organization for 273 YouthBuild programs established across the nation. Much like the name suggests, the program gets youth, ages 16-24, involved in building activities within their communities, while helping them to advance their educational and life skills.
YouthBuild founders Dorothy Stoneman, her husband John Bell and a group of the program's national directors were on St. Thomas this week for a leadership retreat, and stopped in at the St. Thomas YouthBuild facility in Oswald Harris Court to get a firsthand look at how the program was doing locally.
"I've been very impressed with the young people, how friendly they are, and how seriously they are taking their education and skill development," Bell said, after rounding out a tour with one of the students. "They truly want to make something out of themselves."
Bell said many young people involved in the program have had to battle violence, substance abuse, lack of a good education and job opportunities, and turn to organizations such as YouthBuild to give them a safe space and supportive learning environment. Funding for the program comes from the U.S. Department of Labor, through the Employment and Training Administration, which makes grants to state and territorial YouthBuild programs on a competitive basis.
"The funding for the program was $102.5 million, but that has now dropped to $80 million because of the battle the federal government has had around the budget," Bell said. "So it's going to be even less money this time around."
YouthBuild USVI is run through the V.I. Housing Authority, whose Public Information Director Irma Hodge said Thursday that they have never received funding from the U.S. Labor Department but are still running on $700,000 provided by the program's former grantor agency, the U.S. Department of Housing and Urban Development.
"Because it's been reduced to $80 million, many of the programs will have to shut down since the Department of Labor is only funding 110 applications out of the 273," Hodge said. "So we're really in a pickle, because $80 million doesn't go anywhere when we have that many YouthBuild programs across the nation."
But the program's staff is still trying to stay positive, and Hodge said they are "hopeful" funding from Labor will be coming soon. Until then, the plan is to take the program to the next level and make it the best in alternative education within the territory.
"Every dropyout in the U.S. Virgin Islands should be coming to our program," said Andre Malone, YouthBuild USVI's math and science instructor. "We want to have vocational education, counseling, computer skills, everything we can to have them job ready."
Staff members said $75,000 just received through the Bill and Melinda Gates Foundation will be used to transition YouthBuild USVI's GED program to a high school diploma program in conjunction with the Education Department, and to focus more training and education on the green movement and creating green jobs.
"For some reason all over the U.S., a lot of young people feel like the schools aren't giving them what they need, so they're walking away, not knowing what they're going to do," said Stoneman, who started the first YouthBuild in 1978. "There needs to be places where they can find what they need."
Stoneman said despite the funding challenges, what is most important to her is being told by the young people that the program is making a difference in their lives — which is exactly what happened when she and Bell walked through the door of the St. Thomas facility Thursday.
"We're a big family here, and I really like that," program member Ray Thomas told Stoneman, Bell and the directors as they took the tour. Thomas, who has been in the program for a year and a half, added, "This was the first program I've been in that I'm really comfortable with. And the teachers, they all take the time to help you with your work."
Right now, Thomas and others have been working on refurbishing units in Oswald Harris Court's Building 6 and have so far finished 13 of them.
"There are all kinds of people out there in the community that are in need of a shelter," Thomas said. "So it makes me feel great doing this work. It makes me feel like I'm not only doing something that benefits me, but I am doing something that helps everybody else."
Thomas said the program has gotten a good reception in the community and that he has even received support from his friends.
"They understand what we're doing. It's for good, and if they had a chance to, they'd be in here, too, trust me," he said.