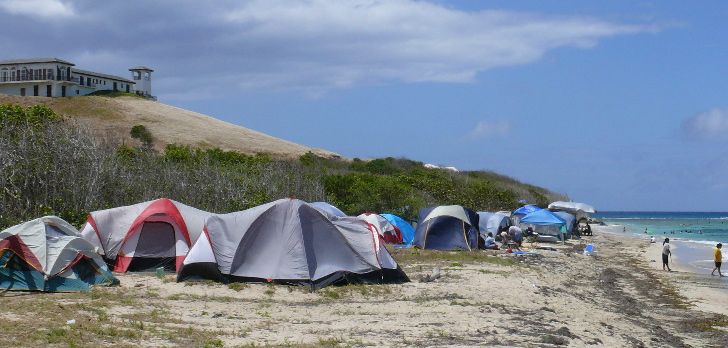 Easter is less than a week away, and on St. Croix that means thousands taking to beaches all around the big island for family camping.
At Salt River, Dorsch Beach, La Vallee, Cane Bay, Great Pond, Ha'penny, Campo Rico, Altoona Lagoon and myriad other locations, tents will start to blossom early in the week, suddenly exploding in multicolored profusion like a bougainvillea hedgerow in bloom.
Taking a break from the usual hustle and bustle of life, family members sit and talk, swim, boat and fish, cook, eat, play dominoes, cards or board games – and sleep.
Out at Cramer's Park, Sen. Terrence "Positive" Nelson and his family will again be holding their unity retreat camp, a structured, summer camp-like experience for boys and girls. Every year for the past 14 years, Nelson and his family have hosted the youth camp. The object is to get kids away from the usual setting of video games and TV and doing more outside activities.
The camp has hikes down to Jack and Isaac bay, a daily beach cleanup and other structured activities for the children, said Stephanie Nelson, the senator's sister. While there is lots of play, there is also lots of supervision and a certain amount of discipline, she said.
"We get up early and have exercises, then everyone has chores, starting with cleaning the grounds and kitchen duties," said Stephanie Nelson on Monday.
There will be a sunrise service at 5:30 Easter morning at Point Udall by a community church, while later, back at camp, another service at 7:30 a.m. by the Altona Baptist Church, she said.
There is a $75 fee to help cover food and supplies. The fee covers regular camp activities and three meals a day, Thursday through Sunday. Parents can call Stephanie Nelson at (340) 226-4602 for more information and to sign up. Parents can also sign up Thursday morning at Cramer's Park, she said.
Cramer's Park should be in good shape for the unity retreat campers and the many others who flock to that spot every year. According to Housing, Parks and Recreation Commissioner St. Claire Williams, all minor repairs have been addressed, showers heads are in place, and grounds have been groomed in preparation for the annual seaward migration.
"In particular, staff did some landscaping of the area around the cabanas and picnic tables that has helped to expose the sand and enhance the area, as well as the installation of another well to provide the facility with water, Williams said in a statement.
Staff has been assigned to work throughout the week to maintain the restrooms, dispose of trash from the garbage receptacles and to provide lifeguard services, he said. "However, we request the assistance of the public in helping to maintain a clean environment of the facility and to report any unwarranted acts of vandalism that would destroy and damage the property or that would affect the safety and enjoyment of the general public," Williams said.
The Parks Department is coordinating with the V.I. Police Department to provide regular security patrols and help reduce traffic congestion, Williams said, urging campers to obey all the posted park regulations and traffic signs.
Police will be out in force all over St. Croix over the weekend, according to Police Department Public Information Officer Melody Rames. Police will have concentrated checkpoints, and there will be an extra focus on drinking and driving, she said.
Being respectful and not leaving trash behind is important at all campsites. Those who want to camp on the Columbus Landing site at Salt River must also get permits from the V.I. Department of Planning and Natural Resources.
Campers may pick up guidelines and permits at DPNR's Division of Archaeology and Historic Preservation Office located at Fort Frederik Museum or at the Division of Environmental Enforcement Office at Estate Anna's Hope.
For more information, call the Division of Archaeology and Historic Preservation Office at 719-7089 or the Division of Environmental Enforcement at 773-5774.