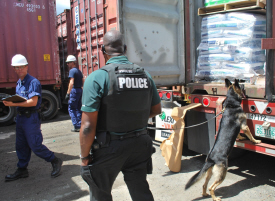 The U.S. Coast Guard joined with local and other federal officials in a multi-agency strike force inspecting cargo containers at the Port of Christiansted in Gallows Bay Wednesday and Thursday, according to the Coast Guard.
Police, customs officials, Federal Drug Enforcement Agency officers and other agency teams worked together for two days on what they are calling "Operation Caribbean Transit 2011," according to a Coast Guard statement issued Friday. Teams inspected a total of 119 containers of which 10 were detained by Coast Guard inspectors for safety violations, according to the Coast Guard.
The primary objective was to enforce federal, state and local regulations on cargo safety, the shipment of undeclared hazardous goods or illegal contraband.
The strike force had two teams strategically located throughout the port. The inter-agency teams thoroughly inspected containers, bulk liquid tanks, tractor trailers, trucks and truck drivers before their shipments left the port.
The multi-agency operation "was a great example of the interagency cooperation, and a first of its kind for St. Croix's port community," said Cmdr. David Berliner, Coast Guard sector chief of prevention in the statement. "The timely and comprehensive inspections were aligned with the shared mutual objective of facilitating the safe and timely flow of commerce through the maritime, rail and highway modes of transportation."
Personnel from the U.S. Border Patrol, U.S. Department of Agriculture, Immigration and Custom Enforcement and the High Intensity Drug Trafficking Areas Task Force took part along with those agencies mentioned previously.