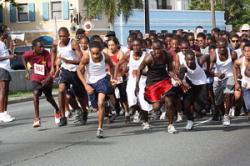 The annual Walk/Run Against Violence is set for May 22, but organizers are putting the word out to encourage early registration and to attract more scholarship applicants.
The Walk/Run started almost a decade ago, after Celia Carroll and her husband, James, lost their son, Jason, to gun violence when he was shot and killed in the middle of the afternoon on a street in downtown St. Thomas on May 23, 2000.
Celia Carroll set up a local chapter of Mothers Against Guns a few months later and, through the annual Walk/Run Against Violence, the organization now raises money for the Jason Carroll Memorial Fund, which offers scholarships to high school seniors planning to attend the University of the Virgin Islands.
Proceeds from the annual Walk/Run cover a year's tuition for one UVI student. So far, the organization has supplied close to $30,000 to youngsters who, according to Celia Carroll, have gone on to finish college and get the kind of education her son was never able to. The scholarship recipient has to demonstrate his or her stance against gun violence by writing a 1,000-word essay.
This year the deadline is May 13. Organizers are encouraging local high school seniors to apply and are hoping to get more male applicants.
The scholarship application and essay should be submitted to: UVI Office of Institutional Advancement, # 2 John Brewers Bay, St. Thomas, USVI, 00802. Applications and essays should be directed to the attention of Astrid Carmona, who can be contacted at (340) 693-1047.
Last year the scholarship recipient was Krystell Joseph, a graduate of Charlotte Amalie High School.
The two-mile race runs from the Coast Guard Dock, through Frenchtown, to Addelita Cancryn Junior High School and back. Participants take an oath at the starting line never to bring a gun to school or work, or use a gun to settle a dispute.
The crowd is usually diverse, and last year included a record number of mothers, fathers, community leaders and local youth groups — including the JROTC battalions, Junior Firefighters and members of Charlotte Amalie High School's track team.
This year, the race is set for 4 p.m. May 22 but the pre-registration deadline is 5 p.m. May 20. Registration forms are available at Caribbean Surf Co. on the Waterfront, Havensight Mall and Red Hook. Students can also register at their schools, and Saturday registration at the Tutu Park Mall is available, according to a press release.
Pre-registration fees are $3 for children under 17 and $8 for adults. Those registering the day of the race are asked to arrive as early as possible. On race day, the fees are $5 for children under 17 and $10 for adults.
For additional information about the Walk/Run, residents can call Celia Carroll at (340) 775-9337 or (340) 690-5759, or visit vimothersagainstguns.org.