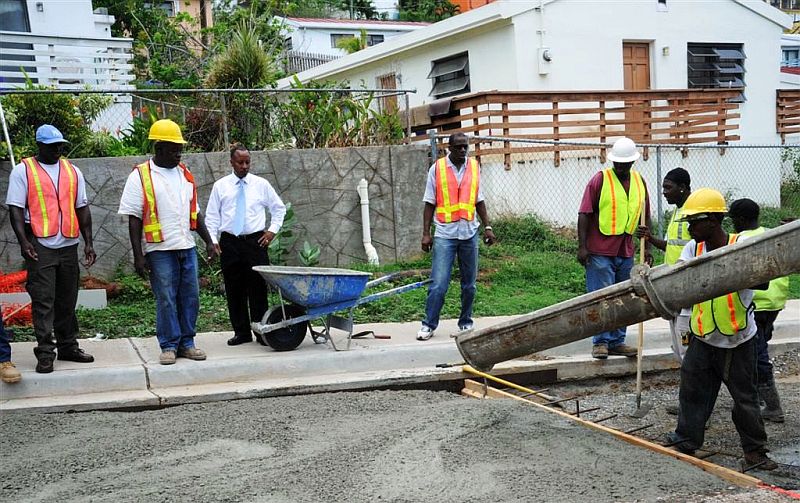 From Long Bay to Tutu, the Department of Public Works is pushing ahead several road projects that Commissioner Darryl Smalls said he hopes will "come to completion as quickly as possible."
Smalls sent a media update on the projects Wednesday, starting with Long Bay, which he said has seen the opening of two more lanes between Lucinda Millin Home and Mandela Circle. Innovative Communications and V.I. Water and Power Authority crews have been working in the area, removing overhead lines and poles along the road.
"The base course has already been laid," Smalls said. "Within two months, final asphalt will be applied, and then landscaping crews will complete the multiyear project, which will ease traffic congestion on Long Bay Road and beautify the area."
Smalls said a new surface will soon be applied along Racetrack Road, and the center lane will revert back into a turning lane.
In the Polyberg area, the road running down to Charlotte Amalie High School has been partly closed for months while crews reconstructed curbs, sidewalks and lanes, and installed conduits. Crews will be pouring concrete and preparing the two lanes this week so the entire road can be used during Carnival. Construction will start up again after the celebrations, with full completion anticipated before the beginning of the rainy season, Smalls said.
A contractor is also working to complete repairs and drainage work along Brookman Road on the East End. Smalls said during construction, additional springs were found in the area, which is prone to flooding during the rainy season. The project will repair the badly damaged road and solve some of the drainage problems that cause flooding and destruction, Smalls said.