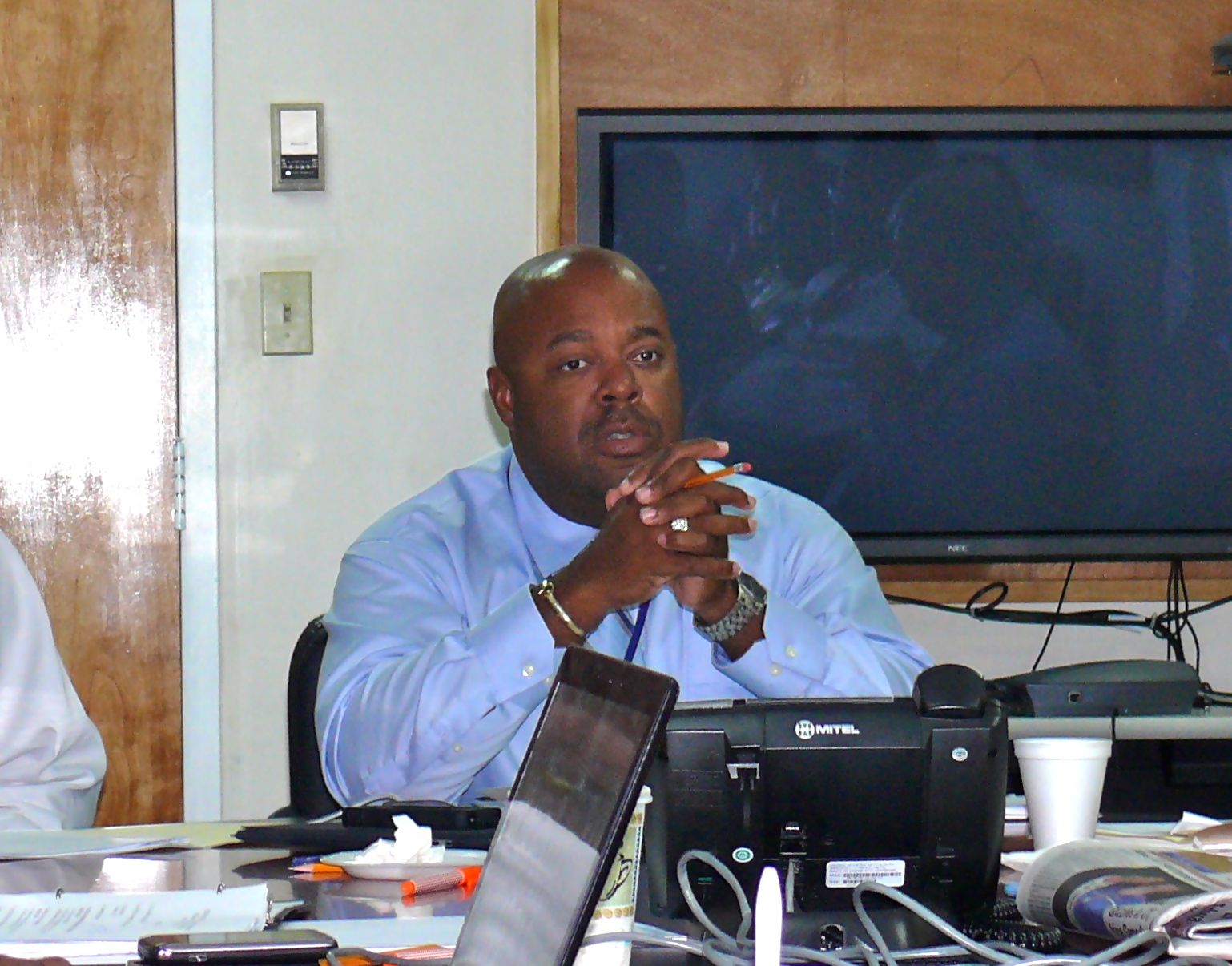 Holiday weekend blackouts on St. Thomas were due to unfortunately timed equipment failures that continue to stretch that system, but the situation should improve before Carnival and after. That's according to WAPA Executive Director Hugo Hodge Jr. during WAPA's monthly governing board meeting held Thursday at its Sunny Isles offices on St. Croix.
"Prior to Good Friday we saw a couple of outages that didn't even make sense," Hodge said. Parts of the grid became unstable under unusual circumstances, where equipment was not behaving as expected, he said.
On Holy Thursday, a St. Thomas unit tripped just as WAPA was taking another large unit offline, "which is very rare," Hodge said. "The line engine was not regulating frequency appropriately so that unit went down, causing a power interruption," he said.
By Monday, unit no. 18, which has been offline for repairs, should be back online. Another unit, no. 13, is coming online before St. Thomas Carnival next week, too, Hodge said, adding, "so we should be alright."
Two more units should be coming online shortly after, he said, restoring much of the system's redundancy and resilience.
On Thursday, the board approved a series of contract extensions and modifications that, taken together, will ultimately save WAPA money. The biggest savings came from a contract with General Electric for GE parts to overhaul WAPA generator unit no. 15 on St. Thomas. The original contract called for new GE parts, at a cost of $1.5 million; and the new contract will be a million less, at $500,000.
"Instead of using new parts, we were able to have GE refurbish spare parts already in storage awaiting repair … so we were able to save two-thirds of the cost," said Vernon Alexander, WAPA's project coordinator for this overhaul. The completion date for the overhaul was extended from January of this year to July 15.
In other business, the board approved a change and slight reduction to its contract with General Engineering Contractor Inc. for a $4 million federally funded major public water system pressure-reduction and stabilization system, with magnetic flow metering and new valves.
Cara Pascal of WAPA's water distribution division said the scope was changed, eliminating some work and adding new work elsewhere because the original plan for Estate Paradise became impractical because of developments in the neighborhoods downstream of the project. The change results in a credit to WAPA of $14,000.
The board approved a $1,200 per month rent increase in the lease for a Sugar Beach condominium unit on St. Croix. The condo is used on a weekly basis by Executive Director Hugo Hodge and other top management when they fly over to St. Croix for business, according to Board Chairwoman Juanita Young.
The new lease includes all utilities while the old lease kept the charges separate, Young said. WAPA has had some similar area rental for about 15 years and has been renting the unit at Sugar Beach for at least three years, according to WAPA spokeswoman Cassandra Dunn.
The new lease specifies $2,500 per month rent, with utilities included, for an annual total cost of $30,000.
The board also approved:
— a five-month extension to WMK Mechanical Group's contract to design and build four insulated, air-conditioned metal buildings to house the East End and Tutu substations' switchgears. The cost of the contract is $398,000.
— an expansion to the Anna's Hope waterline rehabilitation project to connect more homes than originally envisioned. With additional grant funding available, several neighborhoods that have had water quality issues can be included in the project, getting more bang for the buck, in terms of the number of houses benefiting from the money spent, Pascal said. The new plan adds another 1,700 feet of water line in Anna's Hope, increasing the cost $360,000 to a new total not to exceed $536,000.
— A six-month extension to an existing $3 million line of credit with Banco Popular de Puerto Rico to cover potential losses from any fuel price hedging contracts. When fuel prices were skyrocketing several years ago, WAPA's board authorized management to enter into hedging arrangements where an investor agrees to pay the difference if fuel costs jump above a set price, in exchange for getting paid the difference if it falls below a set price. WAPA is not currently considering a hedging agreement because the market for that sort of financial instrument is very weak and there is little to gain, according to WAPA spokeswoman Cassandra Dunn.
The extension just lines up the term of the letter of credit to coincide with the time frame in which WAPA is authorized to enter into a hedging agreement, so if it becomes necessary, it can be done without any additional action by the board, Dunn said.
All votes were unanimous. Present were: Chairwoman Juanita Young, Planning and Natural Resources Commissioner Alicia Barnes, Brenda Benjamin, Licensing and Consumer Affairs Commissioner Wayne Biggs, Property and Procurement Commissioner Kenneth Hermon, and Noel Loftus. Gerald Groner, Cheryl Boynes-Jackson and Donald Francois were absent.