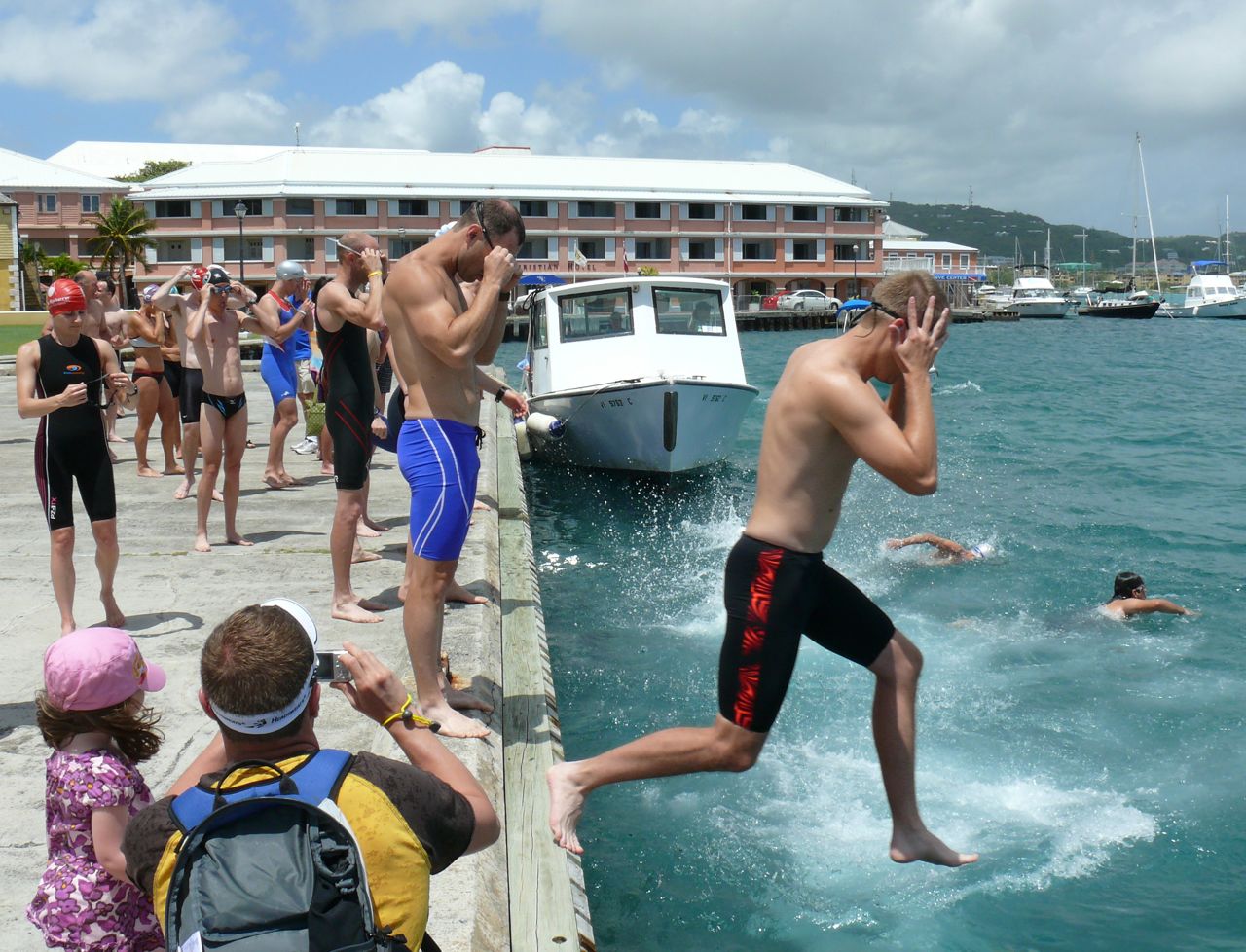 Just before 11 Wednesday morning nearly a hundred triathletes were stretching and milling around Christiansted Harbor, waiting to jump in for a training swim in preparation for the 23rd St. Croix Half-Ironman Triathlon Sunday morning.
A few minutes later, after some words from race director Tom Guthrie, waves of swimmers plunged from the boardwalk into choppy seas and high winds, winding their way slowly out past a series of markers along a portion of Sunday's race route, then back to shore.
The practice swim kicks off final preparations for what has become the biggest athletic event in the territory.
"We've got between 500 and 600 entrants this year, and some really world-class pros," said Guthrie, as the athletes swam. "We have the reigning female World Ironman Champion Mirinda Carfrae. She has won here many times, just won the Hawaiian IronMan and is reigning world champion," he said. "Also, Catriona Morrison who won the last two races here, is back to try again."
The bike and foot race routes are in better-than-usual shape this year, according to Guthrie. "It's getting better by the minute," he said, alluding to ongoing roadwork by the V.I. Public Works Department. "A lot of the route has been overlaid, not just patched," he said.
The annual race brings in a late-season burst of tourism that helps out Christiansted and East End hotels and restaurants.
While some top-ranked athletes and their families come back year after year for the grueling competition, many, like Colm and Joanne Kelly of Ontario, Canada, are seeing St. Croix for the first time.
Joanne Kelly said her husband Colm has competed in half a dozen triathlons to date, but never in the Caribbean. She said she hoped to snorkel later Wednesday afternoon while her husband joined other racers in a practice bike ride up the north shore hill, aka The Beast, and generally planned to enjoy the sun and warm weather during her stay.
"It's absolutely beautiful here," said Joanne. "We could easily live here."
"By far this gets the most international group of tourists to the Virgin Islands," said Guthrie. The race has remained consistently popular and well attended year after year in part because it is a qualifying race for the Hawaiian International Triathlon, he said. "That is what gets the international travelers here," he said.
Because racers and their families come to St. Croix to visit as a destination unto itself as well as to race, they try to make a whole week of events to entertain and engage the visitors, Guthrie said.
There are training swims Thursday and Friday. Christiansted will be hopping with food, entertainment, and shopping for a special triathlon Jump Up street party. Competing athletes will get coupons for a "Carbo Feast" at various Christiansted restaurants, too.
As it has for the past six years, the St. Croix welcome website GoToStCroix.com will have a celebratory group photo in front of its Christiansted webcam on the boardwalk Friday at 5 p.m. before Jump Up begins.
The race will begin at 6:30 a.m. Sunday with the blowing of a conch shell signaling waves of swimmers to dive into the sea from the beach on Protestant Cay, swim 1.5 miles, then jump on their bikes at Fort Christiansvaern and pedal 56 grueling miles around St. Croix. The last leg is a 13.1-mile run in 80-degree temperatures up and down steep hills.
Roads along the race route will be closed to traffic during the race. The winner will likely cross the finish line around 10:30 a.m. and the last stragglers several hours later.
The race route, full scheduling and much more information is available at www.stcroixtourism.com and at stcroixtriathlon.com.