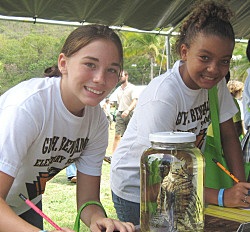 The earth was the star Friday as St. John celebrated Earth Day, albeit a week later than the actual day thanks to last week's Easter holiday. Students from the island's four schools as well as a smattering of adult residents and visitors made the rounds at V.I. National Park ballfield to talk witih representatives of environmental and other organizations.
"The lionfish are destroying all of the reef fish and they have no natural predators," Jill Blanchard of Caribbean Oceanic Restoration and Education Foundation told students from the St. John Christian Academy.
Lionfish are one of the territory's growing environmental problems, and Blanchard had one in a jar so the students could identify it if they saw one on snorkeling excursions. She told them if they spot one to let an adult know so it can be captured.
Dale Gregory, an extension agent at the University of the Virgin Islands Cooperative Extension Service, was on hand to show the students alternative materials to use for cleaning. In addition to the old standbys like vinegar, borax and baking soda, Gregory showcased a stash of "green" cleaning materials produced by major manufacturers. Among them was an environmentally friendly air freshener.
According to Gregory, the "present generation" wants an artificial scent in their homes rather than opening the windows to bring in the outdoor air.
"And here's a different way of killing rats," Gregory said, showing off an electric rat catcher.
Diana Ripley, a member of the Animal Care Center of St. John's board, was on hand with Magnolia, the dog she brings to schools and other locations to educate students about how to care for pets.
"Half the kids know her already," Ripley said of Magnolia's popularity with St. John students.
While Delroy Anthony's focus was more cultural than environmental, he talked to the students about the benefits of salt harvested from one of the island's salt ponds.
"We need to carry on tradition and history, so this is one way," he said.
Maho Bay Camps, always at the forefront of St. John's environmental efforts, had a new project to showcase. Art director Ginger Kreofsky said that old sheets are ripped into strips, dyed and woven into fabric used in placemats, bags and other goods.
The V.I. Environmental Resource Station was on hand with a solar power demonstration as well as a tortoise to show the students the difference between a turtle and a tortoise. Turtles are in the sea and tortoises on land.
Educating the students was the number one goal of the event.
"They are our future and we need to start educating them early," Audrey Penn, program manager at Friends of V.I. National Park, said.
The students got the message.
"We're celebrating the planet we live on," Guy Benjamin School student Ruby Taylor-Cioppa, 12, said.
Soleil Gessner, 12 and a Guy Benjamin student, was busy filling out the questionnaire given to the student by the Friends. She said she now knows that 25 to 30 glass bottles make a one-square-foot tile.
Boise, Idaho resident Matthew Podolsky came to network with non-profit representatives. He's with Wild Lens, an agency that does wild life videos. "We're taking film footage," he said.
The Friends group sponsored Earth Day and served cookies, fruit and juice to the students when they finished their tour of the booths.